Judge declines to halt Booz Allen's EverWatch acquisition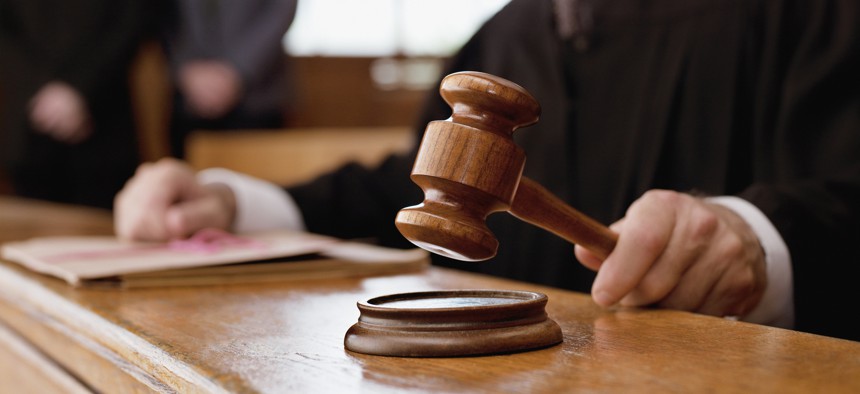 This antitrust case remains an unusual event in the government technology and services landscape.
A federal judge in Maryland on Tuesday ruled against the Justice Department's effort to block Booz Allen Hamilton's planned $440 million acquisition of fellow government technology services company EverWatch on antitrust grounds.
Justice had sought a preliminary motion to stop the transaction from proceeding, but Judge Catherine Blake declined to do so in a ruling that will remain under seal until Oct. 18. That date is when the U.S. District Court for Maryland intends to release a redacted version of its memorandum to all parties involved, according to a court filing.
The case in part centers around the recompete for a signals intelligence contract with the National Security Agency that Booz Allen has held for two decades.
EverWatch identified that contract as a prospective takeaway opportunity and dedicated resources to the effort prior to the transaction agreement being signed in March.
Blake instructed attorneys representing Justice's antitrust division, Booz Allen and EverWatch to confer and submit their proposed schedules for further proceedings in the case. The judge expects those no later than 14 days after bids in pursuit of Optimal Decision are due to NSA, which court filings indicate is an Oct. 31 deadline.
"We appreciate Judge Blake's careful consideration of the evidence in this matter," a Booz Allen spokeswoman said via email. No response yet to our request for comment from officials at the Justice Department.
The government technology and services landscape's fragmented nature with thousands of competitors, as opposed to the heavily consolidated defense platform sector, makes this an unusual move by Justice to raise an antitrust issue.
But general economic watchers and attorneys in the government contracting landscape see antitrust enforcement as a slow burn that extends beyond just merger-and-acquisition activity, even as the latter is where the spotlight of antitrust shines the brightest.
NSA only received letters of intent from Booz Allen and EverWatch regarding their pursuits of the five-year contract known as Optimal Decision.
An exact ceiling value has not yet been disclosed, but previous filings indicate it would provide the winner $17 million in profits over the full duration.
When Justice first filed its lawsuit in June, the antitrust division claimed Booz Allen's proposal to acquire EverWatch is a "merger-to-monopoly" because that transaction would allegedly guarantee the contract's outcome.
Booz Allen's counter-argument has in part focused on the Optimal Decision contract's relatively small size compared to what that company has called in filings the "more than a dozen government contracts potentially worth billions of dollars" the combined entity could better position for against "entrenched incumbents."
When Booz Allen first announced the acquisition, the company touted the move as helping speed its development cycles and delivery of classified software and analytics capabilities to national security agencies.
In September, Booz Allen proposed a remedy to the judge that would keep it and EverWatch as structurally independent entities for the Optimal Decision competition and establish financial bonuses for members of whichever team won the contract.
Justice had also proposed a remedy of its own: delay the transaction until 90 days after the due date of Optimal Decision bids and let the companies either renegotiate or terminate the transaction agreement.