Author Archive
Ross Wilkers
Senior Staff Reporter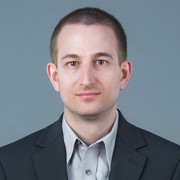 Ross Wilkers covers the business of government contracting, companies and trends that shape the market. He joined WT in 2017 and works with Editor-in-Chief Nick Wakeman to host and produce our WT 360 podcast that features discussions with the market's leading executives and voices. Ross is a native of Northern Virginia and is an alumnus of George Mason University.
Companies
Accenture Federal Services' acquisition of Novetta in 2021 brought in new technology and ideas for how to approach integration, a mindset that is arguably needed as cloud computing and artificial intelligence further take hold.
Companies
Epirus crossed the chasm in its push to succeed as a national security startup with a roadmap and a new development job for the Army.
Companies
One of the government market's most high-profile investment firms also added to its brain trust.
---
Contracts
NetCentric Technology's capture of this contract will stretch its presence at the Cape Canaveral Space Force Station in Florida to 15 years.
Contracts
The General Services Administration gives itself and the industry additional time to do their part for this government-wide professional services contract vehicle.
Contracts
How and when contractors get paid if the government shuts down are among many questions contractors have. Here is a glimpse at some answers.
Companies
Booz Allen Hamilton's venture capital fund is among the investors in this one-year-old startup that focuses on defending artificial intelligence systems.
Companies
The company has been on a path to pivot more toward digital-centric work in support of defense systems and platforms.
Companies
GCOM's combination with OnCore Consulting brings with it another change at the very senior level.
Contracts
The Navy is expanding the scope of work for this new contract that supports cyber warfare and research development efforts.
Companies
The role was temporarily fulfilled by GDIT's chief technology officer prior to this appointment.
Contracts
Both companies got what they sought for in their protests: a seat on the contract that directly supports senior Defense Department civilian leaders.
Podcasts
Dan Ateya, president and managing director of RTX's venture capital division, explains how the aerospace-and-defense giant also is a scout for startup businesses and technologies that show promise for transforming the entire ecosystem.
Companies
Knausenberger will be one of two new executive vice presidents to join Science Applications International Corp. as the company prepares for a new CEO to start.
Contracts
The Consumer Financial Protection Bureau doubles the number of companies for this new round of blanket purchase agreements compared to the prior set.
Contracts
The U.S. Customs and Border Protection agency will use this $100 million-plus task order to hire a systems integrator to reach into the larger technology ecosystem on CBP's behalf.
Companies
Unissant is looking to further expand its footprint across federal health care and national security programs.
Contracts
Nine small businesses will vie for work over the next five years to support the Marine Corps Capabilities Development Directorate that looks at future challenges.
Companies
Craig Reed will work with DCG's portfolio companies on their growth and strategy efforts.
Companies
Michele Cook's 25-year career includes executive roles at the likes of Booz Allen Hamilton, KeyW and PAE.