The changing antitrust climate for contractors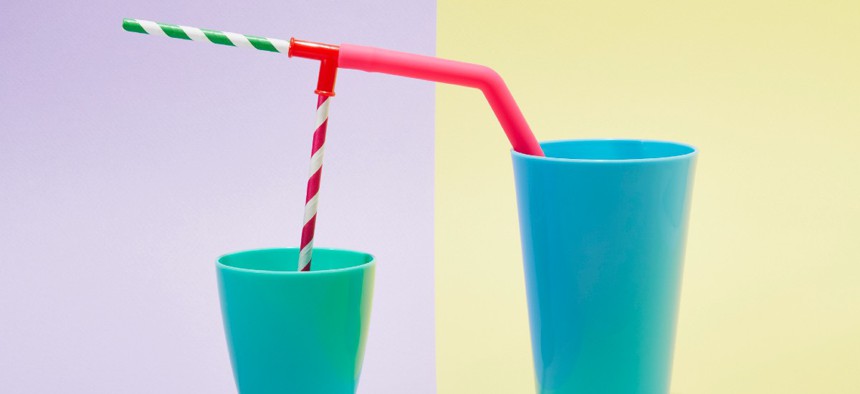 Antitrust enforcement, particularly when it comes to mergers-and-acquisition activity, is something that has not been anywhere near the top of the agenda for government contractors for many years.
Lockheed Martin's termination of its agreement to acquire Aerojet Rocketdyne in the face of antitrust regulator opposition at least shone a spotlight on that topic. Booz Allen Hamilton is now defending its acquisition of EverWatch against a Justice Department lawsuit filed in late June.
But in speaking to economic and market observers in the weeks before that Justice lawsuit filed to my surprise while I put this article together, antitrust enforcement has been a slow burn that extends beyond M&A.
Lockheed-Aerojet: an unusual microcosm
Large transactions in the defense and government market do not typically get the attention of advocates for strong antitrust enforcement, mainly owing to the lack of a clear link to consumer protection.
Many industries and observers did gear up for some stronger antitrust enforcement and particularly on the so-called Big Tech companies when legal scholar Lina Khan became chair of the Federal Trade Commission in June 2021.
The second event worth considering is the Defense Department's own report issued in February that called for stronger oversight of consolidation in the industry. The Pentagon said it would also support the Federal Trade Commission and Justice in antitrust investigations and recommendations involving the defense industrial base.
"That report is a reflection of a certain degree of conflict and competition among disparate voices within the Biden administration," said Jonathan Fluger, head of Baron Public Affairs' antitrust practice. "It hasn't worked out yet that the antitrust reform community has run the table and totally reshaped the decision-making of all organs of government."
But today's iteration of the antitrust reform community can claim an early victory in its effort: helping make the Lockheed-Aerojet transaction go kaput.
The people leading the antitrust reform discussion—what the Baron team calls "Super Influencers" is increasingly becoming a group raising moral grounds versus technical and economic matters.
Fluger said the opposition and scrutiny over the nixed Lockheed-Aerojet combination were unexpected and came from places that could also be described that way. For example, this letter from Sen. Elizabeth Warren (D-Mass.) to FTC's Khan citing that transaction and questioning the use of behavioral remedies. Khan is a noted scholar whose work has scrutinized large technology companies.
As Fluger pointed out, that was the first time the FTC had litigated a defense industry merger in many decades.
"We're seeing somewhat of a realignment on what opinion leaders and thought leaders are really focused on: a migration from 'what's good for the national interest' into this moral debate," added Daniel Karesh, director for Baron's influencer analytics practice. 
Looking beyond just M&A
Large transactions and the specter of vertical consolidation involving suppliers are where a vast majority of the antitrust debate usually takes place, usually in the wake of a major merger announcement.
But government contractors must be constantly vigilant on the antitrust front for many matters and not just M&A, according to McGuireWoods attorney Ned Childs.
Childs, who specializes in enforcement and investigation, said Justice is using the False Claims Act and breach-of-contract issues as leverage to enforce antitrust laws.
He described the current state of antitrust in GovCon as a "three-legged stool" that takes into account the government's status as both a regulator and customer, the latter of which is a role that already embeds some regulatory power.
"We've been seeing a lot of government interest in it. We've been informing our clients of that," Childs said. "Our clients have been asking us a good number of questions given what they see as a particularly active threat environment from a compliance perspective."
So where else does the matter of antitrust come up beyond just M&A?
Childs said bid-rigging and collusion cases have been raised in fuel sales transactions, which involve various supply chain matters and how competitors interact with each other through cooperation or not.
One example of how Justice has looked at antitrust across GovCon is the Procurement Collusion Strike Force, which the department launched in 2019 to investigate and prosecute cases involving government contract bid-rigging.
Teaming arrangements can face scrutiny given how they can provide that group of contractors several advantages regarding economic efficiencies and expertise, especially for larger procurements.
Small business programs both historically and "over the last year-and-a-half as well" have also drawn attention on the enforcement front, Childs said.
Antitrust is in essence another stick the government can use in a highly regulated environment like contracting, Childs said.
"Frankly it's a lot easier to bring an antitrust action than it is a civil action," Childs said. "Given the risk that arises out of suspension and debarment that naturally comes from a criminal conviction, it's a lot easier to convince a suspension and debarment official that a government contractor is a responsible company."