Palantir blends government market uncertainty with ambitious self-labeling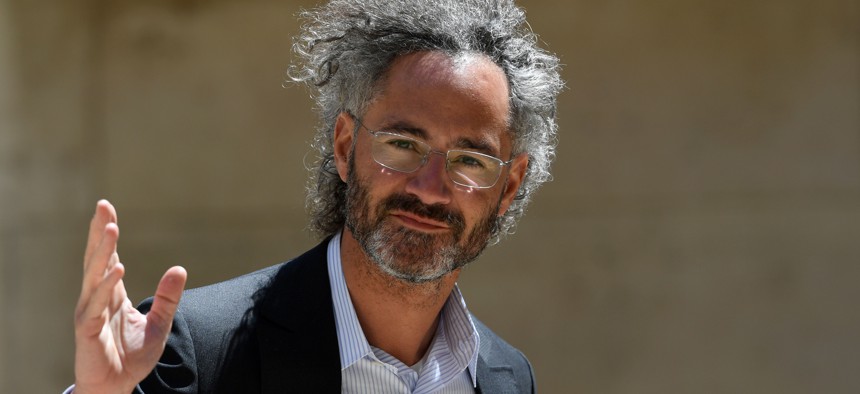 The enterprise data software maker is looking to take on an identity similar to that of another large defense company.
Palantir is evidently seeing some of the same continued stagnation across the overall federal contracting ecosystem as other companies are seeing and it is taking that into account in its financial outlook.
The enterprise data software maker is actually not including in its new revenue guidance any of what it calls "new major U.S. government awards" and assuming that as the base case.
During Palantir's second quarter earnings call Tuesday, CEO Alex Karp said some of the largest federal opportunities in its pipeline "have been pushed out" and that is creating some "uncertainty toward the end of the year."
Palantir now sees this year's revenue hitting $1.9 billion to achieve year-over-year growth of 23%. The company previously said it expected 30% growth this year, but continues to expect net profitability by 2025.
Second quarter revenue did climb 26% to $473 million primarily on expansion of its commercial business, an item of priority for Palantir to diversify its business mix since the company went public in 2020.
Growth has slowed in Palantir's government business that includes U.S. and international when looking at growth rates over the last five quarters in chronological order: 66%, 34%, 26%, 16% and now 13%.
But during Palantir's second quarter earnings call with investors Tuesday, company executives attributed at least some of the holdup in its government shop and particularly U.S. federal to the size and scope of the contracts it is pursuing.
The situation Palantir finds itself in is double-edged. As Karp told investors, Palantir deals with "very, very large contracts" so it lives "by the same sword that you pay the price for."
Recall that Palantir once went to the courts so it could enter the federal contracting ecosystem and compete against traditional players.
At the same time: Palantir is also happy to talk about the procurement activity slowdown and related lumpy nature of its government business as a factor for investors to consider in gauging its performance.
"The large and chunky nature of our contracts will continue to be, in large part, an advantage because these contracts do not disappear," Karp said. "Sometimes they are put off."
"Sometimes they take too long for us to get them. But at the $1 billion range of the contracts that we are working on, they have the bug of sometimes taking too long and the feature of a highly difficult, tumultuous and politically uncertain world," he said.
Other avenues do exist for Palantir to get more momentum in its government shop, including via partnerships with defense companies and systems integrators to create more bundled hardware-software offerings.
Chief Operating Officer Shyam Sankar said Tuesday that the concept goes both ways: There are places where Palantir is the prime and brings in the partners, or where Palantir brings its software to the team lead.
"That's led to a lot of productive collaboration that's brought opportunities within the Five Eyes and the U.S. more broadly," Sankar said. The Five Eyes refers to the inlligence alliance comprised of the U.S., United Kingdom, Canada, New Zealand and Australia.
"There's also a maturity aspect of this where (customers have) tried to build this offer that we have and have failed, and that takes five years or longer. So many of them are coming up to the point where they realize it would be much better for them as a matter of necessity to partner to go faster," he said.
Palantir's ambition remains to be the default central operating system for the U.S. government to use in managing and applying data to their missions, which means the company's software is the single solution agencies should look to.
Sankar on Tuesday presented to investors this other way to think about that: "be the Sixth Prime contractor" and "trusted partner" for delivering end-to-end products and programs that Palantir will invest deeply in.
"We just want to do this as the first software prime and we already are," Sankar said. "The way that we think about our products and government is as offerings that are built with our platforms."
Consider as examples what Palantir is doing with the Army and how it has taken away market share from long-standing competitors there, or the vaccine management platform built for the Operation Warp Speed effort to develop the COVID-19 vaccine.
Here it is also worth pointing out that another large company we cover extensively at WT also talks about itself as the "Sixth Prime."
I wonder what that company thinks of how Palantir is trying to usurp that label for itself.