Palantir's public filing reveals plenty about its federal ambitions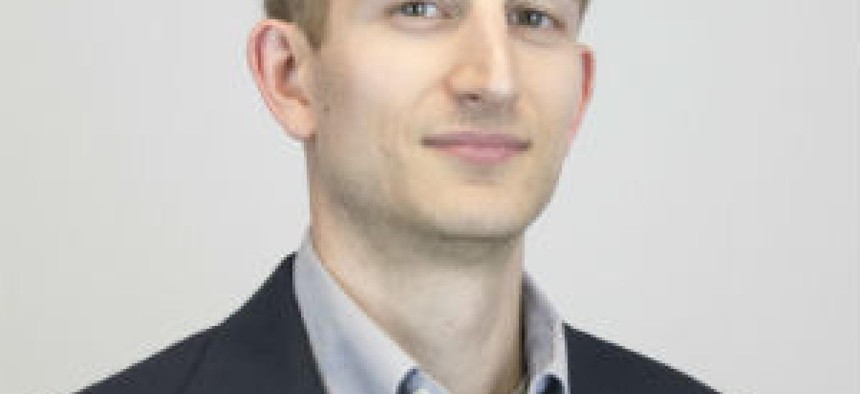 Palantir's long-awaited registration statement to go public reveals more about how the data and analytics software company sees itself and the markets it plays in, but also shows some elements that are missing.
Here are some themes that stand out from the S-1 statement and my attempt to fill in some gaps when the answers are not clear and obvious.
Who does Palantir see as competitors?
No names are named. The statement broadly describes current competitors as including "enterprise software companies, government contractors, and system integrators." Future competitors could include "emerging companies as well as established companies who have not previously entered this market."
Palantir also apparently gives a word of caution to investors regarding its success and points back to the same previously-mentioned group.
Companies in that group "typically have more sizeable direct sales forces staffed by individuals with significantly more industry experience than our customer-facing personnel, which may negatively impact our ability to compete with these larger competitors."
Who are Palantir's (named) U.S. government customers?
Keep in mind the company's intelligence community roots. But here are some of the agencies Palantir calls out by name as users in a $26 billion total addressable market:
Army, Navy and Air Force
Special Operations Command
Centers for Disease Control and Prevention
Department of Agriculture
Department of Health and Human Services
Department of Homeland Security
Department of Veterans Affairs
Food and Drug Administration
National Institutes of Health
Securities and Exchange Commission
How does Palantir size up its government business?
After multiple reads of the S-1, this is an area where Palantir is holding back some. We can see that U.S. and international government revenue totaled $345.5 million last year to represent 46 percent of overall sales. Government revenue climbed 35 percent year-over-year on growth with existing customers.
Palantir also touts having a total $1.2 billion total government contracts backlog as of June 30, which includes both exercised and contractual options. The company is not including in that $2.6 billion in indefinite-delivery/indefinite-quantity contracts where the funding is not determined.
That's pretty much it, except for how the company talks about the Army. Revenue from work with that agency totaled $53.7 million last year and $78.8 million for the first six months of this year. This appears to be strictly from the DCGS program and not from a separate job to build a new human resources data dashboard for the Army.
Other federal contracts not mentioned in the filing but in the news: providing a web app to the CDC for coronavirus monitoring, two similar pacts for HHS and VA to use Palantir's Gotham data sharing software, and the case management contracts with DHS' Immigration and Customs Enforcement agency.
How else can we size up Palantir's federal business?
This is an inexact science, given we are assuming a sizeable piece of Palantir's business is classified and that publicly-available contracting data only counts unclassified prime obligations to the company and DOD spend is reported six months after the fact.
But we can still give it a crack. Data provided to us by Bloomberg Government indicates those obligations to Palantir totaled $173 million in the 2019 federal fiscal year, to show a 5-percent compound annual growth rate over four years.
Palantir is also apparently on pace for growth in this current federal fiscal year with nearly $150 million in sales recorded so far, according to an analysis provided by public sector data analytics firm 202 Group.
Again, factor in both the delay in DOD data reports and no information on classified spend.
The 202 Group team also looked back to fiscal 2016 and identified the four largest agencies as Unified Combatant Commands at $197 million, the Army at $158 million, ICE at $94 million and the Navy at $60 million.
Customers apparently getting more than just the product from Palantir. Analysts at 202 Group report that although the sales are listed as software, "significant amounts of services are bundled with the software sales and are necessary to get the full value of the tool."
What are Palantir's ambitions in the federal market?
The company makes it simple when explaining the growth strategy there: "Become the default operating system for data across the U.S. government."
Which points to how Palantir makes its pitch in the S-1's first sentence: "We build software platforms for large institutions whose work is essential to our way of life. Those institutions must be able to function in times of stability as well as crisis and uncertainty. To do so, they need software that works."
Labeling Palantir as a non-traditional market player has one caveat: It was founded in 2003 with the backing of In-Q-Tel, the intelligence community's venture capital arm, and started building software for those agencies to use in counterterrorism operations.
Palantir scored a significant victory four years ago when it won a favorable court ruling that paved the way for the company go head-to-head with Raytheon for work on the Army's main battlefield intelligence system. Earlier this year, Palantir won a seat on phase two of that Distributed Common Ground System-Army program.
Becoming the government's go-to data system is certainly a lofty goal, but Palantir believes its "victory in federal court now makes that possible."
How does Palantir relish in that legal victory?
The company just did not like the government procurement system and struggled to make inroads in it, so they went to the judiciary and fought it.
Palantir argued the 1994 Federal Acquisition Streamlining Act was being largely ignored and specifically how it requires agencies to essentially first consider what is available on the commercial market before going down the custom development path.
"The regulations involved seemed too esoteric, and the market too dominated by incumbents who knew how to maneuver within the system to their advantage. Inside-the-Beltway defense contractors built entire businesses almost exclusively around selling custom technology solutions to the government, many of which we believe failed to achieve their intended purpose," Palantir writes in its S-1.
Winning in court to get on the DCGS-A program caused ripple effects in Palantir's eyes beyond having simply "leveled the playing field."
"Beltway contractors suddenly faced the unfamiliar economics of a new business model in markets where they previously had enjoyed incumbent status. They must now develop and build their own software products in order to compete.
"This work will take years, add research and development costs to their balance sheets, and may not ultimately succeed."
What risk factors about the U.S. government market should investors consider regarding Palantir?
The public sector ecosystem knows this particular one by heart, but here it is regarding the federal budget.
More specific to Palantir and its strategy, this one cautions the federal government may go back down the custom development path in some instances.
In some of those instances, Palantir could also go back to fight the system again.