Tick tock: How Carlyle won the ManTech auction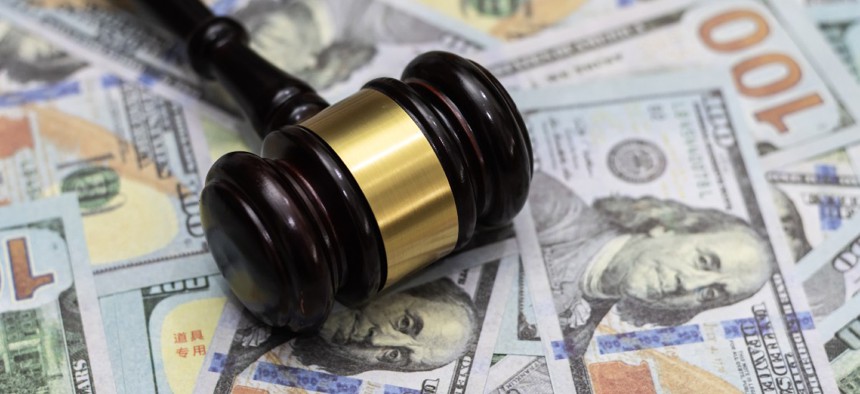 A change of opinion by ManTech's founder regarding a sale led to a three-round process where legal matters were of equal importance to the financials.
In the race to get the favor of and acquire ManTech, Carlyle Group's most direct competitor was another private equity firm like it that invests in the government technology and professional services market.
The financial aspect of that contest ended in an exact tie: both suitors' best and final offers were at exactly the same cash price of around $3.9 billion, or $96 per share.
If the rival private equity firm won the race, then one of its portfolio companies would have absorbed ManTech to become a larger government contractor.
But ManTech's board of directors opted to go with Carlyle in May as that bid presented more certainty on the antitrust approval front and perceived speed for signing all the necessary paperwork, according to regulatory documents filed Friday.
The board's hesitancy on selling to that other private equity firm comes amid increasing discussion of and scrutiny on antitrust matters in GovCon, whether that be involving companies making acquisitions or entering into business pacts with one another.
Lockheed Martin nixed its acquisition of Aerojet Rocketdyne after running into antitrust regulatory opposition, while Booz Allen Hamilton will defend its planned purchase of EverWatch against a Justice Department lawsuit.
Given it is a publicly traded company, ManTech is required to detail how the pending sale of itself went about and why it chose Carlyle's offer in the end.
We clipped out the relevant 15 pages here that detail the full three-round process and board's thinking after ManTech's founder and longtime leader George Pedersen changed his mind regarding a potential sale of the company.
Pedersen effectively controlled ManTech for many years through his long tenures as board chairman and chief executive, as well as through ownership of a majority of the voting stock.
He and the family changed their long-standing opinion against a sale of ManTech in the fall of 2021 by telling the board they were open to it.
While not detailed in the proxy filed Friday, it is worth pointing out that an ownership transfer of some of that voting stock from Pedersen to the broader family sometime earlier this year altered the voting control picture.
After getting that message, ManTech's board then started talking with its legal adviser King & Spalding and financial adviser Goldman Sachs on options for transactions including a sale.
ManTech's board also drew up a list of 19 potential acquirers and told Goldman Sachs to contact them on what the filing calls a "confidential no-names basis."
Fourteen out of those 19 contacted signed confidentiality agreements with ManTech, including two that reached out to Goldman Sachs after Reuters published this Feb. 3 story that said Pedersen was exploring options for his stake in the company including a sale.
That field of 14 then turned into six, the latter of which represents the number of first-round indications of interest ManTech received with a deadline of March 28.
ManTech also got an idea of what others valued the company at as those bids were in the range of $2.9 billion-to-$3.7 billion, or $71 to $90 per share, amid a period where the stock was trading above $80 per share.
Four of those six bids came from private equity suitors including Carlyle, while the other two that showed initial interest were government contractors.
Carlyle advanced to the second round along with two other private equity firms that already own government contractors, plus the GovCon company proposed the cash-and-stock blend.
PE Party A, PE Party B and Strategic Party A are how the proxy identifies Carlyle's competitors for acquiring ManTech.
Discussions between the legal advisers of ManTech and PE Party B over the late April-to-early May timeframe got to the fact that one of the private equity firm's portfolio companies in the same market would be the acquiring party in their proposal.
That discussion turned to analyzing how antitrust approvals would come about given the potential of capability overlap and level of competition with respect to current, previous and future government procurements.
From there, ManTech's senior management team and the company's legal advisers agreed the antitrust risk was there for PE Party B but not nearly much with Carlyle or Strategic Party A.
ManTech's big decision on its future got somewhat simpler after PE Party A withdrew from the process during the week of May 2, which narrowed the field potential acquirers down to two private equity firms including Carlyle and the GovCon company.
Those remaining three submitted their second-round bids on May 9 with Carlyle's at $3.8 billion or $92.25 per share all-cash, PE Party B's at $3.5 billion or $87.00 per share all-cash, and Strategic Party A's at $3 billion or $75.00 per share in cash and stock.
Carlyle and PE Party B were then given a due date of May 11 to get their best and final offers in with an increase in price and improvement of terms strongly encouraged by ManTech's financial advisers.
By that point, the final two had already submitted markups of a draft merger agreement but Carlyle included this term in its version: an agreement for Pedersen and his family to vote in favor of that firm's proposal.
The filing details how the process got particularly busy on May 11, which is the same date that members of ManTech's senior management team updated Pedersen on the transaction process and told him of the voting agreement Carlyle requested.
Also on that date: Carlyle indicated it would submit a proposal to acquire ManTech for $3.88 billion in cash or $95 per share, while PE Party B would do the same at a price of $3.93 billion or $96 per share.
Later that day however, Carlyle updated its proposal to what became the final and accepted price of $3.93 billion or $96 per share.
May 13 turned out to be decision day for the ManTech board and their final evaluation of PE Party B's proposal returned to the prospect of not getting antitrust approval under that proposed transaction.
The overlap between ManTech and PE Party B's portfolio company that would be the surviving entity would have led to a lengthy regulatory review in the board's eyes, which then presents the risk of financing becoming unavailable in the event of an antitrust holdup.
Carlyle on the other hand would acquire ManTech and operate it as is, which is why they proceeded on the transaction we heard all about on May 16.