What Oracle's planned $28B Cerner acquisition means to federal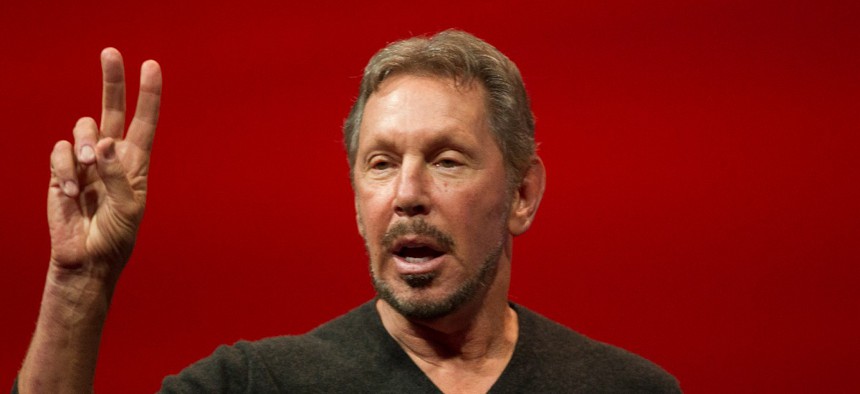 We cover our fair share of big-ticket acquisitions and megamergers around these parts, though very rarely do they enter into the double-digit billions of dollars in price.
Entirely new financial territory defines Oracle's Monday morning announcement that it will pay a company record $28.3 billion in cash to acquire health IT giant Cerner, whose electronic health record software is being adopted by the Defense and Veterans Affairs departments for their care systems.
Bottom line: Oracle wants a bigger share of the health care vertical that cloud computing market share leaders Microsoft and Amazon have made clear that they want to lead.
Microsoft said in April it plans to pay $16 billion in cash for Nuance Communications, which builds artificial intelligence and other digital tools for health industry clients. Amazon acquired startup health application company Health Navigator in 2019 and folded it into Amazon Care, the e-commerce giant's virtual health business.
With that bit of commercial but important context out of the way: we do acknowledge Cerner's federal business was likely not the carrot in Oracle's eye, but is certainly noteworthy.
U.S. government contracts represented approximately 18 percent of Cerner's $5.5 billion in revenue for 2021, or around $990 million with agencies, predominantly the Defense and Veterans Affairs departments.
Leidos won a $4.3 billion contract in 2015 to act as the lead integrator for DOD's electronic health record modernization effort with a variant of the Cerner EHR being the cornerstone.
Those roles are reversed at the VA, which awarded a sole-source $10 billion contract in 2018 to Cerner with Leidos as a lead subcontractor. Accenture Federal Services also is a lead subcontractor on both efforts.
Also in 2019, Cerner made its debut on our annual Top 100 rankings of the federal technology market's largest contractors and just cracked the top half at No. 48. New entrants to the list typically mark their first entry in the lower quarter.
Cerner listed at number 35 on this year's rankings, up three spots from that of 2020. Credit the company's acquisition of AbleVets as aiding that rise along with some, and we emphasize the word some, movement on the rollout of its health record software.
Speed bumps is the apt phrase to describe how the VA EHR rollout is going with the most recent example in November focused on just the appointment scheduling system. No further deployments of the EHR will happen until next calendar year, for which the VA wants full funding for.
DOD's EHR effort is on its own path that so far has gone much more smoothly, as highlighted by the Coast Guard's full adoption in November of the Military Health System's Genesis system that is a version of the Cerner product. The Pentagon sees full department-wide fielding of MHS Genesis happening in 2023.
The questions we have from this corner start and end with this: just what will the VA make of Oracle's agreement to acquire Cerner? The transaction will go through an antitrust regulatory review just like Microsoft-Nuance.
Far too early to know much as the dust has only just been thrown into the sky. But we are certain the users of Cerner's health record across DOD and the VA are flooding the zone with questions that do not yet have full answers.
"This is one of the risks that you take on when you move to proprietary technology -- it's subject to sale," former VA Chief Information Officer Roger Baker told our sibling publication FCW.
"While the new seller has to live up to an extent to the current contract, everything that's not defined inside the four corners of the contract is up to the seller. They own the technology. They can do what they want to do with it."
In the acquisition announcement, Oracle said it plans to link Cerner systems with the former's Gen2 cloud hosting environment and autonomous database so only specifically authorized medical professionals can access patient data. IT professionals maintaining the systems are unable to look at patient data.
With Cerner in the fold, Oracle's goal is to change the ratio of between 1 and 2 hours that physicians spend on health records and desk work for every hour spent with patients.
One change to watch for is Cerner's designation of Amazon Web Services as lead cloud partner that was finalized two years ago.
Also certain: Oracle will relish in having its cloud host Cerner's assets.
Read this shade thrown at Amazon earlier in this month by Oracle's co-founder and technology chief Larry Ellison to get a glimpse at why.