NRO finalizes imagery contract worth 'billions of dollars'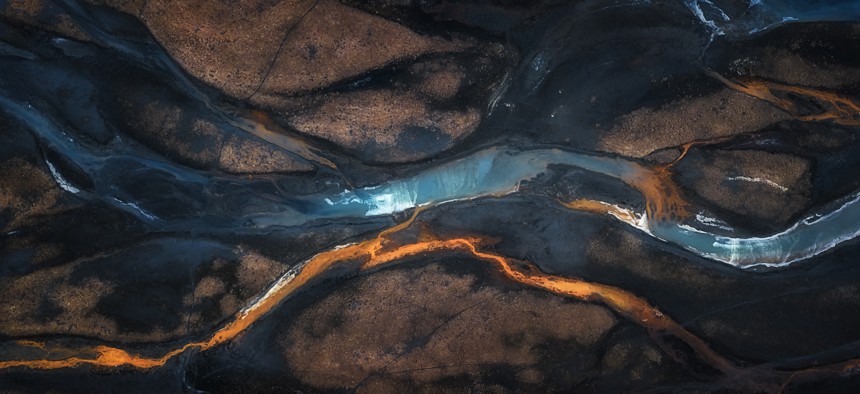 The National Reconnaissance Office has finalized three awards for a new multibillion-dollar iteration of its main contract for acquiring commercial satellite imagery on behalf of the U.S. government.
Longtime incumbent Maxar will continue its role on the expanded effort that adds two more imagery providers in BlackSky and Planet. All three companies received awards with a five-year base period and up to five option years, NRO said Wednesday.
NRO's release did not disclose an exact ceiling figure, but characterized it as "valued at billions of dollars over the next decade."
Maxar revealed in a regulatory filing that its portion of the contract has a ceiling of $3.24 billion, of which $1.5 billion represents the base period and the $1.74 billion portion seen in the option years if all are exercised.
BlackSky's contract is valued at up to $1.02 billion over the potential 10-year period, that company said in its own filing to the Securities and Exchange Commission. No financial details were released by Planet when this story was published.
For both BlackSky and Planet, their awards represent major milestones for them since becoming publicly traded companies through mergers with so-called "SPAC" entities last year. BlackSky went public in September 2021 and Planet followed three months later.
With the new Electro-Optical Commercial Layer contract, NRO is looking to support an estimated 500,000 federal users with remote sensing capabilities that can be shared across the entire government quickly given the program's unclassified nature.
Unclassified commercial imagery has been even more at the forefront in recent times given how satellites have documented Russia's invasion of Ukraine and the latter's defense of its country.
"NRO has a long-standing strategy of 'buy what we can, build what we must'," NRO Director Dr. Chris Scolese said in a release. "The diversity offered by our expanding architecture comprised of both commercial and NRO systems increases our resilience and enables an integrated approach to the threats facing our nation."
NRO also touted the contract's potential use for military and humanitarian missions, both of which have situational awareness requirements and a need for data collection and transfer from the sky to the ground.
"Commercial imagery is a valuable tool for information sharing and decision making," said Pete Muend, director of NRO's commercial systems program office. "EOCL allows us to meet a larger number of customer requirements more quickly than ever before and dedicate national systems to the most challenging and sensitive missions."
Via a series of transactions including that involving DigitalGlobe, Maxar had essentially been the sole provider of commercial imagery to many U.S. government agencies including NRO for nearly a decade.
BlackSky and Planet came on board through study contracts awarded to them and Maxar in 2019, when NRO took the responsibility over EOCL program's predecessor from the National Geospatial-Intelligence Agency.
The investor community's positive response to NRO's announcement has been significant. Maxar's stock was up by 18%, Planet's by 15% and BlackSky's by 117% in mid-afternoon trade.