Big wins follow big changes at CACI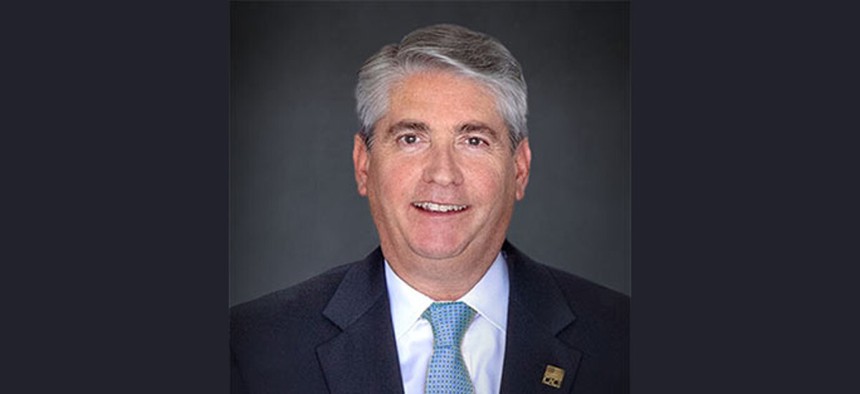 CEO John Mengucci describes to us the strategy for transforming what technology CACI International delivers to its customers and how, which preceded the captures of three multibillion-dollar contract awards.
During the past 12 months, CACI International completed what its chief executive John Mengucci calls a "hat trick" of contract wins that resulted from years of work and preparation.
One of those is the largest in CACI's 60-year history: the Air Force Enterprise IT as a Service contract worth $5.7 billion over up to 10 years.
That was followed by the win of a $2.4 billion contract that Mengucci can't name because of how highly-classified it is.
"You can, but I can't," Mengucci joked in an interview at CACI's headquarters in Reston, Virginia.
So we will – Focused Fox is a National Security Agency contract for intelligence and cybersecurity services. That award has a five-year period of performance.
CACI completed that trifecta of captures with a $1.2 billion Navy software development award known as Spectral.
These high-dollar, single-award contracts indicate where CACI is headed as a Top 100 provider of technology products and services to federal government agencies, particularly in support of the Defense Department.
The wins also chart the course CACI has followed for the last decade, during which Mengucci became chief operating officer in 2012 and then CEO in 2019.
Over the last 10 years, CACI has shifted its business model from being mostly based on traditional services work that Mengucci described as selling expertise. CACI now puts greater focus on technology-based business, which means mostly selling solutions and outcomes.
Mengucci said when he joined CACI from Lockheed Martin, CACI's mix of expertise versus technology was 80-20 with traditional government services work representing the majority.
Acquisitions and other investments have helped move the mix to what is now about 50-50, Mengucci said.
Mengucci said he doesn't have a vision for what the ultimate mix should be because as he sees it, sides of the business are important for CACI's growth.
"I like both sides of our business," he said. "They are not separable."
Hourly-based services work can lead to more of the kind of outcome-based technology business the company desires. CACI personnel have been working side-by-side with the government customer for over 40 years under services contracts, Mengucci said.
Some of these customers aren't ready for the shift to an outcome-based solution. But CACI wants to stay right by their side until they are ready, he said.
Some of the technology solutions CACI has developed and acquired over the years have been heavily focused on software development capabilities that include agile development, the DevSecOps practice, cloud computing solutions and robotic process automation.
CACI made those investments to position itself for that trio of large contracts, but the wins also reflect the changing needs of customers.
The pace of war is changing which means "more has to be done in software versus hardware," Mengucci said.
That has driven some of CACI's largest acquisitions, especially the $750 million purchase of LGS Innovations in 2019.
"I believed we could build a company that was more agile, quicker on our feet and invest ahead of the customer need," he said.
The focus on software can create a longer-term relationship with the customer.
"I want to be with you forever because software is a forever deliverable," Mengucci said.
The concept of investing ahead of customer need is a critical component of CACI's strategy and is why the company has turned its attention to space and photonic technology.
More satellites are going into orbit to serve government and commercial entities as the price of launching them has dropped. Space also has become a contested arena. That emerging market of space has led CACI to become a supplier for satellite developers.
CACI's acquisition of LGS brought in more photonic technologies, which work to enable the movement of data through beams of light. The acquisition of SA Photonics in 2022 brought to CACI more of those capabilities.
"Radio frequencies can be jammed but it is much, much harder to jam a beam of light," he said. "Instead of having a radio frequency connection between satellites and from satellites to the ground you can have optics."
Mengucci said CACI has the only U.S.-engineered and -built optic communications terminal in space today.
"I'm not a satellite vendor and I never will be, but our answer is the optical terminals," he said. "We provide things that go on satellites and we deliver to everybody."
CACI's goal to invest ahead of need changed the kind of conversations it has with customers, which are now more focused on the mission and challenges they face. The conversation has to be about what outcomes the customers are looking for, Mengucci said.
"A customer might say they need 200 people, but what is it they want to get done?" he said.
The answers to that question can be openings for CACI to propose technology that allows it to accomplish the goals with less people and at a lower cost. Those conversations are different at different agencies, Mengucci said.
"Every agency has their own culture and their own pace of change," he said.
CACI's desire to stay ahead of the customer need is what has driven its acquisitions, but buying other businesses isn't the only course CACI follows.
"When we look at our gaps, we have a three-pronged strategy – you invest, you partner or you acquired.
When time is on their side, Mengucci said CACI wants to invest to build a capability.
"If the market isn't going to be there for a couple years, I'll invest 100% of the time."
But if the funding streams are strong and deep and CACI needs solutions now, "then we'll acquire," Mengucci said. "And if it isn't core, then we'll partner."
An example, he used is cloud computing.
"I'm not going to build my own cloud infrastructure, I'm going to partner," he said.
Something in the electronic warfare space is different.
"We are always going to be interested in anything in the electromagnetic spectrum," he said. "Everything with a battery emits a signal."
Other areas of importance to CACI's acquisition strategy are data analytics, artificial intelligence and IT modernization capabilities.
"There is a lot of [IT modernization] work out there and we have some gaps, so we'll continue to go out and fill those gaps," he said.