CACI clears protest hurdle to claim $5.7B Air Force IT contract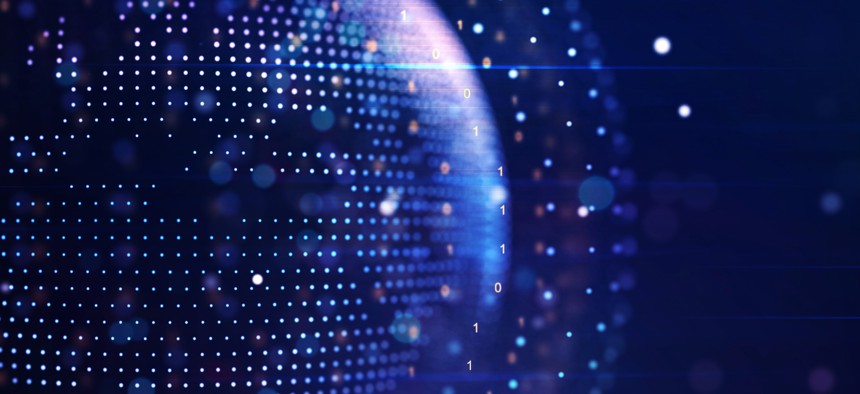 CACI International has cleared what could be the last hurdle before it can lay official claim to a $5.7 billion Air Force contract for enterprise IT as a service.
The company has twice been awarded the contract, but each time it was met with protests filed by other bidders. Now the Government Accountability Office has denied the final protest by Peraton.
Peraton's only recourse now would be to take its objections to the U.S. Court of Federal Claims, which has greater authority than GAO to enforce bid protest rulings. We've asked Peraton for comment on that possibility.
This is the largest contract CACI has won in its 60-year history, so we've also reached out to CACI for comment.
CACI first won the contract in August 2022 against other proposals from Accenture, Peraton and Science Applications International Corp.
All three disappointed bidders subsequently filed protests, after which the Air Force took corrective action to look at alleged flaws in the evaluations. The service branch also examined claims that CACI had an organizational conflict of interest because former Air Force employees worked on CACI's proposal.
The Air Force chose CACI again in January. Accenture and Peraton returned with new protests, but Accenture later withdrew. Peraton continued to pursue its protest and made multiple filings with GAO raising new challenges. GAO denied all of them.
A public version of GAO's decision will eventually be released. The Air Force, CACI and Peraton all have to agree on what that public version will include.
High on my list is the organizational conflicts-of-interest claims because those kinds of allegations seem to be more prominent in bid protests. How CACI mitigated any OCI concerns (if there were any) should be an important lesson for other companies because everyone hires former government employees.
The Enterprise IT as a Service Wave 1 contract will run for 10 years and is part of the Air Force's push to outsource more of its IT functions to companies.
CACI's teammates for the program include Bowhead Logistics Management, Cartridge Technologies, Cask NX, CDIT, Enhanced Veterans Solutions, Expansia Group, InSequence, Oneida Technical Solutions and Vision IT Consultants.
Wave 1 is focused on end users and includes compliance checks on devices, integrated security management, troubleshooting, tech refresh, and hardware updates. The Air Force is also looking to create an IT store for users to order needed services.
Contracts still in the works are Wave 2 for on-campus networks and Wave 3 for wide-area networks. An award for Wave 2 could come this year.