Why BAE is paying $5.5B to acquire Ball's aerospace unit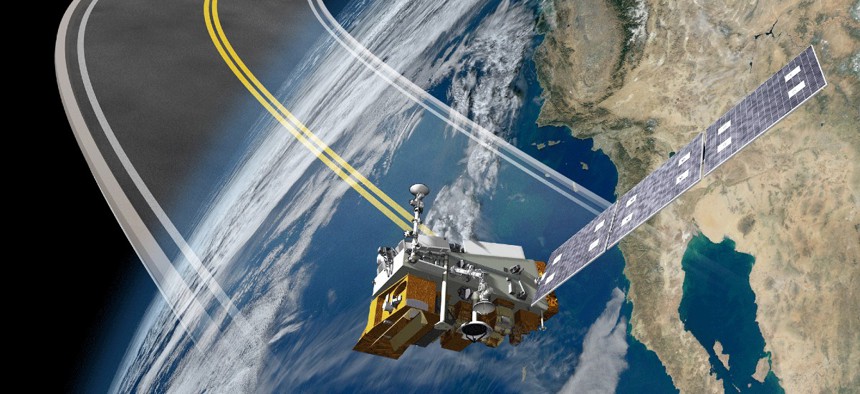 This is BAE's largest purchase since its formation in 1999 and the company says it will create a wider footing across the rapidly growing space sector.
BAE Systems is making its largest acquisition with the agreement to buy Ball Corp.'s aerospace subsidiary for $5.5 billion amid a period where space and supply chains dominate conversations across the defense industry.
Both of course are being driven by the ongoing conflict in Ukraine that has seen unmanned aerial vehicles, shoulder-fired missiles and artillery all put to use, putting stresses on supply chains.
During a conference call with investors Thursday, the chief executive of BAE's U.S. subsidiary said the acquisition of Ball Aerospace team highlighted the war as one trend driving customer budget priorities and how the defense industry is moving to meet that higher level of planning and demand.
The other two factors Tom Arseneault highlighted for analysts to consider extend beyond just defense.
Across the bigger picture
"First amongst these trends is the steady inexorable shift of priority to the space domain where scores of new satellites will orbit the earth to protect and defend our freedoms around the world," Arseneault said. "Second: increasing concerns about the causes and effects of global warming, catastrophic weather events and the health of our planet at large are also steering budgets to space, where future generations of sophisticated scientific instruments and monitoring systems will help us better understand the earth and our impact on it."
Ball Aerospace enters that equation as a manufacturer of spacecraft, instruments and sensors that go into satellites for tracking everything in space and in the Earth's atmosphere. The business also makes electronics and subsystems for missiles and munitions.
For example, Ball supplies the mirrors used on NASA's James Webb Space Telescope and built the spacecraft for the first Joint Polar Satellite System satellite to help the National Oceanic and Atmospheric Administration monitor weather conditions on Earth.
A second effort in the defense realm sees Ball Aerospace involved in the Space Based Surveillance System program, a planned Space Force constellation of satellites and ground infrastructure to watch everything in-orbit around the Earth. Ball Aerospace developed, built, integrated and tested the SBSS spacecraft for the program lead by Boeing.
Being a merchant supplier to a larger company also factors into how BAE believes its acquisition of Ball Aerospace gives it a footprint in munitions, which have been in historically high demand across Europe.
Arseneault described BAE as "being part of the munition supply chain in a world where countries are backfilling more than ever before."
The nature of Ball Aerospace as a merchant supplier to larger companies puts in in a position to where it is both a partner and a competitor at the same time, as Arseneault pointed out.
"Where there is opportunity to compete for sort of prime-level or platform-level opportunity, they have done so, but that tends to be for the smaller, more modest satellites," he said.
BAE and Ball expect to close their transaction in the first half of 2024, pending closing conditions and the needed regulatory approvals from U.S. antitrust regulators in a period of increased scrutiny on that front. Arseneault said BAE is "seeing that moderate a bit."
Diving into the numbers
Ball Aerospace employs approximately 5,200 people and expects to end 2023 with $2.3 billion in revenue with the goal of achieving a 10% compound annual growth rate over the next five years. The business also touts a total order backlog of $8 billion.
An investor presentation breaks out Ball Aerospace's end market mix as 85% defense and 15% civil, the latter of which includes government and commercial customers. Around 70% of the unit's domain activities are in space with 30% as tactical missiles and other.
Close to 60% of Ball Aerospace's revenue is from prime contracts with government agencies, while the other 40% represents sales booked as a merchant supplier to larger defense hardware companies.
Ball Aerospace expects its 2023 profit at around $310 million EBITDA (earnings before interest, taxes, depreciation and amortization).
The transaction's enterprise value becomes $4.8 billion when adjusting for a tax benefit BAE expects to see, given this is an asset purchase agreement.
BAE is also forecasting $30 million in run-rate cost synergies for 2024 to realize through new competitive positioning, procurement savings, and improvements on both program execution and the management of bids to delivery.
Morgan Stanley is working as financial adviser to Ball. Law firms Skadden and Axinn are providing legal and regulatory counsel to Ball.
Now what of Ball Corp.?
It's straight-forward: the manufacturer of recyclable metal beverage and food containers wants to focus exclusively on just that. Half of the $4.5 billion in after-tax proceeds from the sale of Ball Aerospace will go toward debt paydown. That means more room for being a soda and beer can maker.
"Executing our strategy of enabling the greater use of circular aluminum packaging on a global scale continues," Ball CEO Daniel Fisher said in a release. "Our acceleration of low-carbon, best-value aluminum packaging initiatives in the years to come will stimulate organic growth across our global packaging operations and improve the world for future generations.
"Our innovative portfolio of aluminum cans, bottles and cups for single-serve, refill, reuse and recloseable applications has untapped potential."