Where Amentum leans in on hypersonics, unmanned tech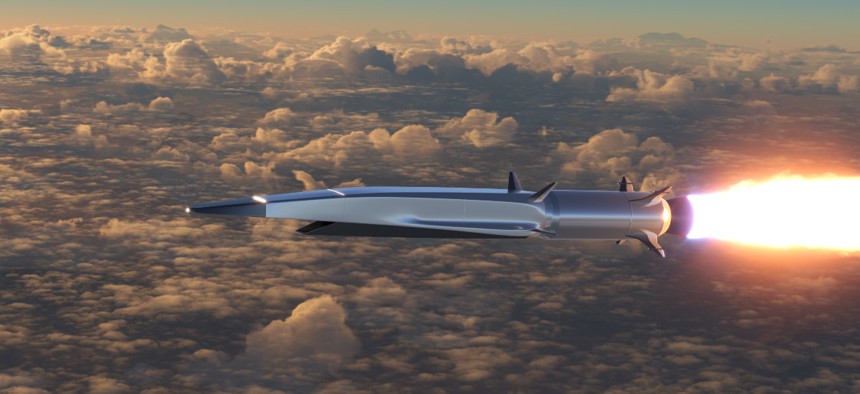 Hypersonics and unmanned aerial systems represent a pair of technologies that have been around for multiple decades, but still have a heavy focus on research-and-development efforts even amid rapid advancement.
R&D also represents a core leg of Amentum's strategy with respect to how the 45,000-employee government services company thinks about technology as underlying a larger solution offering.
"There's a lot of acceleration that's going on, not just in hypersonics, but I would say technology in general has an accelerated development cycle, especially with some of the things like digital engineering and model-based systems engineering," said Jill Bruning, president of Amentum's engineering, science and technology group.
Hypersonic weapons are capable of traveling anywhere between 5 and 25 times the speed of sound, which translates to roughly 1-to-5 miles per second. That speed increases the difficulty of intercepting and defending against the weapons..
As Bruning explained to me: the larger government market ecosystem has been talking about hypersonics as a larger ecosystem for several years given the speed that "makes it a high priority for the effectiveness of military operations."
Where does a government services company of Amentum's size and scale look to focus itself in hypersonics? Bruning singled out the front-end work such as the integration, testing and R&D to inform how the systems are made.
Bruning said that involves "looking at the state of maturity across all of the domains from the deterrence perspective, the thermal management perspective, the operational effectiveness perspective."
That includes working with both the government buyers of hypersonic weapons and the manufacturers of those systems. Bruning cited the Defense Advanced Research Projects Agency as a primary customer of Amentum's with respect to hypersonics, but DARPA is not the company's only partner for ongoing efforts there.
"We collaborate with all of the manufacturers who are building and testing either parts or systems as we go through that hypersonic development lifecycle," Bruning said.
A second franchise program for Amentum is taking place at the Navy under a potential five-year, $70 million contract awarded in the spring to work with a Navy team on the R&D aspects of strategic missions involving hypersonics.
The Naval Surface Warfare Center Crane's Strategic Systems Hardware Division has tasked Amentum to help in the analysis, systems engineering and testing functions in support of the development of hypersonics and other enabling technologies.
In the area of unmanned aerial systems, Amentum has placed much of its attention on countering those platforms. This involves the methods and technologies that can detect, identify, track and mitigate threats from unauthorized or malicious vehicles.
But as Bruning pointed out, the air is merely one domain for unmanned vehicles even as it is the most high-profile. The land, the sea surface and underwater domains are also places for them to be in use.
Amentum is the lead contractor on a five-year, $260 million program at the Homeland Security Department to help its science and technology directorate develop prototypes for counter-UAS technologies.
The company also has some room to look at other programs and even within itself for how it thinks through some of the problem sets in unmanned technology.
In July, the Army destroyed the final chemical weapon in its arsenal that was located at Blue Grass Army Depot in Kentucky. With that action, the U.S. military no longer has any chemical weapons.
Amentum worked at that plant and used unmanned systems to monitor the destruction work from a distance.
"It also provides you an opportunity to use this kind of technology when there are safety issues and threats that you can't use people for," Bruning said.
(A future episode of our WT 360 podcast will feature my full conversation with Jill Bruning that includes her description of how Amentum organizes its technology approach and structure, perspective on the evolution of systems engineering practices such as MBSE, and more on where learning by using the drones themselves feeds into work for federal customers)