Tick tock: How L3Harris won the race for Aerojet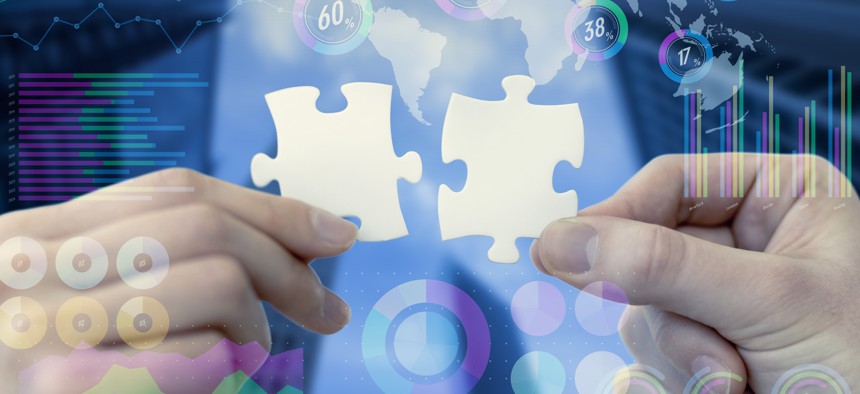 New financial documents detail how Aerojet Rocketdyne's second sale process essentially began with a boardroom split and ended with one last phone call to ensure it got the best price possible.
One significant contrast jumps off the pages in reading Aerojet Rocketdyne's regulatory filings that detail both its sale processes within the past three years.
For process number one in 2020, Aerojet did not field any other proposals than the one it agreed to accept from Lockheed Martin for $4.4 billion. Lockheed terminated that bid in February 2022 after it decided the federal antitrust regulatory landscape would not allow the transaction.
On the other hand, process number two started with an initial set of seven bidders that narrowed to a final two of L3Harris Technologies and another competitor. L3Harris won with a final bid of $58.00 per share, or $4.7 billion.
These 13 pages from a financial document filed on Jan. 30 describe the full timeline of how the agreement with L3Harris came about.
Aerojet has to disclose that information as a publicly traded company. It did same these 23 pages filed in February 2021 that describes the process and negotiations with Lockheed.
For Aerojet, the aftermath of the Lockheed agreement's termination resulted in a split board of directors with dueling camps. One led by chief executive Eileen Drake and and a second led by then-Executive Chairman Warren Lichtenstein.
The 13-page filing starts the timeline with Lichtenstein's launch of a proxy contest for control of the company from January to June 2022. A stockholder vote on June 30 would decide which side would lead Aerojet going forward.
Drake and her board allies won that vote, while Lichtenstein and the board members aligned with him all stepped down.
Thomas Corcoran, a board member since 2008, became independent chairman of the panel. Corcoran has also been on the boards of L3Harris and predecessor companies since 1997 (more on this later).
In the midst of Aerojet's internal happenings, activist hedge fund Elliott Management had acquired a 3.7% equity stake in the company. Elliott representatives subsequently sought, and got, a phone call with Drake to show interest in a potential transaction involving Aerojet.
Recall that Elliott also built a stake in Cubic Corp., then partnered with private equity firm Veritas Capital to acquire the defense and transportation company in 2021 for nearly $2.4 billion.
Several meetings involving Aerojet's board and its financial and legal advisers took place over the summer of 2022 to go over the company's overall direction and how it could go about a "potential strategic process." Regulatory risk was one of several items they went over given what happened with the Lockheed agreement.
In an Aug. 30 meeting with those advisers, Corcoran raised the fact that he was on the board of L3Harris but recused himself from discussions with that panel involving Aerojet.
As the talks with L3Harris and other bidders progressed, Corcoran increased his recusals from activities within Aerojet itself.
So did a person the filing calls Director AA, who was on the board of another company that Aerojet considered a potential buyer and entered into a non-disclosure agreement as part of the process.
Oct. 14 is when Aerojet and its advisers received the initial seven indications of interest to acquire Aerojet. Five were strategic counterparties including L3Harris. One financial sponsor (private equity) also put in an indication of interest, along with a pair of financial sponsors that formed a partnership for this process.
Other than L3Harris, the filing does not describe the individual bidders in much detail to determine which were strategic or financial buyers given how they are labeled Bidders A through F.
L3Harris' price range of $47.00-to-$49.00 per share ($3.8 billion-to-$3.9 billion) was low compared to the other bidders, but Aerojet saw the strategic fit and financial capacity of that bidder.
Aerojet's financial advisers told L3Harris it would have to make a more competitive offer to stay in the process. One followed at $50.00-to-$52.00 per share ($4 billion-to-$4.2 billion).
Bidder F dropped out from the process on Nov. 19, which narrowed the field to six potential buyers for Aerojet's board to consider.
Those six then got a Nov. 30 due date for initial markups of a merger agreement to get feedback on, along with a Dec. 8 deadline for revised bids.
L3Harris, Bidder B and Bidder C all met the Nov. 30 due date for markups. Bidder B and Bidder C got their revised bids in on Dec. 8, while L3Harris sent its new proposal in the following day after a board meeting.
Bidder B's offer was $51.00 per share, or $4.1 billion. Bidder C's price was $52.00 per share, or $4.2 billion. L3Harris' offer was $57.00 per share, or $4.6 billion.
Bidder A decided to instead pursue an acquisition of part of Aerojet, whose financial advisers responded with an open invitation to the process upon any reconsideration of that decision.
L3Harris and Bidder C were the final two in the running. Both held to their prior offers on the financial front. Bidder C did not submit revised drafts of the transaction documents, but L3Harris did.
On Dec. 17, Drake called L3Harris' chairman and chief executive Chris Kubasik to negotiate a potential price increase after Aerojet's board picked L3Harris as the preferred buyer. She and Aerojet got it at the final valuation of $58.00 per share, or $4.7 billion.
Something else happened in the midst of all those events that we have not seen before in these types of processes.
On Dec. 6, Kubasik sent personal letters to each member of the board regarding his company's interest in acquiring Aerojet.
The filing does not tell us what Aerojet's board thought of Kubasik's letters. But they certainly could not have hurt given that L3Harris did win the race.