Core One and cBEYONData move on acquisitions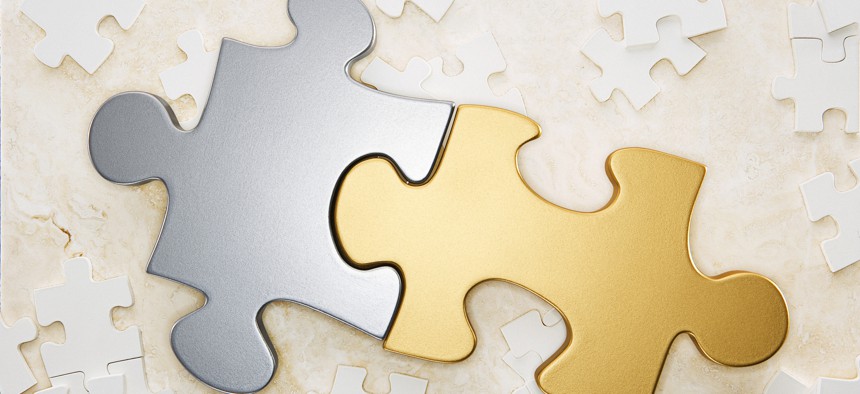 Both backed by private capital, these two contractors are putting their investors' dollars to work with these transactions.
Earlier this week, we highlighted moves by a pair of the government market's largest contractors to identify and invest in emerging technology companies through their venture capital funds.
Of course, some GovCon firms are also venture-backed or part of a private equity portfolio and these two transactions represent how those companies are using that capital.
Core One
With its newfound private capital backing, this company has moved on an acquisition to further build out its mission support and professional services offerings for national security agencies.
Core One also sees its purchase of Global Research Analytics as adding new linguistic and data analytics services for the intelligence community.
Sterling, Virginia-headquartered Core One closed on this purchase shortly after it received an investment from the government market venture investor Blue Delta Capital Partners.
GRA employs approximately 50 people that also provide human intelligence support to agencies. As part of the integration, GRA founder Patrick Kennedy will join the leadership team of Core One.
"The move expands our capacity to offer tailored services and solutions to meet the most complex national security needs, and vastly improves the combined company's ability to compete for and win new business in the IC space," Kennedy said in a release.
Holland & Knight LLP acted as Core One's legal advisers. FON Corporate Finance worked as the financial adviser to GRA, which also looked to Rees Broome PC for legal support.
cBEYONData
This company focused on cloud migration and business intelligence support has sought a greater footprint in federal financial management initiatives with its latest acquisition.
In purchasing Summit2Sea Consulting, cBEYONData is also looking for greater capability to support agencies' enterprise resource planning systems that help manage their financial and other resources.
Summit2Sea touts its focus areas as including data analytics, robotic process automation and enterprise application modernization. That company also brings to the equation partnerships with commercial vendors Amazon Web Services, Oracle and UiPath.
"We're excited to combine the two companies' product portfolios to offer a more robust solution to federal financial leaders, particularly in the area of business process automation," Summit2Sea Chief Technology Officer Bryan Eckle said in a release.
For cBEYONData, this is its second acquisition since Bluestone Investment Partners acquired a majority stake in the contractor in the fall of 2021. Purchase number one followed in the spring of 2022 and centered on Alta Via Consulting, also an ERP and business system specialist.
cBEYONData now describes itself as a 350-employee company whose client base includes the Defense and Justice departments, Army, Navy, Marine Corps, Defense Advanced Research Projects Agency, Defense Information Systems Agency, and General Services Administration.
cBEYONData said that Summit2Sea's management team including the founders Laurian Eckle, Bryan Eckle and Chris Florman will remain as senior leaders at the combined entity.
G Squared Capital Partners acted as exclusive financial adviser to Summit2Sea.