Senior execs voice little concern about possible defense cuts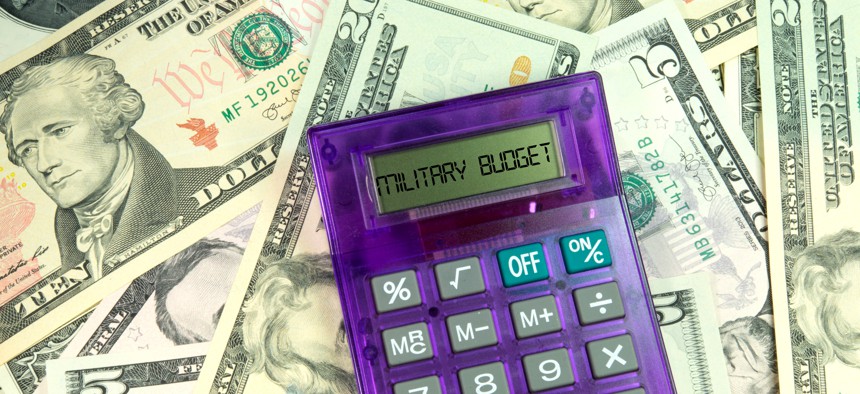 The leaders of Northrop Grumman and CACI International describe budget cut talk as "noise" emanating from Capitol Hill given the seriousness of national security threats.
Already this week, the chief executive officers at Lockheed Martin and Raytheon Technologies sought to downplay the prospects of defense spending cuts amid renewed talk on Capitol Hill of that possibility.
Congress' fiscal to-do list for this spring is short but consequential: passing a federal fiscal year 2024 budget and agreeing on a new debt ceiling before the U.S. defaults on its loans.
The debt limit situation did not come up in Thursday's doubleheader of government contractors' quarterly earnings calls with investors, but here is what their CEOs say they make of the budget and funding situation.
CACI International
Sluggish funding orders to perform on contracts has been a recurring theme that CACI has cited over the past 12 months as affecting its booking and revenue profile.
During CACI's fiscal second quarter call, CEO John Mengucci said some of that formerly locked funding "has come back" compared to what it was in the first half of calendar year 2022.
"Some has and will come back in a slightly different form," Mengucci told analysts. "The update to that is while funding was the original issue and while the customers struggled through funding, some of the threats and the requirements changed. It's requiring (us) to enhance capabilities versus what we all may have delivered just about one year ago now."
One of those changes has been the U.S. government's support of Ukraine's defense against Russia. Even and especially there, Mengucci said "those requirements continue to change as the pace of battle changes."
The shortage of contracting officers and other key acquisition leaders at agencies continues to be a headwind for the entire industry, not just CACI. Mengucci said while that will take some time to remedy, leaders in the federal government see the problem and are working on it.
Mengucci also acknowledged that CACI's leadership team hears the same noise and rhetoric that everyone else outside of Capitol Hill does regarding the talk of defense budget reductions.
He also used the word "noise" in reference to the annual cycle of speculation and wonder about whatever the next fiscal year's budget will look like, none of which is new to the 60-year-old CACI.
"In all fairness, on one side, you have legitimate concerns about the government's deficit and debt situations and therefore, talk about budget cuts in government fiscal year '24," Mengucci said. "On the other side, there remains significant bipartisan support to fund defense and national security just given the geopolitical environment and threats."
Fiscal second quarter revenue of $1.6 billion was 11% higher than the prior year period with an organic growth rate of 6.2%, while profit of $168.4 million represented a 6.6% year-over-year increase.
CACI held to its full-year revenue guidance range of $6.475 billion-to-$6.675 billion, or growth of 4.5%-to-7.5%. The company's adjusted EBITDA margin outlook is unchanged at mid-to-high 10%.
Northrop Grumman
During this company's fourth quarter call, CEO Kathy Warden answered one analyst's question on the budget outlook in this pretty straight-forward matter:
"I do not see the U.S. or our allies pulling back on funding their national defense strategy that is well aligned with the Northrop Grumman portfolio."
Like Mengucci, Warden also pointed out that "noise in the system" regarding what future defense budgets look like is nothing new. The mid-2010s period of sequestration cuts is a more recent example she offered, but is far from the only time that talk of lower appropriations has come up.
"But following that, it was one of the best periods of relative (total shareholder return) growth at our company, and really, our industry has produced in a while," Warden said. "So I see this as a temporal speed bump in our past, and yet our strategy remains strong to deliver value."
One key leg of Northrop's strategy is the human capital function, particularly the need for new hires, amid the workforce-related headwinds the company has called out as something it needs to work through.
That is coinciding with the ongoing mass layoffs taking place at many global technology companies, which some public sector observers believe could present a new base of talent for government and contractors to look within.
Warden said Northrop has seen a "significant increase in applications" amid those job cuts totaling in the tens of thousands, including how the defense company hires for similar technology skills.
"I'd also like to think it's to do with the reputation of our company as being a technology innovator and the successes that we were able to showcase last year," Warden said. "James Webb and the unveiling of B-21 really spiked interest in applications for employment at our company."
Fourth quarter revenue of $10 billion was 16% higher than the prior year period, while profit of $1.1 billion in the quarter represented a 17% year-over-year increase.
Full-year sales of $36.6 billion showed 3% growth from those of 2021, while segment operating income of $4.2 billion was 1% higher year-over-year. The company ended 2022 at a segment operating margin of 11.6%.
Northrop's initial guidance for 2023 has revenue in the range of $38 billion-to-$38.4 billion on segment operating income of $4.3 billion-to-$4.4 billion.