Northrop Grumman CEO sees signs of the talent crunch easing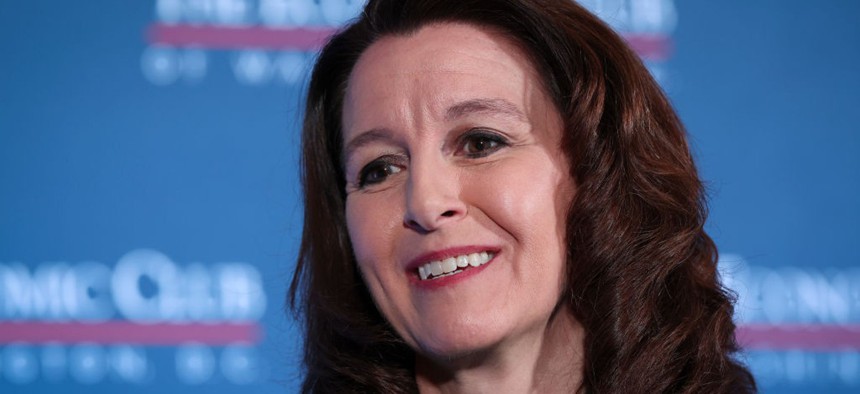 The tight market for labor is intertwined with what is going on across supply chains.
Getting an answer on when the tight labor market and continuing supply chain disruptions will start to ease depends on who one asks.
But Northrop Grumman's belief is that the business impacts from those challenges are showing signs of abating.
During Northrop's second-quarter earnings call with investors Thursday, CEO Kathy Warden acknowledged they "absolutely have seen labor headwinds in the first half" of this year.
Such headwinds included absenteeism in Northrop's own workforce and those of its suppliers during surges in COVID-19 cases, along with the evergreen challenge all companies face in mitigating the effects of attrition.
A tight labor market also goes hand-in-hand with the supply chain delays that Warden said impact the timing of Northrop's ability to execute on its programs and recognize revenue.
But in speaking with analysts, Warden said Northrop started to see some of its own labor issues ease in the latter part of the second quarter. The company also is seeing traction in its push to keep the employees it has, she said.
"Market conditions play a significant role in any company's ability to hire and retain — and we've seen the market conditions start to soften. You can't pick up a newspaper or read an article online these days without seeing a company that's talking about hiring freezes or even layoffs," Warden added.
"That will have an impact on the labor market and we expect continued softening as a result of that in the second half, which leads us to feel more confident that the second half will look more like our pre-pandemic experience than what we've experienced in the last six-to-12 months."
Second-quarter revenue of $8.8 billion was 4% lower compared to the prior year period given the tight labor market and supply chain delays, while profit of $2.1 billion represented a 5% decline compared to the same quarter of 2021.
Northrop is holding to its full-year financial outlook of between $36.2 billion and $36.6 billion in revenue, which suggests organic growth of 2% to 2.5%. The company also held its operating margin forecast in the 11.7% to 11.9% range.
Total backlog stood at $80 billion as of the second quarter's end on June 30 with $34.4 billion of it funded.
Inflation is a second macro-economic factor in Northrop's eye, especially when considering that lawmakers on Capitol Hill are working on adding funds to offset the impacts of inflation in the Defense Department's 2023 fiscal year budget.
For some of Northrop's contracts and especially those that are cost-plus, Warden said they have escalation clauses that allow repricing and renegotiations within a one- to two-year timeframe.
"As we are looking now at new deals that we're entering we are being more forceful in including those escalation clauses in our contract terms, making sure that we're matching our supplier terms with our overall contract terms as some examples of what we're doing differently to mitigate the impact," Warden said.
Some of the other tools Northrop is using to manage its cost structure include adjustments to its real estate footprint, looking at partnerships with other suppliers and other items of overhead.
"We haven't seen a material impact to our financials so far this year but we have to continue to be diligent to make sure that it doesn't become an impact," Warden said. "We're watching very closely to see if inflation is starting to modulate.
"Our indications would be that that is starting to happen, but we're watching the data just as you are."