Will inflation reshape the government market?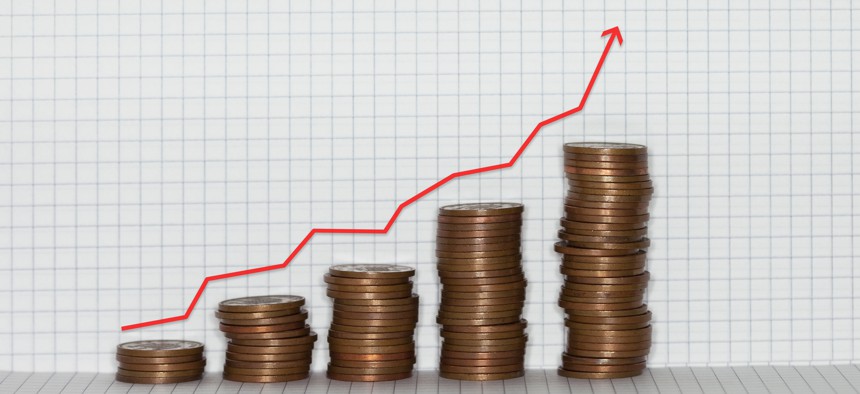 As publicly-traded GovCon companies prepare for their quarterly reports to investors, the impacts of inflation will be a topic executives have to address.
Thee next quarterly reporting season for publicly-traded GovCon firms is here and this topic is one we should all be listening for -- the impacts of inflation on these companies and what that means for the market overall.
Lockheed Martin CEO Jim Taiclet got things kicked off on Tuesday in responding to analyst questions. He spoke about inflation's impact on baseline costs for the F-35 fighter jet. There is a need to go back to the supply chain and determine the impact of inflation there, he said.
From that point, Lockheed might need to go to the government and present the findings and negotiate contract adjustments.
"The underlying ground has been shifting," he said.
Earlier this month, our sibling publication FCW reported that DOD hasn't yet seen an influx of inflation-related requests for contract adjustments. The general inflation rate has hit 8 percent, but that is for all goods and services across the broader economy.
The biggest impact for government contractors may well be wage inflation, a topic investors often raise when questioning industry executives on earnings calls. The competition for workers has been intense for years and wages have increased in turn, but inflation will drive labor costs even higher.
Labor costs drive companies to find ways to automate tasks and develop solutions that reduce the pressure to add people as the way to grow the business and increase profits.
Companies have been drawn to fixed price contracts because technology and processes are the heart of the solutions. The customer knows what its fixed cost is and the contractor can realize more profits by controlling its own costs, particularly labor, by introducing more technology.
But inflation threatens to upset that formula, squeeze profits and increase the risks of fixed-price contracts. Is there a tipping point where contractors will see too much in fixed-price contracts and instead favor cost-plus contracts where profit margins are more stable?
I don't expect any of the public companies to make inflation risks part of the formal presentations they make to investors during these calls. It probably is too early to quantify the impact.
But I'm sure executives are preparing for questions about inflation. They may not have an answer now, but they'll need to show they are thinking about it and know the data they need to track to be prepared.
Among the technology services companies expected to make quarterly reports over the next two weeks are Booz Allen Hamilton, CACI International, Leidos and ManTech. So too are Raytheon Technologies, General Dynamics and Northrop Grumman with respect to other defense hardware firms like Lockheed.
Of course, most companies in the government are privately-held. They don't face the quarterly scrutiny of the publicly traded companies.
But inflation is something companies across the spectrum need to (and likely are) monitoring, as well as understand how it impacts both the costs of and ways they do business.
If inflation remains high for a significant amount of time, it could have a profound impact on the structure of the market.