Why L3Harris' CEO expects approval for proposed $4.7B Aerojet buy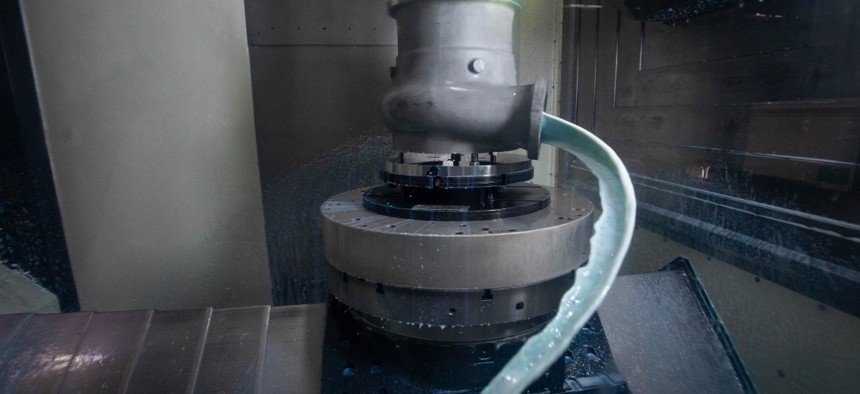 L3Harris Technologies is poised to present a different position for why it should be allowed to buy Aerojet Rocketdyne.
L3Harris Technologies believes it will get a different outcome regarding its agreement announced Sunday to acquire Aerojet Rocketdyne, the propulsion systems maker whose attempted sale to Lockheed Martin faced antitrust opposition.
L3Harris has agreed to pay roughly $4.4 billion in cash, or $58 per share, in a transaction with an enterprise value of $4.7 billion. The latter figure includes Aerojet's debt that L3Harris will assume after the close, which all parties expect to be sometime in 2023.
Acquirers tend to give out the quarter during which they expect to close their purchases. But that broad timeline L3Harris gave for this instance certainly has the regulatory landscape for the defense industrial base in mind.
Large mergers and acquisitions involving blue-chip defense hardware companies typically take anywhere between 12 and 18 months to get antitrust approval to begin with.
In January, the Federal Trade Commission sued to halt Lockheed's proposed $4.4 billion acquisition of Aerojet on antitrust grounds.
The FTC claimed other large defense hardware companies that buy solid rocket motors and other parts from Aerojet would be harmed by that transaction, which Lockheed first revealed its intent on in December 2020.
Aerojet's financial filings indicate nearly 32% of sales for the first nine months of this year were to Lockheed. Another 21% of those sales are to Raytheon Technologies, which objected to Lockheed's move for Aerojet.
Lockheed argued that having Aerojet in the fold would speed up weapons production, but exited the transaction agreement in February in the face of that FTC opposition.
This brings us to why L3Harris believes it can get an acquisition of Aerojet over that antitrust hurdle when the last attempt did not find regulatory favor.
During an interview with CNBC on Monday, L3Harris CEO Chris Kubasik said one of the factors the government will look at in this instance and see this is more of a horizontal move on the buyer's part.
"Weapons systems, space propulsion, no overlap, no vertical integration—and then they're going to look at the concept of merchant supplier," Kubasik said. "It's an interesting term, it basically means will you sell your products to whomever you need to."
"We're going to maintain it, we absolutely want to sell these to the primes, to the [original equipment manufacturers], to the end user," Kubasik added.
Improving the supply chain and other aspects of Aerojet's operational performance will also be on the agenda for L3Harris, an item Kubasik addressed in the interview.
As for L3Harris itself: the company is also moving to close its $1.96 billion acquisition of the Viasat tactical data links product line next year. With that and Aerojet in the fold, L3Harris sees itself as breaking the $20 billion annual revenue mark on a pro forma basis with at least 50,000 employees.
That Sixth Prime strategy Kubasik has touted for nearly five years running continues to go forth.
More on the agreement itself
At $58 per share, the cash portion of the transaction represents a premium of 37% over what Aerojet calls in investor documents its unaffected stock price of $42.49 on Aug. 15. On that date, activist hedge fund Elliott Investment Management disclosed its ownership of 3.7% of the stock in Aerojet.
Elliott is the same investor that built up a stake in Cubic Corp. and then teamed up with private equity firm Veritas Capital to acquire that defense and transportation company for nearly $2.4 billion in cash in 2021.
Prior to Monday's opening bell, shares in Aerojet had climbed 17% on a year-to-date basis to a price of $54.89 on Friday giving the company a market capitalization of $4.4 billion. Aerojet is touting this latest agreement with L3Harris as at a 14% premium over Lockheed's proposal on a per-share basis.
Aerojet is also subject to a so-called "no solicitation" clause in the agreement, which means the company and its financial advisers cannot seek proposals from any party that would want to trump L3Harris' offer.
But if another bid comes in that Aerojet's board considers a superior proposal, they have to notify L3Harris within 48 hours of receipt. Going forward with another acquirer means Aerojet would have to pay a $95.6 million termination fee. That payment applies in other circumstances, such as a change in recommendation from Aerojet's board for other reasons.
L3Harris will have to pay Aerojet a $406.3 million breakup fee if the transaction cannot get antitrust approval. The agreement has other scenarios where L3Harris would be subject to that payment if it were to back out. Aerojet did not get such a payment from Lockheed when their agreement was terminated.
Barclays and Goldman Sachs are working as financial advisers to L3Harris, while Simpson Thacher & Bartlett LLP is the legal adviser on the buy side. Citi and Evercore are acting as co-lead financial advisers to Aerojet. Wachtell, Lipton, Rosen & Katz is the legal counsel to Aerojet.