L3Harris' strategy and branding all about changing the status quo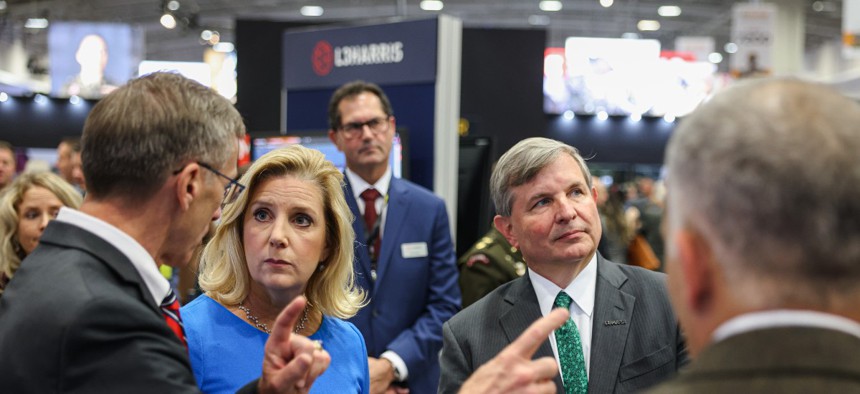 CEO Chris Kubasik sits down with us to discuss L3Harris' identity as the defense market's "Trusted Disruptor," plus all the recent activity to push further on that identity.
L3Harris Technologies' intention since the merger to create it in 2019 has been to act more as if it is a commercial technology company and less so of a traditional defense contractor. 
However one defines that word "traditional," L3Harris' view on what the word means can be inferred from how it has talked about itself as a "Nontraditional Sixth Prime" and more recently as the defense market's "Trusted Disruptor."
During an interview Monday at the at the Association of the U.S. Army's annual meeting in Washington, I asked L3Harris CEO Chris Kubasik to explain what drove the company to take on that "Trusted Disruptor" identity and break down both words of the phrase.
"Compared to a lot of other industries out there, this industry seems to be lagging relative to speed and innovation," Kubasik said. "There are companies out there that are maybe more focused on software that are starting to make progress to disrupt the industry."
L3Harris wants to be somewhere in between large defense platform and systems makers and the second category of more software-centric companies Kubasik described.
(For more on L3Harris' high-profile contract wins of late, check out my DefenseOne colleague Marcus Weisgerber's article from his own chat with Kubasik in September)
Word number one of the new identity -- Trusted -- is intended to get at L3Harris' understanding of the mission and requirements, while the Disruptor piece is more about the company's tools and methods for fulfilling customer demands.
"I'm saying trust us because we understand your mission and let us disrupt the industry so that we can go faster, be more innovative and take a different approach," Kubasik told me.
One of those approaches is on display through L3Harris' partnership with the venture investment firm Shield Capital to identify and financially back emerging technology companies whose creations have potential for defense application.
All the work that goes into finding those companies also illustrates how the venture arena is a "complicated and unique part of the market," as Kubasik characterized it.
Two L3Harris employees are embedded with the Shield team as liasons back to their employer as they all help evaluate the technologies.
Kubasik estimated that Shield has looked at 300 different companies this year and decided to invest in four of them. L3Harris has opted to co-invest "a couple million dollars" in two of those four, he added.
L3Harris decided early on that Shield would act as the front for this collaboration, given in part to the leadership team at the latter that includes former Defense Innovation Unit Managing Partner Raj Shah.
Working with Shield is a way for L3Harris to effectively outsource the search and identification aspect of partnering with and investing in startups, Kubasik told me.
As that leg of L3Harris' investment engine runs, the company is also moving to purchase a secure communications product business from satellite network operator Viasat for nearly $2 billion.
L3Harris expects to close the acquisition in the first half of 2023. Kubasik said that for L3Harris, the Link 16 tactical data link product business also better positions the buyer for helping the U.S. military connect platforms and systems under the Joint All-Domain Command and Control network construct.
"As the need to modernize Link 16 or put in other resilient (communications) capabilities, we basically have the footprint or the real estate to accelerate and facilitate that transition," Kubasik told me.
Speed and acceleration would perhaps characterize the U.S. defense industrial base's support of Ukraine in that country's defense against Russia over the past eight months.
At the AUSA conference, L3Harris showed its "Vampire" counterdrone system comprising of three systems already used by the U.S. Army: a jammer, an infrared camera and a rocket launcher.
Vampire is on the way to Ukraine as of August and this attribute of it helps explain the speed of response: the systems are "vehicle-agnostic" and can be installed in the bed and interior of any pickup truck.
"There's an example of going as quick as we could," Kubasik said.
But one unexpected difficulty emerged for L3Harris when brainstorming Vampire and the company first started to put the system together.
"Honestly finding the truck was the hardest part of the demo," Kubasik said in a nod to the recent global supply chain crisis affecting the automobile market.
"We ended up renting a truck for the demo," he said. "We kind of smiled and found it interesting that the off-the-shelf truck took a little longer than we would have thought."
One other starting point for the industry's response was found in a Defense Department call for white papers in the early days and weeks after Russia invaded Ukraine.
That ask was simple: what products and systems do companies have available and ready to go for Ukraine to use?
Kubasik estimated that call for white papers had a two-week turnaround for responses and L3Harris had 41 written, all of which he read.
"It was pretty impressive and made me proud of the team to see how they put these things together," Kubasik said.
NEXT STORY: Jacobs promotes new divergent solutions leader