L3Harris lines up buyer for commercial geospatial software business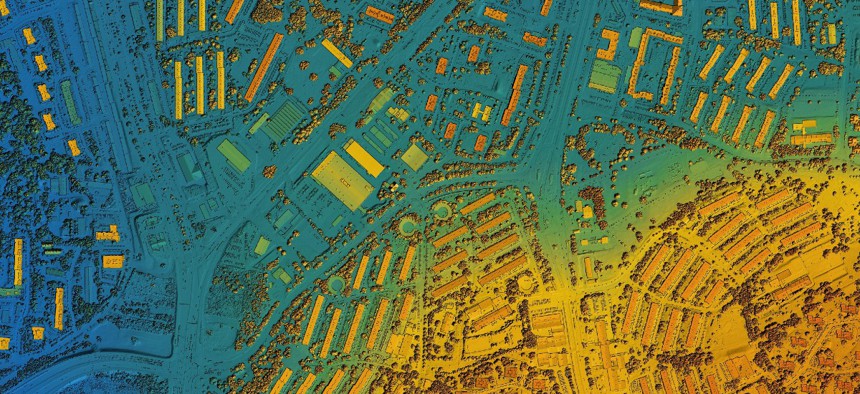 The selling party is about to close one almost $2 billion acquisition and start working to complete a second, much larger buy.
Amid the work to close more than $6 billion in acquisitions, L3Harris Technologies is also going back to its divestiture agenda regarding businesses the company sees as outside the core strategy.
L3Harris said Thursday it has agreed to sell its visual information solutions business unit to geospatial technology and infrastructure consulting firm NV5 Global for $100 million. All parties involved expect to close the transaction during the first half of 2023, pending regulatory approvals.
The so-called VIS unit divested has 150 employees and provides commercial geospatial software, technology and related services for users to extract and analyze information from imagery.
VIS has had multiple parent companies since its founding in 1977 including Eastman Kodak through its purchase of the business in 2000, then ITT took ownership of the unit in 2004.
ITT spun off its defense business in 2012 into a standalone company called Exelis that took in the VIS business, then the former Harris Corp. acquired Exelis three years later. Four years after that, L3Harris opened for business after the merger of L3 Technologies and Harris.
In purchasing VIS, NV5 is pushing to expand its portfolio of geospatial data analysis and management software that can be used on a subscription basis, including products for working with hyperspectral and satellite-based radar data.
VIS touts its U.S. government user base as including the Defense Department, NASA, the National Oceanic and Atmospheric Administration, and the U.S. Geological Survey agency.
"A significant majority of the acquired business' revenue is derived from sectors that are historically not impacted by interest rate fluctuations, such as public-sector environmental and defense, utilities, energy, infrastructure, and healthcare," NV5 Chairman and CEO Dickerson Wright said in a release. "We have already identified significant synergies, and our geospatial group is currently using the software applications."
For L3Harris, this is the most recent transaction announcement in a busy fourth quarter that has already seen the company disclose its $1.96 billion acquisition of Viasat's tactical data link product line and the $4.7 billion agreement to purchase Aerojet Rocketdyne revealed earlier this week.
All the needed regulatory approvals from U.S. and international governments for the Viasat TDL purchase are obtained, so L3Harris expects to close that purchase by Jan. 3. Those reviews of the L3Harris-Aerojet transaction will take much longer to get through.
Sales of non-core businesses have been a running theme for L3Harris since the merger that created it in the summer of 2019, after which the company moved on divesting 10% of its post-close revenue. Those transactions fetched the seller $2.8 billion in gross proceeds.
The move to acquire Aerojet is bringing that item of L3Harris' strategy back to the forefront. CEO Chris Kubasik told CNBC on Monday that L3Harris has "some noncore assets that we'll probably sell in '23 when the financing turns around, pay down the debt."
"I feel real comfortable that when these two deals are behind us, we have the portfolio in all the right domains, all the right areas. I wouldn't anticipate doing anything for several years," Kubasik also said regarding the prospect of future acquisitions.