HII sees its roots shaping its future too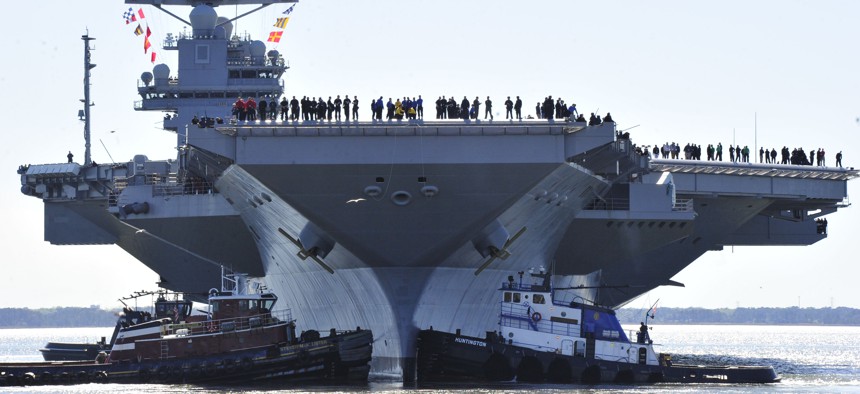 HII stood up as a standalone shipbuilding company in 2011 and building vessels for the Navy and other maritime government customers remains in its DNA.
Yet this year saw the company both adopt that new three-letter name from its former branding of Huntington Ingalls Industries, plus also adopt a new identity for its technology integration business.
During HII's third quarter earnings call with investors Thursday, one analyst mentioned that one of his recent visits to the company's website first brought up pictures of an Army soldier holding a gun and other photos having to do with cyber.
That analyst wanted to know what HII's evolution means for the shipbuilding business that shaped its origin story since the spinoff from then-parent Northrop Grumman 11 years ago.
In his response, CEO Chris Kastner indicated shipbuilding's percentage of the overall HII portfolio will trend downward but mostly because of the planned growth trajectory.
HII's Mission Technologies segment is where all of the company's acquisitions have taken place since the unit was stood up in 2016 to house the software and data-centric offerings.
Last year's acquisition of Alion Science and Technology further magnified how HII is looking to be more than just a shipbuilder.
"Make no mistake, shipbuilding will always kind of be at the heart of this company and we're focused on it," Kastner said. He then offered this observation on the Navy's thinking: "I think they'll naturally reposition a little bit based on the technology."
Kastner listed these technology areas as where HII invested: artificial intelligence, machine learning, cybersecurity, unmanned, live virtual constructive training, advanced synthetic training and ISR -- intelligence, surveillance and reconnaissance.
As HII sees it, those technologies and the related techniques for using them go hand-in-hand with making ships and other large deployed platforms more capable.
"Those directly relate and apply to the defense priorities moving forward, so they will naturally grow," Kastner said. "These are the Navy priorities, and I can think of no better way to serve your customers than to answer their call relative to additional more complicated missions that they need to execute."
HII does share in the complicated macroeconomic challenges that its defense industrial base peers have cited as headwinds: rising costs from inflation, disruptions to supply chains and tightening labor markets.
Pursuits of new contracts are where HII sees its biggest impact from inflation given what Kastner characterized as the need to "get the bids right from the supply chain and ensure that the cost and schedule is correct" when sending in proposals.
The company does have some buffer against inflation's impacts in contracts that have economic adjustment clauses, which do require communication and paperwork even with the Defense Department's slight shift in policy on those actions.
Inflation's impact on employee salaries presents a different picture, however.
"When you think about our workforce and some of the increases that we've had to provide from a salary standpoint for new hires, that impacts our labor rates a bit," Kastner said.
Mission Technologies segment revenue in the third quarter totaled $595 million, which was a year-over-year increase of 51% mostly on higher sales from the Alion acquisition.
HII's updated guidance for this year has Mission Technologies hitting $2.4 billion with a bottom-line margin of 8.3% EBITDA (earnings before interest, taxes, depreciation and amortization).
That new revenue outlook implies Mission Technologies would represent nearly 29% of corporate sales this year.