Air travel rebound presents a growth opportunity for Leidos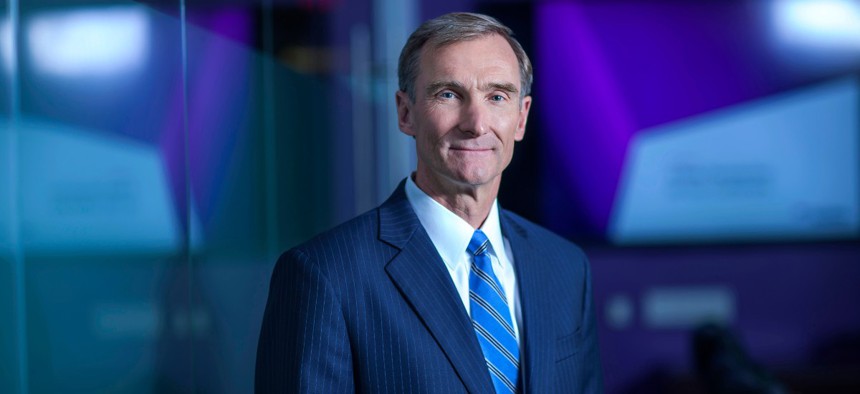 Leidos spent $1 billion to buy an aviation screening business over two years ago and as COVID worries wane, airports are busy again to give the company a chance to make good on the investment.
The numbers considered the industry standard for watching air travel do not lie -- passengers are turning up to airports in droves again after nearly two years of not doing so.
A cursory look at these monthly reports from the International Air Transport Association representing the world's airlines finds these words and more -- "recovery," "takes off," "soar," "persists" and "accelerates."
During Leidos' third quarter earnings call with investors Tuesday, company executives sounded an optimistic note that the post-pandemic peak rebound in air travel will feed growth in an aviation screening technology business it acquired two years ago.
Reston, Virginia-headquartered Leidos announced its nearly $1 billion acquisition of the former L3Harris Technologies global security and automation product business in February 2020. The transaction closed in May of that year -- nearly two months after the COVID-19 pandemic was delared.
While air travel essentially froze around the world, Leidos sought to use that period as one of working with customers to reimagine how passengers move through airports and get to their destinations. That also included upgrades of the current systems used to screen travelers.
On the call Tuesday, CEO Roger Krone cautioned analysts that "there's a long timeline to this recovery" on the international front because that piece of Leidos' business is different from that the U.S. airport business.
While the U.S. airport business is funded through authorizations and appropriations, the international side is more dependent on ticket surcharges and thus more dependent on volume. The Asia-Pacific remains in a period of lower travel given China's continued "Zero COVID" emphasis, for example.
That holds true even with the pickup in customer activity Krone mentioned as boons for Leidos -- requests for proposals, demonstrations, requests for specifications and others.
"Every airport has a different governance structure. They have to be confident that the volume is there, and then they start to engage with the contractor base, (then) they put out RFPs, we go and talk," Krone said. "We do demos... then it takes literally months, or a year or two, before there's an acquisition, you get certified, you get an award, you build the equipment, you deliver it."
Airports present a tricky and opaque business for government contractors to consider before they enter, given that each airport has their own governance structure to work with as Krone highlighted.
Some airports are owned by the city or county they reside in. Other airports are under the responsibility of independent organizations, which receive that authority from local governments.
Consider also this myriad of federal agencies with some presence inside airports: Federal Aviation Administration, Transportation Security Agency, Customs and Border Protection, and the National Transportation Safety Board just to name a handful.
But even when considering that, the U.S. side of Leidos' aviation screening business has growth prospects.
"There's opportunities to insert new technology, what we call CT or computer tomography at the checkpoint for carry-on, and we're in the process of getting our equipment certified," Krone said. "We continue to see success domestically in the U.S. along with our competitors."
One big reason for that success, as Krone characterized it, goes back to the period where there was near-zero foot traffic at airports. Leidos sought to make sure its detection equipment was up-to-date and even tweak the algorithms for detecting substances, including fentanyl per customer demand.
"We took the time, when maybe production wasn't where we wanted it to be... used it to invest in technology to make sure that our products were worldwide competitive and now we're benefiting from that," Krone said. "Our team is literally flying all over the world talking to airport owners and operators about what's available."
Across all of Leidos' businesses, fourth quarter revenue of $3.6 billion represented a 3.6% increase over the prior year period, while profit declined 7.7% to $372 million adjusted EBITDA (earnings before interest, taxes, depreciation and amortization).
Leidos nudged its full-year sales guidance up to between $14.2 billion and $14.4 billion compared to the prior $13.9 billion-to-$14.3 billion range, which suggests a growth outlook of 3.6%-to-5.1% for this year. The company left its adjusted EBITDA margin forecast at 10.3%-to-$10.5%.
A second macro trend of interest to analysts on the call was how Leidos is working through a period of inflation that brings with it increased costs to the business, especially regarding labor for all companies in the government market.
Chief Financial Officer Chris Cage said the company's budget for merit increases has gone up with expectations that it will do the same in 2023, as it has done for the most recent two-to-three years.
Typical increases were either just below or right around 3%, Cage said, but the company is now seeing those rates "above mid-3s to 4 or higher in certain cases."
Nearly half of Leidos' business is of a cost-reimbursable nature, which means that customers also share in salary increases. That is factoring into how Leidos is structuring its pricing rates for 2023, Cage said.
"It's absolutely something we're spending a lot of time on as a management team and being thoughtful, especially for the areas of talent that are in the highest demand," Cage added.