Leidos CEO sees a new era where jobs outnumber people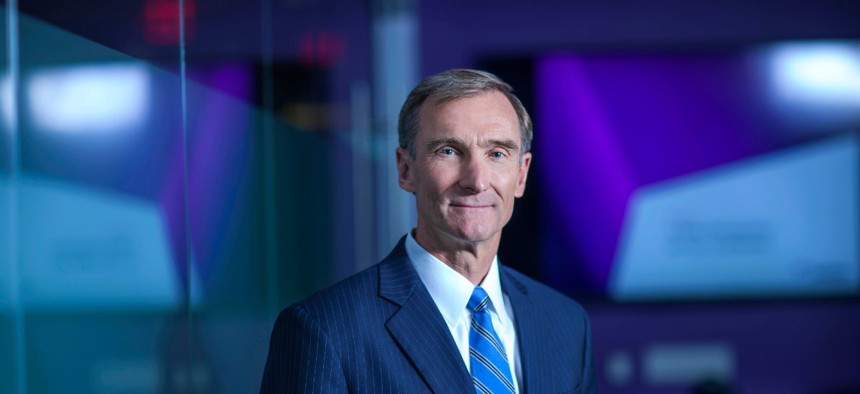 Investors heard Roger Krone's thinking on human capital issues as well as Leidos' latest acquisition focused on growing its presence Down Under.
It goes without saying that talent remains at the top of the agenda for the entire technology ecosystem including government contractors, but doing something about it requires an understanding of today's dynamics.
One of them being that the world is in an era "where there are going to be more jobs than people," said Leidos CEO Roger Krone in the company's second quarter earnings call with investors.
Which led to some challenging questions Krone raised rhetorically when speaking with analysts:
What can we automate?
How can we put RPAs (robotic process automation) into our administrative and functional organizations and free the talent up, so that they can provide value-added goods and services to our customers?
What does our new knowledge worker look like in this industry?
And then how do we hire them retain them and upskill them right and grow them over time?
Reston, Virginia-headquartered Leidos certainly is not the only company pondering those questions and adjusting its blueprint for developing and keeping talent through pathways that can include technology credentials and post-graduate degrees.
Today's talent crunch is taking companies in every industry, not just GovCon, back to the drawing board to varying extents in terms of how career advancement and growth play out for their employees.
As Krone put it: "We do realize that the world that I grew up in is no longer here."
"We have to be very thoughtful about where we want to put our people and frankly maybe what we want to do with partners and what we want to do with automation," he said.
For its part: Leidos hired 3,600 people during the second quarter to achieve a number Krone said the company has "only surpassed once in five years." Leidos reported having 44,000 employees as of the quarter's end.
Second quarter revenue of $3.6 billion was 4.3% higher from the prior year period and 4% on an organic basis, while profit nudged up 1.9% to $366 million in adjusted EBITDA (earnings before interest, taxes, depreciation and amortization).
Leidos is holding to its full-year financial outlook of $13.9 billion-to-$14.3 billion in revenue, which suggests growth of between 1% and 4%, on an adjusted EBITDA margin of 10.3%-to-10.5%.
Not included in that guidance are contributions from Leidos' latest acquisition announced with its financial release. The company will pay $215 million for the special mission business of Cobham's operations in Australia.
Krone said that business owns and operates 14 modified aircraft for Australia's government to carry out border force airborne surveillance and maritime safety search-and-rescue missions, which he described as growth areas for Leidos' footprint in defense maritime and homeland affairs programs in that country.
All parties expect to close the transaction by the end of this year. Cobham is using that transaction as a means to scale down its operations in Australia, according to this report from the Australian Financial Review.
Nearly 8% of Leidos' revenue in 2021 came from international operations, primarily located in the U.K. and Australia.
The United States and Australia are the Five Eyes intelligence alliance which also includes Canada, New Zealand and the United Kingdom. Leidos is pursuing growth accross the Five Eyes.
"We want to grow in the right way and think of us as kind of growing country by country. We want to be in a country, grow large enough where we're going to have infrastructure and critical mass, and then use that country to maybe move regionally," Krone said.
"We are not going to be like some of our competitors where we're big enough that we can have offices in every country, but we think international is a nice mix in the portfolio. It could be counter-cyclical with some of the priorities within the U.S.," he said.
One cycle inside the U.S. Krone called out as a headwind is the continued slowness of spending on contracts by agencies.
Krone said outlays by the Defense Department are 2% lower in this current government fiscal year compared to fiscal 2021, despite having a higher budget.
"They fully intend to spend the money, and they've got the money authorized and appropriated," Krone said. "I think they're a little bit like everyone, that a lot of their talent retired. They're still working remote. So things are just taking longer."
Leidos' backlog at the end of the second quarter was $34.7 billion, of which $7.5 billion is funded. But certainly they would like to see that turn into revenue quicker as every company does.