Air Force gets moving on redo of $12B missile support recompete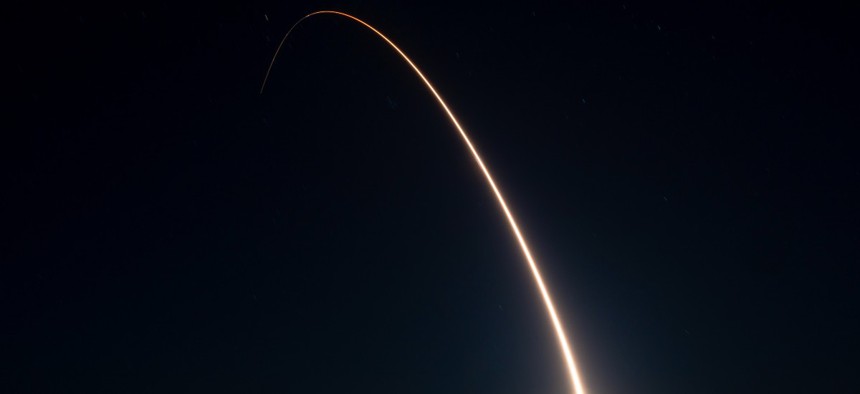 Step one is extending BAE Systems Inc.'s incumbent contract to continue its support of nuclear weapons. Step two -- making a new award decision -- will take a while.
For the past four months, the Air Force has been well aware of a Government Accountability Office recommendation to reconsider the award of a $12 billion systems engineering and integration contract.
BAE Systems' U.S. subsidiary had won the contract during the summer, which would have meant a significant recompete win for that company. Two protests quickly followed out of Guidehouse and Jacobs, both of which GAO sustained in an October decision that still remains sealed.
The Air Force is taking GAO's recommendation into account with two actions as described in contracting documents posted Monday to Sam.gov. Step one is extending BAE's contract for another two option years to Jan. 31, 2025, in a move that increases the ceiling by $651.6 million to around $1.9 billion.
BAE is the incumbent on the Integration Support Contract it first won in 2013 to act as the lead software and systems integrator for the U.S.' fleet of intercontinental ballistic missiles. The scope of work also includes assessing deficiencies and providing solutions for them, data management and knowledge transfer.
Step two regarding the ISC 2.0 recompete is naturally more complicated. The Air Force estimates its corrective action will take between six months and one full year to work through, after which the branch intends to request cost proposals with updated rates that may precede discussions.
After those discussions complete, the Air Force will then ask all bidders for updated final proposal revisions to evaluate. Those could include potentially amended decision documents for a new best-value decision.
Following an award, the Air Force believes the transition from ISC 1.0 to ISC 2.0 could take up to six months. The idea is that the extended timeline will enable the work to continue in case of further delays or new protests.