HawkEye 360 adds Lockheed's venture arm as investor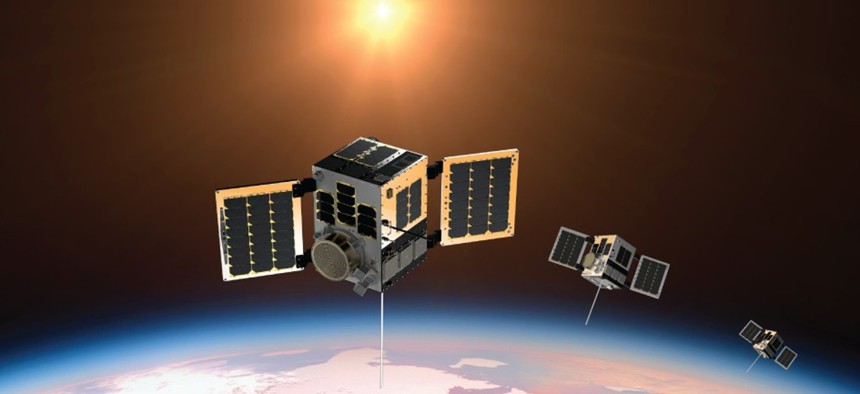 The companies are also entering into a new partnership arrangement focused on advancing remote sensing and radio frequency technologies.
HawkEye 360, an operator of remote sensing satellites for government and commercial customers, has fetched an additional $10 million through an extension of its Series D-1 investment round first disclosed over the summer.
That amount lifts the total Series D-1 amount to $68 million and also brings Lockheed Martin's venture capital arm into the fold of investors in HawkEye 360, the companies said Wednesday. Insiders of Herndon, Virginia-headquartered HawkEye 360 also were involved in the extension.
As part of their arrangement, HawkEye 360 and Lockheed Martin have entered into a strategic cooperative agreement to develop remote sensing solutions and more complex RF intelligence systems for government and commercial customers.
"Lockheed Martin's leadership as a system integrator and their signal processing capability will expand what HawkEye 360 can accomplish as we work together to make the world a safer and more secure place," HawkEye 360 chief executive John Serafini said in a release.
Signals and communications technology represents one of a dozen focus areas for Lockheed Martin Ventures, along with space as that division of the world's largest defense company looks for new creations in core businesses and new markets.
"At Lockheed Martin, we see synergies between our programmatic analytical expertise and HawkEye 360's commercial RF data generating constellation," said Chris Moran, vice president and general manager at Lockheed Martin Ventures. "HawkEye 360 has the potential to apply highly tailored RF solutions to fit our customers' mission."
For more on Lockheed Martin Ventures' approach and investment thesis, listen to this episode of our WT 360 podcast from September featuring Moran.
HawkEye 360's constellation of 21 satellites collects radio frequency signals to help users generate data for missions involving communications, navigation and security.
The initial $58 million Series D-1 round announced in July was led by BlackRock. Additional capital came from Manhattan Venture Partners and existing investors such as Insight Partners, NightDragon, Strategic Development Fund, Razor's Edge, Alumni Ventures and Adage Capital.
HawkEye 360 has collected approximately $378 million in capital since its founding in 2015 and also lined up some of the government market's most notable contractors such as Jacobs, Leidos and RTX.