Fortify fetches $12.5M in capital for advanced manufacturing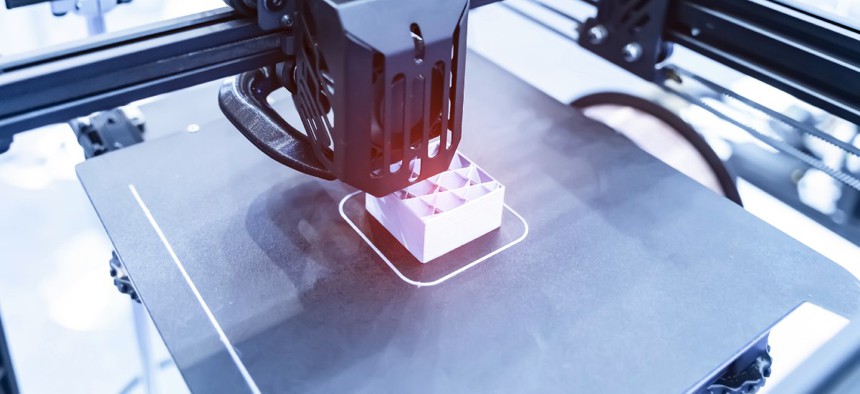 The venture investment arms of two large defense companies participated in this round as they look for new ways to make products.
Additive manufacturing startup Fortify has completed a $12.5 million funding round from investors, two of which are the venture capital arms of Lockheed Martin and Raytheon Technologies as those companies search for promising and emerging firms.
Fortify intends to use the new capital to accelerate the development of its flagship product, a digital composite manufacturing platform for making complex materials that then go into other products and systems.
Boston-headquartered Fortify announced a strategic investment in December from Lockheed Martin, which is one of several customers of the former. Fortify also provides its product to Raytheon, the Energy Department, Lawrence Livermore National Laboratories and the intelligence community's own venture arm In-Q-Tel.
"We are thrilled to have Lockheed Martin Ventures and RTX Ventures as strategic investors in this funding round," Fortify's chief executive Lawrence Ganti said in a release. "Their expertise and global reach in the aerospace and defense industries will be invaluable in helping us to continue to innovate and scale our digital composite manufacturing platform. We are excited to work together to drive the next generation of advanced materials and additive manufacturing."
For Lockheed Martin Ventures and RTX Ventures, this recent investment focuses on a key area of advanced manufacturing and finding new ways to create products for their defense customers.
"Lockheed Martin Ventures' continued investment in Fortify underpins the strategic advantage the company can bring to the defense industrial base," said Chris Moran, vice president and general manager of Lockheed Martin Ventures. "We believe Fortify has the potential to deliver tailored solutions not only to the aerospace and defense industry, but a range of sectors that can benefit from their platforms."
"The Fortify team has demonstrated an innovative and laser-focused vision that should advance additive manufacturing capabilities to the next level," added RTX Ventures' president Daniel Ateya. "Their DCM platform aligns with our commitment to investing in cutting-edge technologies that can deliver significant value to our customers and partners."
Accel, Cota Capital, Neotribe, Prelude, Mainspring and Ocean Azul are among the other investors in Fortify. In 2021, Fortify completed a Series B funding round that fetched $20 million in capital.