Quantum computing and seagliders mark the week's defense venture activity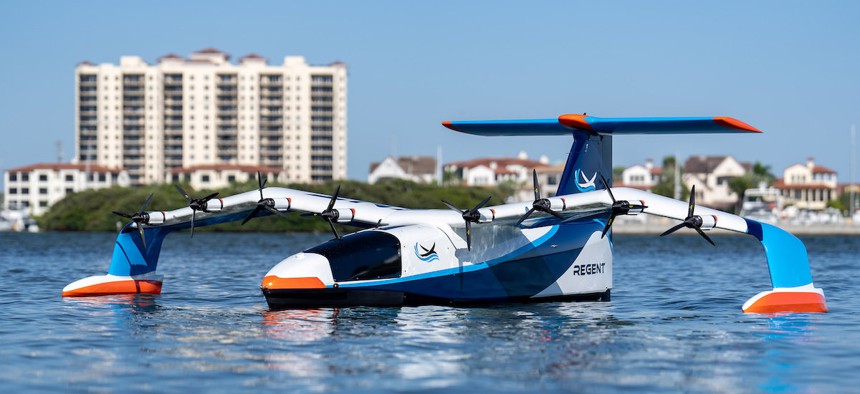 The emerging tech investment arms of Lockheed Martin and Raytheon Technologies share their newest backings.
At the start of March, the venture capital arms of two blue chip defense hardware companies revealed a pair of investments in startup technology companies as part of the constant search for "what's next."
Roughly two weeks on from that, the venture organizations of Lockheed Martin and Raytheon Technologies have a new pair of investments in emerging firms to talk about.
Here are their latest finds announced Wednesday.
Lockheed Martin Ventures
For this team of the world's largest defense company, identifying creations of promise in power and propulsion is a top priority as they look to bring those technologies into the military environment.
REGENT, a maker of electric-powered sea vehicles, represents the newest investment of Lockheed Martin Ventures and follows on from the backing of electric motor manufacturer H3X Technologies announced at the beginning of March. Terms of the investment in REGENT—which stands for Regional Electric Ground Effect Nautical Transport—were not disclosed.
As REGENT and Lockheed see things: The Defense Department wants to incorporate high-speed, low-cost, low-signature, runway-independent mobility into maritime vehicles. REGENT designs its seagliders to travel at airplane-like speeds for up to 180 miles between destinations on all-electric, zero-emission power.
The company was founded in late 2020 and touts having secured $7.9 billion in orders since then from major airlines and leading ferry operators. REGENT plans to use Lockheed's investment for adapting the seagliders for use in defense missions such as logistics resupply, cargo transport, and search and rescue.
"We believe that REGENT seagliders can bring tailored solutions to the future battlespace," Chris Moran, vice president and general manager of Lockheed Martin Ventures, said in a release. "This investment reflects our commitment to innovating technologies that have the potential to transform the way we adapt to our customer's needs and support mission success."
"We see defense strategy evolving toward an island-hopping force featuring agile, affordable, and distributed craft," REGENT's co-founder and chief executive Billy Thalheimer added. "This investment is a strong signal that seagliders can fill this immediate need in the high-priority missions faced by our Department of Defense."
RTX Ventures
This division of Raytheon Technologies is one of several investors that are committing capital to Strangeworks, a five-year-old company focused on making quantum computing a reality.
Strangeworks fetched $24 million in a Series A funding led by Hitachi's venture capital arm, with RTX Ventures and IBM lined up as new investors. Lightspeed Venture Partners, Great Point Ventures and Ecliptic Capital made follow-on investments into a company they helped stand up with initial seed money.
The idea behind quantum is to increase computing power by encoding information through chains of entangled subatomic particles.
Traditional computers encode information through bits that are represented as either a 1 or 0. But quantum bits, or qubits, work to superimpose that bit value to be both a 1 and 0 at the same time and thus generating more computing power.
Strangeworks secured this funding round for its five-year plan to further develop the quantum computing capability and incorporate artificial intelligence into those new products.
"We believe Strangeworks' platform and their ability to make quantum and high-performance computing more accessible can support a wide range of applications in the aerospace, defense, and commercial sectors," Dan Ateya, president and managing director of RTX Ventures, said in a release.
"Raising the Series A from these exceptional investors in this challenging economic climate sends a clear message to the market on where enterprise companies are placing their bets in the race to create quantum value," Strangeworks' founder and CEO William Hurley added.