ManTech founder George Pedersen dies at 87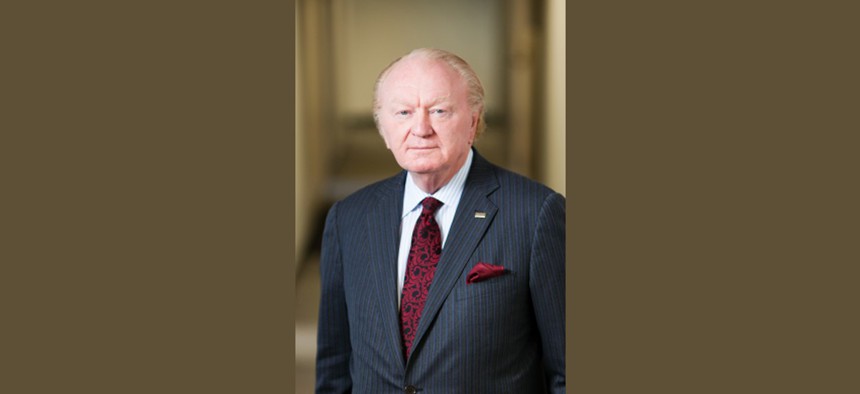 ManTech's co-founder, longtime leader and government contracting pioneer George Pedersen died Monday, May 22, at age 87.
He led the company for close to 50 years as its CEO. During that time, he helped define what it means to be a modern government contractor.
Pedersen founded ManTech in 1968 and led it through several acquisitions. ManTech also became one of the earliest pure play government contractors to go through an initial public offering, having done so in 2002.
He stepped back as CEO at the end of 2017 and remained chairman of the board until September 2020. Pedersen's resignation from the board in 2022 laid the ground work for ManTech's $4.2 billion sale to the Carlyle Group in September 2022.
Pedersen led the company through rapid growth during the wars in Iraq and Afghanistan as it moved into a support role for the warfighter. ManTech also was one of many companies to see its revenue tumble as U.S. forces started their withdrawals.
But Pedersen led ManTech through those leaner times by making strategic acquisitions and other investments to build its capabilities in cybersecurity, intelligence and other areas of higher growth. Those moves came as the U.S. military pivoted away the global war on terrorism and towards the challenges of near-peer adversaries such as Russia and China.
"He was gifted in business, an adaptive and decisive leader, and most of all committed to the missions that helped secure the lives and liberties of our nation's citizens," ManTech chairman Kevin Phillips said in a release.
Phillips replaced Pedersen as CEO and then chairman. Phillips stepped down as CEO after the sale to the Carlyle Group but remains board chair.
"George was not only a visionary entrepreneur but a remarkable and caring individual who played a pivotal role in shaping ManTech into the company it is today," current CEO Matt Tait said. "George's legacy of service, sacrifice and mission success will long be remembered and remain a bedrock at ManTech and across the government industry."
Pedersen is survived by his wife of 61 years, Marylyn Pedersen; and three daughters, Chris Lancaster and husband Brian, Jenny Warren and husband Kent, and Maggie Pedersen. He also is survived by three grandchildren, Eric Lancaster, a ManTech employee, and his wife Abby, as well as Hailey Warren and Carson Warren.
A service is planned for next week, the company said. Arrangements are being handled by the Fairfax Memorial Funeral Home in Fairfax, Virginia. More details to come.