Retiring Leidos CEO's legacy is defined by not sitting still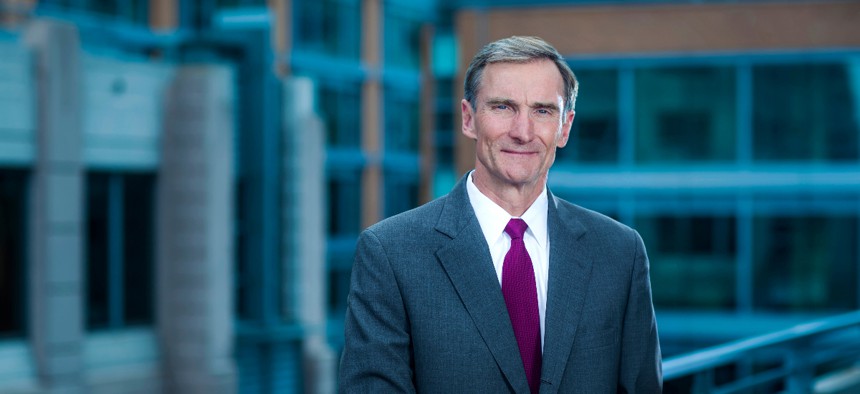 When Roger Krone retires from Leidos on May 3, he can look back at multiple milestones over his nine-year tenure as its chief executive.
Leidos announced Monday that Krone will retire on that date and his successor is Thomas Bell, CEO of Rolls-Royce North America.
Krone has led several major actions as CEO, but right to the top of the list is Leidos' acquisition of Lockheed Martin's Information Systems and Global Services business in 2016.
That move effectively doubled the size of Leidos from about $5 billion in annual revenue to roughly $10 billion. More importantly, Leidos saw that as setting it up for multiple large contract wins in the year since.
Leidos points to these new business awards as evidence the transaction was worth it:
Krone did not shy away from other acquisitions after the IS&GS combination, especially these four:
Here is a video from our 2020 Top 100 event, where Krone talks about the strategy behind Leidos' acquisitions and the company's overall approach to the market.
Contract wins are important for more than the revenue they bring to Leidos. They also say a lot about Krone's vision for Leidos.
The company has dominated the Top 100 since the Lockheed IS&GS acquisition, but Krone also led the push to instill a culture of change and adaption.
In our interview, Krone made clear that companies have no time to rest on their laurels in the government market. In interviews with other Leidos executives, they have echoed that sentiment.
Being the biggest in the government technology market is a plus, but it also can be a curse. Krone explained it is a daunting challenge to just maintain the current level of revenue, much less grow.
Leidos has consistently done that, however. The company recorded an organic growth rate of 9% for 2021 and 4% in 2022.
Ever the college football fan, Krone said that pace is "like playing Ohio State or Alabama every weekend."
To fuel that kind of growth, Leidos has become more than just an IT provider. Enterprise IT services contracts do continue to drive a bulk of its revenue.
Leidos has also ventured into the hardware side of the government market, particularly with the Dynetics and Gibbs & Cox acquisitions.
The transaction for L3Harris' security detection and automation business expanded Leidos' international footprint into airport security hardware. COVID put the clamps on everything involving air travel in the pandemic's early days, but the global uptick in passenger traffic has returned to normal and so has that business.
Beyond airport work, the acquisition expanded Leidos' international reach to over 120 countries. That is a foothold in a lot of countries where Leidos can win new business.
Krone has led an effort to diversify Leidos' business base both among customers and solutions.
"We like a balance across our four businesses and the diversity of markets that we have, and this furthers that diversity," he said at the time of the L3Harris SD&A business purchase.
The company operates in four market segments -- civil, defense, health and intelligence. Dynetics continues to operate as a subsidiary, which basically makes it a fifth line of business.
As my colleague Ross Wilkers writes here, Krone's successor Thomas Bell brings an extensive defense and hardware background from Rolls-Royce. Bell is currently CEO of that company's global defense business and  subsidiary in North America.
That foundation Krone led the building of over the last decade is a starting point for Bell.
Bell is unlikely to abandon that entirely, but we will watch what he does with the culture of change and adaption that was a hallmark of Krone's tenure.
The Leidos leadership changes become effective May 3, when the company is scheduled to hold its annual shareholder meeting.
Krone is also stepping down as chairman of Leidos' board of directors, but will continue as a full-time adviser to the company through July. Leidos' board expects to name current lead independent director Robert Shapard as non-executive board chair at that stockholder meeting.