Leidos' incoming CEO brings defense, international background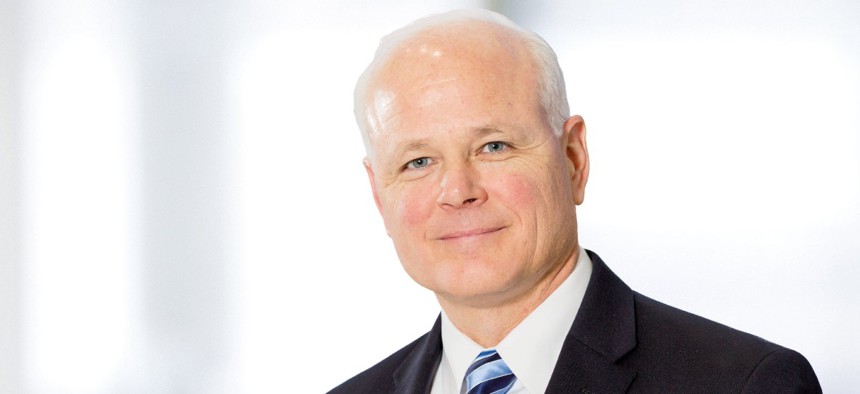 As any incoming chief executive would, Thomas Bell will be tasked with carrying forward much of the strategy and framework that has shaped Leidos as the world knows it today.
Leidos' board of directors has set May 3 as the date for current Rolls-Royce North America CEO Thomas Bell to succeed Roger Krone, who has led the company in a nine-year tenure marked by big-ticket acquisitions and contract wins along the way.
Many threads can be pulled from those moves (and my boss does exactly that here), but these two jump out as the main lenses through which Leidos' ambitions for itself can be viewed:
Becoming the federal government's leading IT services provider and systems integrator
Evolving into a developer of certain hardware types that have a heavy software influence and the ability to field quickly.
Krone joined Leidos in a 2014 when the company posted $5.8 billion in revenue and employed approximately 22,000 people. The company ended 2022 with $14.4 billion in revenue and 45,000 employees.
From those two main strategic lenses, number two is the one by which we can look at what Bell will bring to Leidos. Not just through his own background, but also how his future employer has pursued the hardware leg of its strategy.
Over the past five years, Bell has worked in the dual roles of president for the Rolls-Royce PLC global defense business and CEO of that aerospace-and-defense company's subsidiary in North America. Rolls-Royce's U.S. presence covers 26 states with 6,000 employees, while revenue in that country makes up for roughly half of the global defense business.
Rolls-Royce is headquartered in London and is most known as the world's second-largest manufacturer of aircraft engines after GE Aerospace. Engines are one of several types of power systems the company provides for its government and commercial customers.
In a similar vein to Krone, Bell also brings experience from Boeing to his new role through two decades of work there. Bell's career at Boeing includes a three-year stint as senior vice president of global sales and marketing for that company's defense segment prior to his current role at Rolls-Royce.
Dialogue and collaboration with peer leaders at those key defense customers was naturally a big part of Krone's job duties, as they will be for Bell.
Approximately 44% of Leidos' revenue in 2022 was from prime contract or subcontract work supporting the Defense Department and U.S. intelligence community. Leidos' $8.2 billion-revenue defense solutions segment houses much of that portfolio, counts NASA as a customer and includes the Dynetics subsidiary acquired in 2020.
Leidos' thinking behind the $1.6 billion purchase of Dynetics in 2019 was to make a major foray into the hardware design, production and integration business.
Dynetics is the avenue by which Leidos has sought to be involved in programs like the NASA lunar lander and those involving hypersonics, for instance.
Some other hardware program losses and lessons learned along the way led Leidos to the $380 million acquisition of naval vessel designer Gibbs & Cox in 2019.
A cursory glance at the website of Rolls-Royce's defense business shows some similarities between what that team does and Leidos' focus on bringing together digital assets and tangible hardware, including the cybersecurity of systems in the field.
Then there is the international presence that Leidos views as complementary, and perhaps necessary to have alongside its core U.S. government business.
Roughly 8% of Leidos' revenue in 2022 was from what the company's annual report calls "services provided outside of the United States to non-U.S. customers." Those international operations are primarily located in the U.K. and Australia, the latter of which Leidos extended its presence in late 2022 through the $215 million acquisition of a special aviation mission business from Cobham.
Over at Rolls-Royce, its full-year results for 2022 indicate that nearly 25% of defense revenue came from the U.K. and another 25% is called "Export" which includes Australia.
Now that Bell has signed the contract, he has three months before his start date to think about what Leidos has built and where he thinks the company should go next.
Below is a September 2018 speech Bell gave to the Economic Club of Indiana that is followed by an on-stage interview with him. Rolls-Royce North America has large engine test facilities in that state and has invested $1.5 billion in its presence there over the past decade, according to a March 2022 press release on its expansion there.