Raytheon venture arm's first investment focuses on hypersonics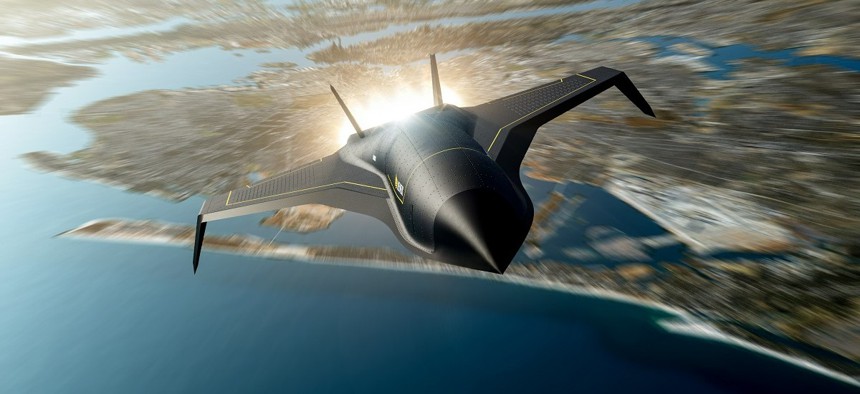 Before its 2020 merger with United Technologies, the former Raytheon Co. was active in the venture capital arena through investments in geoanalytics firm HawkEye 360 and other more commercially focused companies.
That approach has carried forward to Raytheon Technologies, which unveiled a new venture capital group called RTX Ventures in April and on Thursday revealed investment number one through that organization.
RTX Ventures has joined the group of other investors in Hermeus, a startup firm working to build hypersonic aircraft. Terms were not disclosed, but RTX Ventures' contribution is part of a $100 million Series B funding round Hermeus completed in March.
Atlanta-headquartered Hermeus will use that capital to continue building its first aircraft called Quarterhorse, an unmanned test plane, and speed up development of the second plane referred to as Darkhorse.
Hermeus' ambition is to build hypersonic plans that can take passengers around the world at five times the speed of sound. Last year, the company secured $60 million in funding from a group of investors including the Air Force through a jointly-funded contract.
"Speed is our lifeblood at Hermeus, and I've been impressed with the ability of the team at RTX Ventures to embody that virtue," Hermeus CEO A.J. Piplica said in a release. "We look forward to expanding collaboration and continued acceleration of our vision for a faster future."
For the RTX Ventures team, their goal is to identify and financially back early stage companies whose technologies present the potential to transform the aerospace-and-defense industry and Raytheon Technologies itself.
That puts Raytheon in the same conversation as other large defense companies also in the venture investment game to varying extents: L3Harris Technologies and its partnership with Shield Capital, Lockheed Martin's own ventures fund, and Boeing through its collaboration with AE Industrial Partners in HorizonX.
Hypersonics is a key focus area for Raytheon Technologies amid the U.S. military's increasing interest in that technology domain, said RTX Ventures Managing Director Daniel Ateya.
"Hermeus' technical approach and business plan balances near-term defense applications with long-term commercial aspirations and will help our customers reimagine the possibilities of hypersonic technologies," Ateya added in the release.
RTX Ventures is emphasizing four broad priority areas for investments: secure and connected ecosystems, autonomy and artificial intelligence technologies, power and propulsion systems, and precision sensing and effects.