How General Dynamics' tech businesses started 2022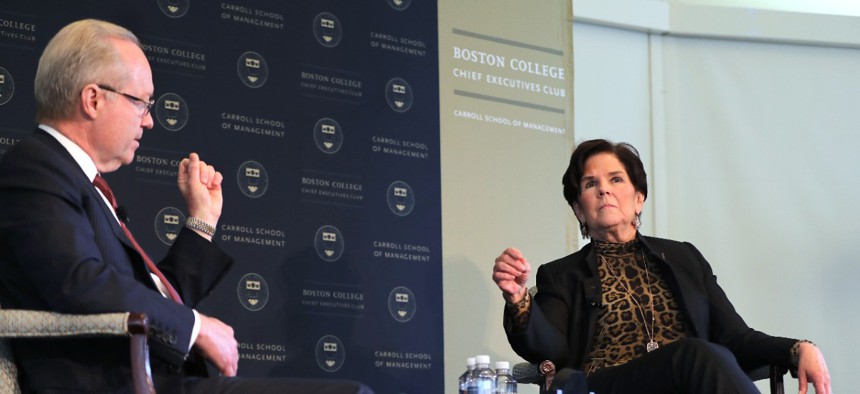 Hopes are high that both the IT services and mission systems hardware units are continuing to get past ongoing challenges that carried over from last year.
General Dynamics' thinking behind putting back together its two information technology-oriented businesses into one sector last year, albeit primarily for financial reporting purposes, was to present a more unified posture given those units do work together.
During GD's first quarter earnings call Wednesday, CEO Phebe Novakovic reiterated to investors that thinking: the company still likes having the GDIT services and mission systems hardware divisions under a single "Technologies" segment.
Even with some challenges still not completely over, Novakovic said "we believe they're complementary" and "that they're good growth engines."
But the "continued steady growth on the top line" to look out for at the Technologies sector will happen at a different cadence than the other defense segments, she said.
Submarine and shipbuilding accounts will expand "more reliably and robustly" compared to many other items in the defense budget, she added.
First quarter Technologies segment revenue of $3.2 billion was roughly 1% lower versus the same period last year, while GDIT's contribution of $2.1 billion was that unit's highest top line for a quarter in at least two years.
Mission Systems sales of $1 billion in the quarter were 10-percent lower on a year-over-year basis, according to General Dynamics' accompanying 10-Q filing.
The filing cites "continued supply chain shortages and delays in customer order activity" carrying over from last year into this year.
Both of those headwinds and particularly the computer chip shortage affecting the GDMS business go hand-in-hand: the longer it takes to acquire the needed parts, the same holds true for building the systems and fulfilling customer orders.
"We have largely worked through those issues at Mission Systems, but we are now contending with the pent-up demand that was generated by last year's slower deliveries as a result of chip shortages," Novakovic told analysts. "As we work through that, there ought to be upside for Mission Systems on the revenue side as we go forward."
Subsequent to GD's financial release Wednesday: the company disclosed a win in the first quarter of a potential seven-year, $661.6 million task order to help the Environmental Protection Agency further develop and build out its overall IT infrastructure and application environment.
The timeline of actual award to announcement aligns with the one Novakovic provided to investors on how and when GDIT starts on new business.
New starts tend to have a "quarter lag or quarter-and-a-half lag" from the award being made to when GDIT begins the work, Novakovic said. So more large awards such as the EPA win should start to show up in the second quarter and build up over time, she added.
GDIT's work areas for EPA include cloud computing, application platform management, enterprise network and security operations, enterprise identity access management and cybersecurity.
Quarter number one also saw GDIT finally secure a large takeaway win at the National Geospatial-Intelligence Agency worth up to $4.5 billion over a potential 10-year period. With that protest cycle over, GDIT is proceeding on that award covering hybrid cloud computing and other end-user IT services.
Technologies segment backlog sits at $13.6 billion as of the first quarter's end, roughly level compared to the same period last year, with $10 billion of it funded.