How General Dynamics' tech businesses are turning the page to 2022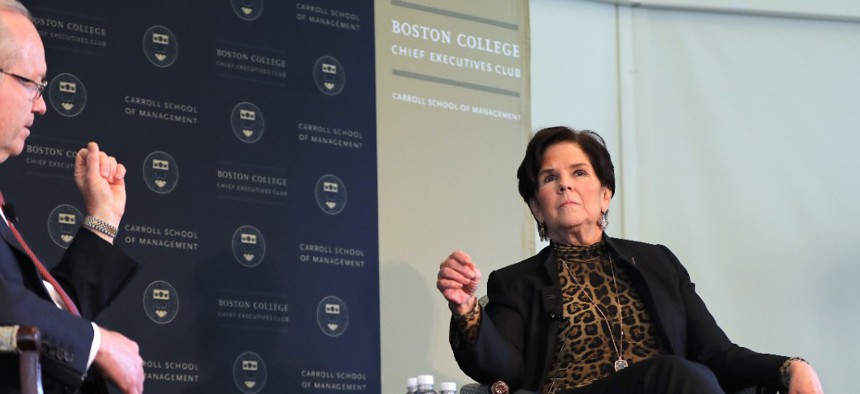 General Dynamics IT and Mission Systems units are the hardest hit by the current supply chain issues and the numbers reflect that impact. But the company sees hopeful signs for the coming year.
It must be acknowledged off the top that General Dynamics is not alone in dealing with how the COVID-19 pandemic and the related supply chain problems impact both financial and operational performance.
Within the context of GD itself, the company's IT services and mission systems hardware business units are the areas most affected by supply chain headwinds. They are the shortest-cycled businesses out of GD's five and hence the most transactional given the nature of their contracts.
General Dynamics reports those two businesses together as the "Technologies" segment.
Fourth quarter revenue of $2.98 billion were down 8 percent from the same period last year, while sales for all of 2021 totaled $12.46 billion to register a 1.5-percent decline. This means the Technologies segment's top line was $543 million short of the company's own forecast, CEO Phebe Novakovic said in a conference call Wednesday with investors.
The ongoing computer chip shortage continues to affect GD Mission Systems even as that business is "overcoming many of their supply chain challenges and "working hard to satisfy the pent-up demand that was driven by a significant backup of work orders in some customer sites and by supply chain shortages," Novakovic said.
Factor into the supply chain challenge the continuing labor shortages as well, which are not a new problem for the government market but certainly exacerbated over the past two years. GDIT sees that first-hand with respect to how it constantly works on retaining current employees and adding new people.
"Particularly in the tech industry, any company that's got large exposure to tech experts has certainly had their challenges in mobility," Novakovic told analysts. "But I will say GDIT is holding up very nicely. Attrition is at the pre-pandemic levels. So we're holding our own, but very mindful. This is a valuable workforce and coveted by many."
The bottom line numbers for Technologies were somewhat of a different story however. Operating earnings did fall 5.1 percent to $334 million in the quarter, but are 5.3-percent higher to $1.27 billion for the full year. Technologies ended the year on an operating margin of 10.8 percent.
Contract wins caught up in protests are another headwind that is never unique to GDIT as a federal technology integrator, but certainly magnified within the overall company's context given the high-volume nature of its bidding function.
Novakovic pegged the dollar value of GDIT wins under protests at around $6 billion at the end of 2021, up from $800 million at the end of 2020.
One of those contracts under protest is the $4.5 billion National Geospatial-Intelligence Agency cloud services contract GDIT won in December and under a protest filed by Leidos.
As for next year, General Dynamics sees overall Technologies revenue in the range of $12.8 billion-to-$13 billion to show growth of 2.5 percent-to-4.5 percent. Operating margin should be at around 10 percent, according to GD's outlook. Technologies is also sitting on a $13.3 billion backlog with $9 billion of it funded as of last year's end.