General Dynamics can now proceed on its $4.5B NGA cloud win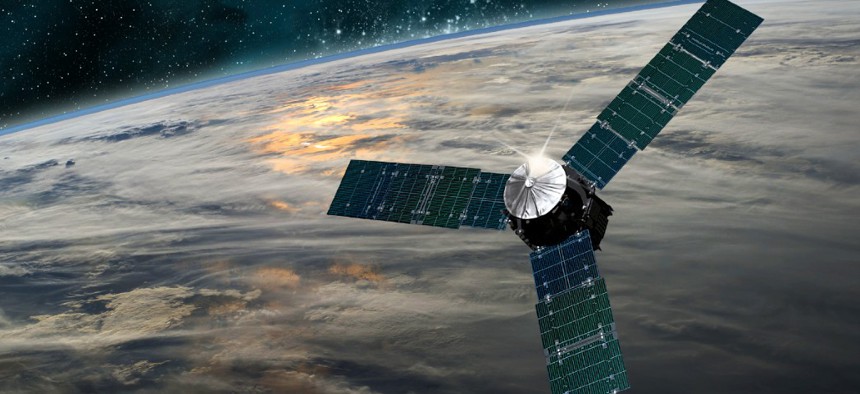 After a competitor's withdrawal of its protest, General Dynamics now has the green light to proceed on a potential $4.5 billion cloud computing services contract with the National Geospatial-Intelligence Agency.
In a release Friday, General Dynamics confirmed that its IT services business has secured the User Facing and Data Center Services award that includes a five-year base period followed by five individual option years.
GDIT was in a waiting period before it could both tout the win and start on the project. NGA awarded the contract in early December, which was almost immediately followed by a protest from Leidos to challenge that decision and evaluation process.
Leidos withdrew its protest on Wednesday, which allows GDIT to officially announce the award and begin the work.
"We are proud of our longstanding partnership with NGA and look forward to this opportunity to continue to leverage our portfolio of innovative technologies and services to advance the geospatial mission," GDIT President Amy Gilliland said in the release.
NGA is using the contract to upgrade its overall cloud computing and desktop environment that supports multiple networks and security domains. GDIT's hybrid cloud services will include commercial cloud and data center services.
GDIT's work will also focus on applications, high-performance computing, virtual desktops, unified communications, DevOps, platform-as-a-service and mobile secure wireless across NGA's networks and locations. The company also will support that agency's new West campus in St. Louis and opened a new company facility there in December. 
In considering those specs and the contract's size, it is no wonder that Leidos put up a fight for at least a second chance at the award.
The UDS procurement bundled together one user-facing services program Leidos had with a second effort that GDIT was the contractor for.
This means Leidos was also seeking to protect some of its incumbency in the protest. So was GDIT in its successful pursuit of the award, which they can also tout as a takeaway win.
It is no surprise either that GDIT and Leidos found themselves pitted against each other for a large enterprise IT job like this one at NGA given their recent history.
Both companies are also vying for the $11.5 billion Defense Enclave Services award to consolidate IT services across the Defense Department's so-called "Fourth Estate" agencies outside of the service branches into a single setup.
The Enclave situation sees the roles reversed: Leidos as the winner and GDIT as the protestor. A Government Accountability Office decision on GDIT's protest is due June 20.