CACI, Northrop report modestly improving macrotrends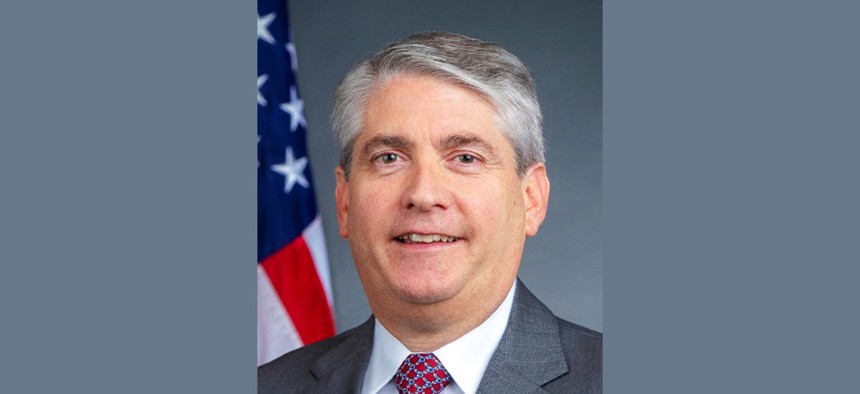 Some lagging indicators remain in their latest quarterly financial reports even if they are looking slightly better.
An initial snap reading of the latest quarterly financial reports out of CACI International and Northrop Grumman would indicate some familiar themes are carrying over from the last time they updated investors in January.
Neither company is expressing outward concern about the macrotrends affecting their results and outlook, but are making their views clear that neither is completely past the headwinds either.
CACI International
Operating under a continuing resolution is a reality most government contractors have institutional memory of even if that is not an ideal way to work.
Full appropriations being signed into law so late in the government's fiscal year creates other issues too, namely slowness in getting funding orders approved to work on contracts.
During CACI's fiscal third quarter earnings call Thursday, CEO John Mengucci estimated the company observed a nearly 20-percent decline in funding orders against its backlog between January and March compared to the same period last year.
But the month of April has presented 8% year-over-year increase in funding orders as of Monday the 25th, Mengucci said, which indicates the procurement system is catching up but slowly.
That lag in the unlocking of funds affects both of CACI's main business lines: sales of mission technology products, and work on services contracts the company refers to as "expertise."
The impact is certain when put this way by Mengucci to analysts: "Clearly not in time to support our FY '22 efforts with only 60 days remaining in our current fiscal year.
"We're going to continue to assess our FY '23 plan, but in light of what we saw in April, we expect May and June to show that level of reversion back to normal, which will support a FY 2023 reversion back to strong organic growth, great margins and increased cash flow."
Reston, Virginia-headquartered CACI lowered its revenue guidance for this year to between $6.2 billion and $6.3 billion from the prior $6.3 billion-to-$6.4 billion outlook.
CACI now sees its full-year margin at 10.5% adjusted EBITDA (earnings before interest, taxes, depreciation and amortization) versus the prior 10.7% expectation.
Third quarter sales of $1.6 billion were 2.1% higher compared to the prior year period, but down 2% on an organic basis after excluding acquired revenue. Total backlog climbed 5% year-over-year to $23.5 billion with $2.8 billion of it funded.
Northrop Grumman
Continued tightness across the overall labor market is far from a new concept with respect to Northrop itself and government contractors as a group.
Northrop is navigating that challenge as it ramps up on large contracts and works to "address strong market demand for our capabilities," Chief Financial Officer David Keffer said during Thursday's first quarter call with investors.
Delays and disruptions across supply chains also remain a factor Northrop is taking into account in managing the business, but CEO Kathy Warden said those started to become less pronounced in March and April.
"But we're keeping up close eye on everything from the tight labor market to inflation and COVID-related headwinds that could slowdown our growth rate even though we have strong budget support for our programs," Warden said.
Many of the large programs referenced are in various development phases and require attention to execution on top of the talent challenge, so what does that mean for Northrop's aperture to pursue more opportunities with a growing defense budget?
"I wouldn't say that we're at a point where we're at capacity where we couldn't take on additional work," Keffer said.
"We're certainly devoting all potential resources to bringing additional capacity on board and have ramped significantly over the last few years, both in headcount and key supplier relationships. So that's certainly a priority for us."
Northrop left unchanged the guidance for this year that it put out in January: revenue in the range of $36.2 billion-to-$36.6 billion on a segment operating margin of 11.7-to-11.9%