CACI's latest acquisitions bolster its commitment to secure communications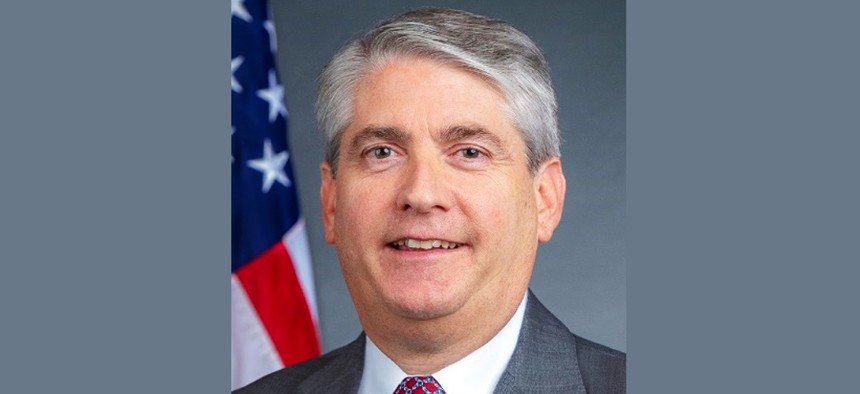 CACI International has started calendar year 2022 as it ended 2021 with an acquisition focused on what it calls mission technology, a core piece of the company's strategy for nearly the past decade.
Reston, Virginia-headquartered CACI has paid $225 million for ID Technologies, a provider of enterprise IT and network modernization services to help agencies with remote access.
The transaction closed on Dec. 29, CACI said in its second quarter financial release Wednesday. CACI completed its $275 million purchase of space communications technology firm SA Photonics roughly two weeks prior.
ID Technologies was owned by private equity firm The Acacia Group, which formed that company through the acquisition of the former Intelligent Decisions in 2018.
Acacia split Intelligent Decisions into two new companies: the product business named ID Technologies, and the services firm today known as Applied Insight.
The idea behind ID Technologies' creation was to focus on developing software that complies with the National Security Agency's "Commercial Solutions for Classified" standard, which governs access to classified systems.
IDT made an acquisition of its own during the summer of 2021 when it purchased Attila Security, a designer of software that facilitates secure remote access to classified and sensitive networks.
Demand for that access by defense and intelligence agencies predates the COVID-19 pandemic, CACI CEO John Mengucci said during the company's second quarter earnings call with investors.
That demand of course has accelerated during the pandemic as much of the government pushes toward a less geographically and physically concentrated workforce.
"To fulfill this requirement, they invested internally and developed a software-enabled offering that allows out-of-the-box commercial devices to securely access classified networks," Mengucci said.
In essence, the NSA's CSFC requirement means commercially-built mobile devices have customized software installed on them to protect information.
Mengucci said NSA's requirement is not achieved when you have the networks without the enabled devices. The same is true you have the enabled devices without the right networks.
For CACI's current 2022 fiscal year ending June 30, CACI expects IDT to contribute $25 million in revenue and SA Photonics to add $95 million on the top line.
Mengucci said both transactions for IDT and SA Photonics are "early-stage investments" for CACI, but also represent the the company's desire to invest ahead of the need.
On the matter of SA Photonics, Mengucci said CACI sees the acquisition of that company as expanding how it supports satellite constellations in low-earth orbit and how agencies use them for fast and secured communications.
Photonics is a type of physical science that focuses on generating and manipulating light signals for use in free space communications. CACI is looking to add more manufacturing capability for that technology to fulfill requirements for laser communications from airborne and maritime platforms.
"Those requirements are not even defined yet, but beginning to be discussed because of the amount of information that's going to need to be passed sensor-to sensor and sensor-to-ground," Mengucci said.
How Mengucci described that information transfer is seen in the Defense Department's work to build out its JADC2 construct, short for Joint All-Domain Command-and-Control, that is envisioned as connecting every soldier and system in the field.
Factor into CACI's thinking the standup of Space Force as a new military service branch whose mission is explained by the name, along with the related push to recapitalize the U.S. government's space assets and infrastructure.
"That's important when you think about intelligence customers and sensitive customers' missions, who are not going to search the globe to find other cross-link laser comms solutions to be pushing highly-classified data," said Mengucci.
CACI's latest acquisition announcement coincided with a slight reduction in its organic revenue growth expectation for its current fiscal year, down to 2.5 percent from the prior 4.5 percent expected increase.
Weighing on that forecast are challenges in the supply chain and these other related impacts from the increase in COVID-19 cases: reduced in-person meetings and access to government facilities, lower technology sales that depend on the former, and slower task order ramp-up that the company would record revenue from.
The company did raise its overall revenue outlook with the acquisitions to between $6.3 billion and $6.4 billion, showing total top-line growth of 5 percent.
Delays in technology sales and the cost of acquisitions factor into CACI's lower bottom line outlook as well, now at a margin of 10.7 percent adjusted EBITDA (earnings before interest, taxes, depreciation and amortization).
For the second quarter, revenue climbed 1.2 percent year-over-year to $1.49 billion with adjusted EBITDA down 9.5 percent to $158 million.