TOP 100: How Leidos runs its BD function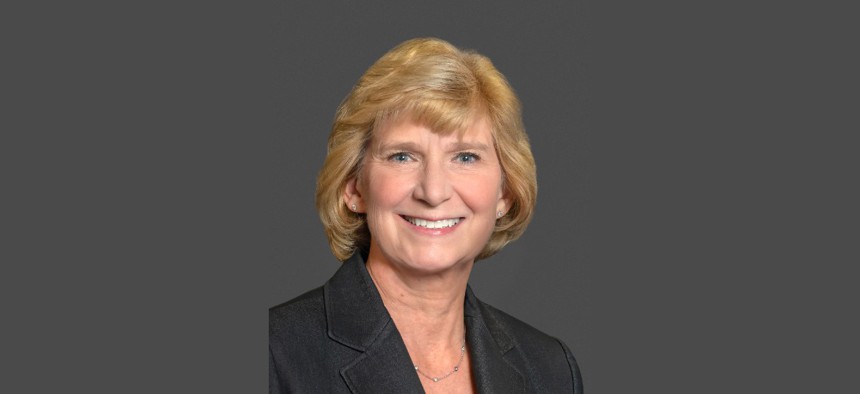 For this Q&A, Leidos' business development leader takes us inside the company's wins and how it makes those crucial decisions of when to and not to bid.
Business development can be a special challenge to a company that is already the federal market's largest systems integrator.
That job at Leidos falls to Debbie Opiekun, chief business development officer for company no. 1 on our 2022 Washington Technology Top 100 with $9.6 billion in annual obligations.
What follows is an edited transcript of my conversation with Opiekun. Our interview will also be part of an upcoming episode of our Project 38 podcast.
Washington Technology: When you look back at the past year, what stands out to you as major wins and what makes them important?
Opiekun: We've been very fortunate to have a number of major wins. The NASA AEGIS contract for $2.5 billion. We won that in the spring (of 2021), and of course it was protested and we finally got cleared to go ahead in February.
There also was the Defense Enclave Services contract for $11.5 billion. That was protested and GAO just cleared that. That's a terrific win because it doves tail so well with our large GSMO contract.
QTC's Veterans Affairs medical disability eligibility exams was a win in our health group (worth $6.8 billion). That was a big recompete, so we won the recompete and then we won brand new work performing those exams internationally. That was takeaway business. (QTC is Leidos' health exams business.)
Of course there was NGEN, the $7.7 billion Navy IT infrastructure job.
These are great wins and show the diversity of the company. That's a huge health win and these IT wins grow off of our expertise from the work we've done with DISA for GSMO and the NASA NEST contract where we are providing end-user services for NASA.
WT: What do you think those wins say about what the customer is looking for and what's driving the opportunities in the market?
Opiekun: From what we see, the customer wants someone that can come in and understand the "as is," and then how to apply innovation to take that to the next level. How through innovation can you drive efficiencies, drive down costs, and meet their modernization goals.
With QTC (where the company is providing clinical exams as part of veteran health claims processing), we have a very streamlined process and it uses automation, artificial intelligence, machine learning and natural language processing to get through the claims process.
It is the ability to look at the technology we've developed and then apply that to the biggest challenges and show the customer how that's going to make them more efficient and effective.
WT: Your organic growth rate last year was 9%. For a company as large as Leidos, what does that mean for the BD role?
Opiekun: First of all, I don't believe in a shotgun approach where you shoot at whatever is out there and see what you kill.
We have a very deliberate process where we look at opportunities where we believe we can offer something that differentiates us from our peers.
Over 20 percent of our employees are veterans and so they bring deep knowledge of the systems and the missions and that allows us to take the technology that we develop and apply it uniquely to solve that problem.
We don't look at things that are low price, technically acceptable. We're not looking at commodity jobs. We're looking at where the science, where the technology, where the mission capabilities and mission knowledge makes us able to provide the government the biggest bang for their buck.
WT: Have you ever had a situation where you're the incumbent, but the customer wants to go LPTA? Do you ever walk away?
Opiekun: That's probably one of our hardest no-bid decisions
When we look at an opportunity, we ask is it in alignment with our growth strategy? Is it high-value work? Is it a tough challenge? Can we provide a unique solution to solve it? Can we make money doing it?
If the customer just wants to go LPTA, we'll have those discussions with them and say "If this is the direction you want to go, we understand, but that's not where we play."
We want to make sure we are always providing the highest value possible.
WT: When targeting a large procurement like Enclave or NGEN, how far ahead are you working?
Opiekun: Our process is to start at least two years in advance especially for a takeaway, because it takes time to learn and you need to have a lot of customer meetings to understand where the customer wants to go. Then you need to figure out "Well, we thought it looked good but does it align with our strategy."
It takes time to qualify an opportunity.
WT: Can you talk a little more about your qualifying process?
Opiekun: I have to be a little careful here, but qualifying means what does the customer want? Who is the customer? Who's making the decision? Is it someone way up the chain?
It's understanding who's making the decision. It's understanding the scope of work. Sometimes its stated and then it's really something else.
You have to look at the competition. Who are the best teammates? What's the timeline?
You take all of that into consideration and once you have that information, you decide we're either going after it or we're not.