Size, scale only part of the story of the NGEN transition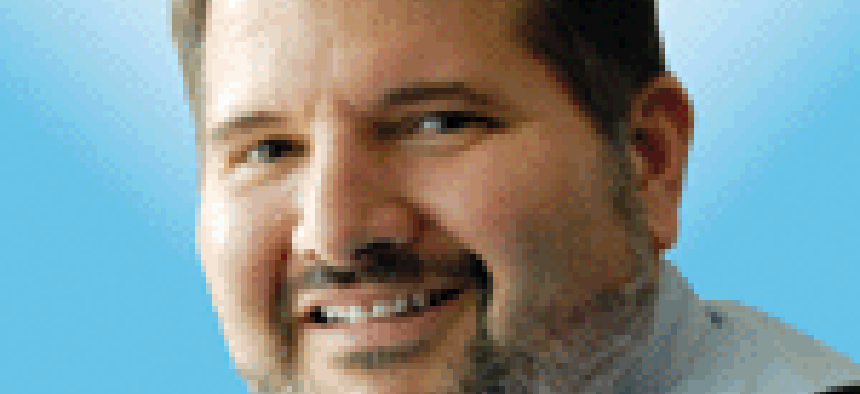 Transitioning a contract from one company to the next is a fact of life in the government market. Companies win contracts from competitors, or conversely, they lose a contract.
The so-called transition of a contract from the incumbent to the new prime should be considered a core competency of your company.
But what about when it is the biggest contract in the market?
That was what Leidos faced after it won the $7.7 billion Navy Next Generation Network Recompete --Service Management, Integration and Transport contract, also known as NGEN-R SMIT.
The company took the contract away from Perspecta in February 2020 but then a year of protests followed and it really couldn't take on the work of the transition until February 2021. And then the customer asked for an accelerated transition of six months versus the original nine.
And it's important to note that the contract wasn't just to take over management of the Navy-Marine Corps Intranet, though that was by far the biggest piece. Leidos also consolidated OneNet and the Marine Corps Enterprise Network contracts into a single management umbrella.
So the delay and the compressed timeframe was one challenge. And then there are the sheer numbers involved:
1,500 locations across the United States and the world
450,000 seats
650,000 users
73 different IT services
Dan Voce, senior vice president and Enterprise & Cyber Solutions operations manager for Leidos, said it is the biggest transition the company has undertaken.
Each of those three networks Leidos has taken over are different. OneNet and MCEN were government-owned, government-operated. And for those, Leidos transitioned the work from government personnel to contractor personnel.
NCMI was managed under the previous NGEN contract and it was government-owned, contractor-operated, said DJ LeGoff, the NGEN program manager.
"It took us a significant amount of time," he said of the NMCI transition. "We have over 600 sessions with the government and the current incumbent to make sure we understood everything that was involved."
As hard fought and even bitter as the competition for the contract was, that all disappeared during the transition. There was no tension, he said.
"Everybody was professional and we worked through it," LeGoff said. "It was a three-way collaboration and like I said, it was very successful."
Part of the success stems from Leidos' ability to hire many Perspecta employees who were working on the previous contract.
"It was very much part of our approach," he said. "There are a lot of good folks who have worked on that program for a long time."
Leidos wanted to capture what LeGoff called the "tribal knowledge."
"These are dedicated folks that have worked on the program for their entire careers in some cases," he said. "They want nothing more than to continue working the program and we wanted to leverage that expertise."
The Leidos executives didn't disclose how many employees came over but the number was significant and the company has hundreds of people working on NGEN.
Transitions on this scale are not easy, so Leidos took a methodical approach that they've honed on other large contracts. It starts by partitioning the work. "We took those 73 services and decided which ones had to go first and which one had to wait for a previous service to transition ahead of them," LeGoff said.
They put the transition into three phases and then set deadlines for the transition – June 1, July 1 and Aug. 1.
"We had to have everything in place after phase one that would support phase two and likewise everything after phase two to support phase three," he said.
Another challenge to overcome was that as Leidos took over a service, there would be a period of time where Leidos and Perspecta both were in charge of the network and they had to collaborate, hence the 600 plus meetings over the six-month transition.
"We all wanted to make sure that in no case did operations suffer," LeGoff said.
Another part of the equation that sometimes gets lost is that Perspecta's NGEN contract was competed as a lowest-price, technically acceptable contract. The Navy wasn't interested in much innovation under an LPTA scenario.
But when it came time to compete the new NGEN contract, the Navy was looking for a path toward innovation and modernization.
"They are interested in things like cloud-enabled services, bringing artificial intelligence and machine learning into operations, and they want faster response," Voce said. "Those are key objectives of the Navy and we'll support that with this contract."
One goal is a flattening of the of network architecture. "Today's network architecture is very hierarchical, very complex," LeGoff said. "There is some beauty to simplicity and that will hopefully increase performance."
But the day-to-day operations are the top priority. "That is always job one," Voce said. "The second priority are those transformations that will improve the user experience, increase automation, and drive down manual work, but the mission is always number one."
As challenging as the transition was, there was no sigh of relief for the Leidos team when it was completed on Aug. 1.
"The transition was just the warm-up," LeGoff said. "We're in charge of the network now. We were doing maneuvers for Hurricane Ida in Louisiana and that' just a public one. There are hundreds that happen every day on a network of this scope and size."