KBR joint venture takes back lost NASA contract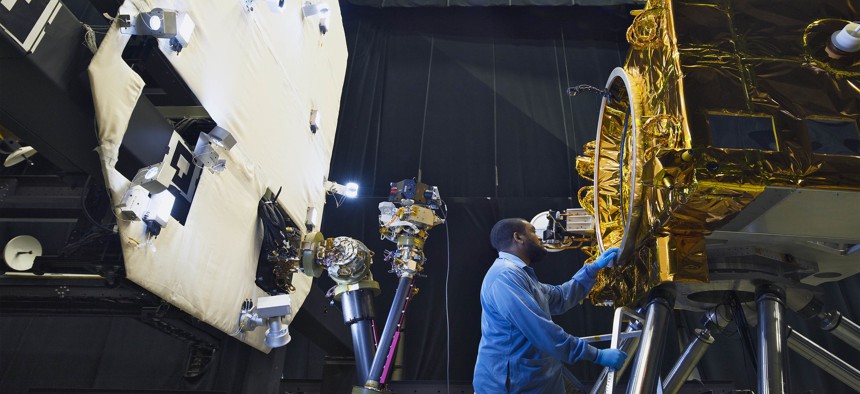 KBR lost this program in 2017, but joined forces with another company six years later to win the work back. That reminds us that nothing is forever in the federal market, among other lessons.
In 2017, Science Applications International Corp. won a $620 million NASA engineering contract as a takeaway from the incumbent Stringer Ghaffarian Technologies.
SAIC found itself on the other side of the coin this year after losing the recompete to the Space Network Solutions joint venture, formed by KBR and Intuitive Machines.
This third iteration of the Omnibus Multidiscipline Engineering Services contract is worth up to $719 million over five years.
SAIC lost its protest that argued NASA's evaluation of the proposals was flawed. We reported on that result in August,  when the Government Accountability Office made its decision.
GAO released its decision this week and in reviewing those details, I realized that the joint venture's win is a homecoming of sorts for the KBR side of the venture.
In 2018, KBR acquired SGT for approximately $355 million to further build out its government services business. SGT went along with KBR's prior acquisitions of Wyle and Honeywell Technology Solutions Inc.
At the time of the SGT transaction, KBR pointed to that company's significant NASA work as one of the reasons it was an attractive takeover target. Wyle also brought significant NASA business to KBR.
It seems that combination of NASA capabilities significantly contributed to the joint venture's win of OMES III that can be seen as a takeback.
The fact of that work returning to an earlier incumbent is not new in the federal market, but it is a good reminder of several important things:
Keep relationships current and fruitful despite a loss.
Nothing is forever.
The federal market is made for second chances.
If you are the incumbent, take nothing for granted and assume nothing.
Click here to read GAO's decision on OMES III.
One thing that jumped out at me is that SAIC proposed a mission systems engineer and task order lead who had never held that position before. NASA said that person didn't have the demonstrated experience to handle the job.
The contract that KBR and Intuitive Machines won will be up for a recompete in 2028. I'm sure SAIC or someone else will be there to challenge them.
OMES III supports the Goddard Space Flight Center in Maryland. The contract supports programs such as the Joint Polar Satellite System and NASA's Exploration and In-space Services project, according to GovTribe data.
Work includes systems engineering, design, study, operations, testing, verification and other work to enable future space and science missions.