HII's tech segment captures record $1.4B win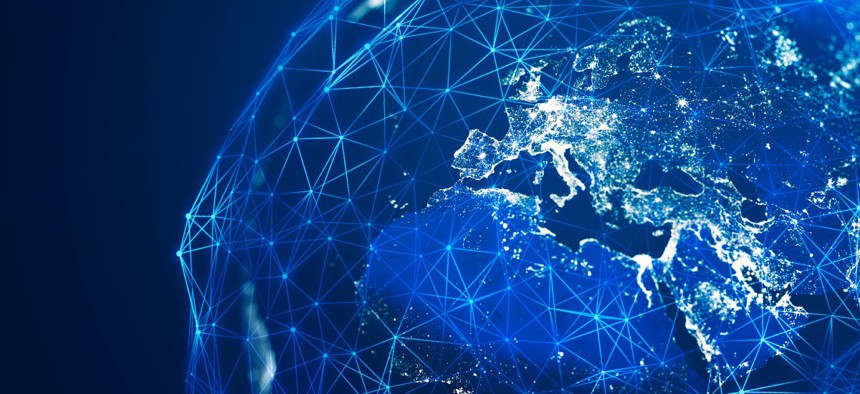 The 2022 agenda for HII's Mission Technologies segment centered on integrating the Alion Science and Technology team brought in when the company made its largest-ever acquisition the year before.
The 2023 agenda focuses on growth and can now include Mission Technologies' largest win to-date: a potential five-year, $1.4 billion task order that goes by the name of Joint Network Engineering and Emerging Operations.
HII will provide broad support for ISR systems, cybersecurity and communications across several Defense Department initiatives and components. One primary entity of focus for the J-NEEO order is the National Security Innovation Network, a DOD program office charged with creating innovation communities.
During a media conference call Thursday, HII's Mission Technologies segment president Andy Green said this award represents the kind it wants to pursue more of in the future.
"This is one that gives us the ability to leverage all of our technical strengths across multiple domains and multiple customers," Green said.
Todd Gentry, president of Mission Technologies' C5ISR group, also highlighted the wider net of both customer and industry relationships that the order can provide the team.
"It opens doors for us because we build those relationships and, end of the day, it's an industry-partner relationship with the Department of Defense that allows us to have conversations to enable us to think about where we need to go as a company," Gentry said.
J-NEEO also represents the second $1 billion-plus win HII has touted so far this year. The other was a seven-year, $1.4 task order called PRESS that covers personnel recovery services and solutions in the Africa Command region.
HII fended off two competitors for the J-NEEO award and one for PRESS, according to Federal Procurement Data System records. J-NEEO was awarded on July 7 and PRESS on March 1.
At the time in 2021, HII touted its acquisition of Alion as providing a pathway to greater footing in work areas like training and simulation, cybersecurity and ISR (intelligence, surveillance and reconnaissance).
Alion had a major footing at the Navy and that was a natural synergy given HII's shipbuilding core, but also provided HII access to other new customer sets.
The Mission Technologies segment was at around $1.1 billion in annual revenue before Alion, but more than doubled in size post-close. HII's guidance for 2023 puts Mission Technologies sales at around $2.5 billion, while the segment also employs nearly 7,000 people today.
Green said that size can be a "blessing and a curse" in terms of how it shapes the opportunity set.
"We've got to pursue contracts that are of sufficient size, so that they actually move the needle and this gives us the ability to do that," Green said. "If I could pick any contract that illustrates what we're trying to do in Mission Technologies, it's that contract."
Both the J-NEEO and PRESS orders went through the General Services Administration's ASTRO contract vehicle that primarily focuses on manned, unmanned, and optionally-manned platforms and robotics. J-NEEO's duration is one base year followed by four individual option years, while PRESS has a one-year base period followed by six individual option years.