BAE wins $12B ballistic missile support recompete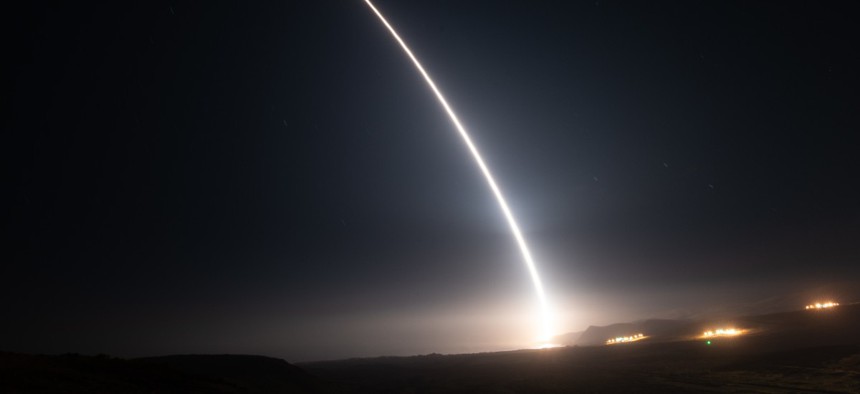 The company has been the lead systems integrator for the nuclear triad's land portion since 2013.
BAE Systems' U.S. subsidiary has won a new potential 18-year, $12 billion contract to continue its role as lead systems integrator and engineering services provider supporting the U.S.' fleet of intercontinental ballistic missiles.
The Air Force received five bids including that of BAE Systems Inc. for the Integration Support Contract contract that covers systems engineering and broad professional services, according to the Pentagon's Friday awards digest.
Originally awarded to BAE in 2013, the ISC program supports the Air Force Nuclear Weapon Center at Hill Air Force Base in Utah that acts as the service branch's center of expertise for nuclear weapon systems.
AFNWC is both responsible for integrating requirements and managing resources for those weapons.
ISC's first iteration had a $534 million ceiling over eight-and-a-half years and is focused on the fleet of Minuteman III ICBM missiles, which are the land aspect of the U.S.' nuclear triad that also includes bombers and submarines armed with those weapons.
Solicitation documents explain the Air Force significantly expanded the new contract to incorporate support for the Ground Based Strategic Deterrent, the replacement for the Minuteman missiles being designed and built by Northrop Grumman.
The new iteration's ceiling is 22 times greater than that of the original contract with a duration including three individual ordering years and a trio of five-year options.
BAE's work includes assessing deficiencies, identifying and evaluating solutions for those problems, managing data, modeling, simulation, testing, software production, program management support and knowledge transfer.