QinetiQ centers its four-year blueprint around three-country alliance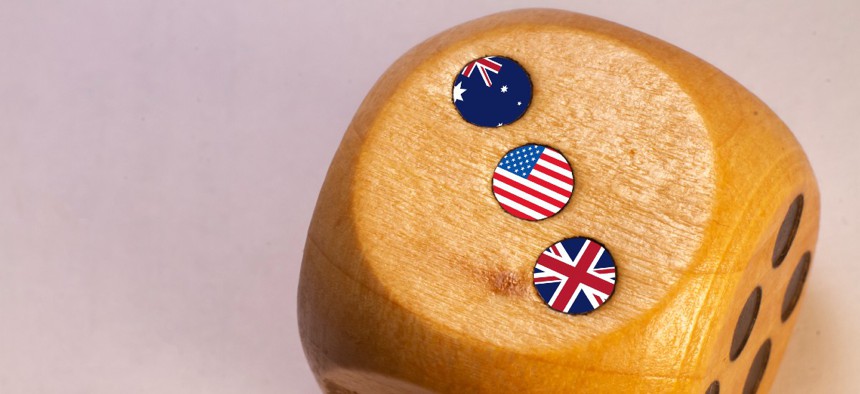 The trilateral security partnership commonly called AUKUS is primarily about the U.K. and U.S. helping Australia beef up its presence in the Indo-Pacific region amid the rise of China.
Much of the attention certainly centers on Australia's plan to acquire nuclear-powered submarines through AUKUS. But the alliance's bigger picture also includes high-priority technology areas like cyber, autonomy, quantum computing, hypersonics, counter-hypersonics and others of common interest to all four of those countries.
AUKUS is also the focal point on which QinetiQ Group PLC has laid out its for blueprint for growth over the next four years, as executives said in their investor day presentation Wednesday in New York City.
"We like to think of AUKUS as a joint program to put money and resource from the three countries in different buckets to arrive at different conclusions as opposed to pouring the same money into the same bucket, to arrive at a similar conclusion," QinetiQ's chief growth officer Sam Lewis said.
It is important to point out that the major decisions regarding AUKUS happen at the senior levels of government, and especially at the higher levels of security classifications.
On the other hand, nothing is in the way of QinetiQ's business units in all three AUKUS countries from sharing ideas and best practices at the unclassified levels.
Even with those firewalls: can there be a knock-on effect to QinetiQ's overall business prospects from what happens inside the government-to-government context? The company's leadership team sounded hopeful at least.
"We actually think that we can use our position in both intelligence communities, for example, to help shape what the U.K. can focus on, and what Australia should focus on, and what the U.S. should focus on so that we arrive at a combined solution, a collaborative solution that outpaces the threat we're facing," Lewis told analysts in attendance.
Our focus here will naturally be on the U.S. business, which expects to post around $600 million in revenue during QinetiQ's current fiscal year that ends on March 31. That puts the unit on pace to represent around one-fourth of global sales, while the approximately 1,500 U.S. employees make up for 17% of the global QinetiQ workforce.
The QinetiQ parent company made its U.S. market intentions more clear through the acquisition of Avantus Federal in the fall of 2022, but started to show more of its hand in 2019 through the purchase of Manufacturing Techniques Inc.
QinetiQ's vision for this part of the world goes like this, as said by its U.S. chief executive Shawn Purvis:
"We're well on our way to being a middle tier provider of mission essential technical solutions to the United States Department of Defense, national security and intelligence, and our customers in the Department of Homeland Security. Our core offerings are focused in the areas of intelligence, surveillance, reconnaissance or ISR, mission operations, advanced cyber offerings, information advantage, multi-domain, autonomous solutions and systems and engineering and innovation such as our persistent surveillance and multi-sensor integration."
Purvis told analysts that QinetiQ US sees the ability for "strong double-digit organic growth" through its 2027 fiscal year, along with the option to make certain acquisitions along the way.
Autonomous platforms and many of their underlying technologies highlighted by Purvis will be primary points of emphasis for QinetiQ US in this iteration of its strategy.
That also includes ramp-up of investments in data analytics to make sense of everything those platforms and sensors take in.
Purvis told analysts one of those moves sees the company invest in its "Center of Excellence for Information Advantage" that focuses on space, intelligence and DHS customers. Employees who work on that team work on new applications and systems for bringing data together in a more consolidated view.
Then there is QinetiQ's robotic vehicle and product business, which has to be mentioned given the company's name is often spoken of as being inspired by the "Q" character in the James Bond film series.
Many of those contracts are shorter in duration compared to other programs, but QinetiQ takes that into account by designing its platforms to serve multiple types of missions.
We were not in attendance for the presentation that was also webcasted. Purvis looked to the analysts' surroundings as the backdrop for highlighting QinetiQ's approach for robotic vehicles:
"The variety that you see outside, everything from a small that can go for a Navy or Marine Corps, customer, up through a larger one that's more serving an Army customer or international army customer."