How Vibrint will push toward $500M revenue mark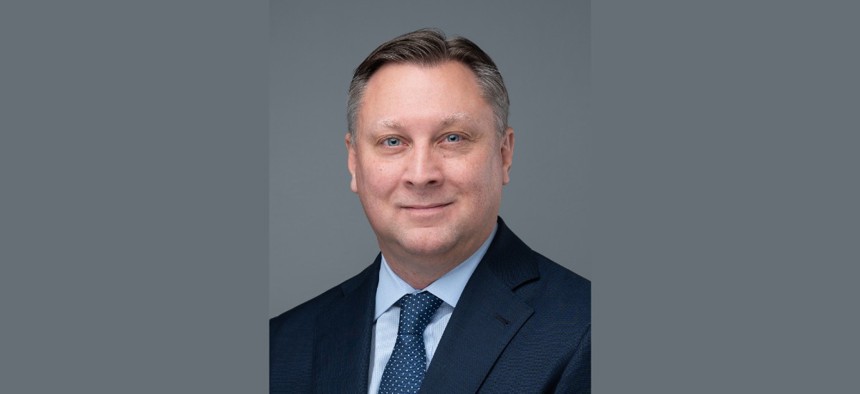 CEO Tom Lash says the rebranded company's keys to growth include focusing on national security agencies and investments in technologies like cloud computing and artificial intelligence.
Back in the spring, Engineering Solutions and Meadowgate merged but kept operating under their separate names, so it shouldn't be a surprise that they are taking on a new brand.
"It's been a bit awkward since April," said Tom Lash, who was named CEO of Meadowgate shortly before the merger.
Meadowgate's headquarters are in Hanover, Maryland to be near its intelligence community customers.
The new name is about branding, but also about telling the market where the company is headed and about its large ambitions.
Through organic growth and acquisitions, Lash said the company is pushing toward 500 employees and $500 million in annual revenue by the end of 2024. Lash wouldn't disclose today's revenue, but said the headcount stands just under 200.
The organic growth side involves investments the company is making in key areas such as high-performance computing, software systems and infrastructure, signal intelligence operations, research and analytics, and mission resilience. The customer focus is on national security agencies.
"We are doubling down on our capabilities in those areas and we have new areas of investment focus through 2024," Lash said.
Those areas also include multi-cloud and hybrid cloud computing, explainable artificial intelligence, and quantum computing.
"Explainable AI is an underserved and underrepresented area and is important for our national security customers," Lash said. "We need to give customers better insights into how AI comes up with its answers and that's a severe limitation today."
AI is moving very rapidly and relies on what Lash called black box technologies.
"They don't really give people an idea of how the computer came up with what it came up with," he said. "Explainability is a way to peer inside the AI algorithms and give the user a better understanding of what it is that triggered the AI to give the result that it gave."
Understanding how AI works is important in the intelligence community because the nature of that work means dealing with uncertainties. There also is never perfect data.
"You need to understand the uncertainty associated with the data that the AI is generating. That is why explainability is so important," Lash said.
Unlike many other mid-tier companies in the government market, Vibrint is not backed by a private equity group. It is instead owned by a number of U.S. based minority investors.
"What I love about our investors is their passion for national security," he said. "They view it as a social cause."
They want to invest in technologies that support decision-makers and policymakers that advance the national security mission, Lash said.
As Vibrint looks to grow, it wants to expand beyond its Maryland-based customers and into other regions with a large intelligence community.
Regarding acquisitions, Lash said Vibrint's primary filter will be around new customers.
On the technology front, the company wants to invest in areas with growth potential but perhaps have not gotten to a critical mass. Quantum computing is one example of that just starting to gather momentum, Lash said.
"People have assumed that quantum is still pretty far out there and is more about science fiction, but the government is starting to invest," he said. "We are still behind our adversaries, so I think there's room to increase the magnitude of our investments."