AI's potential drives Leidos reskilling strategy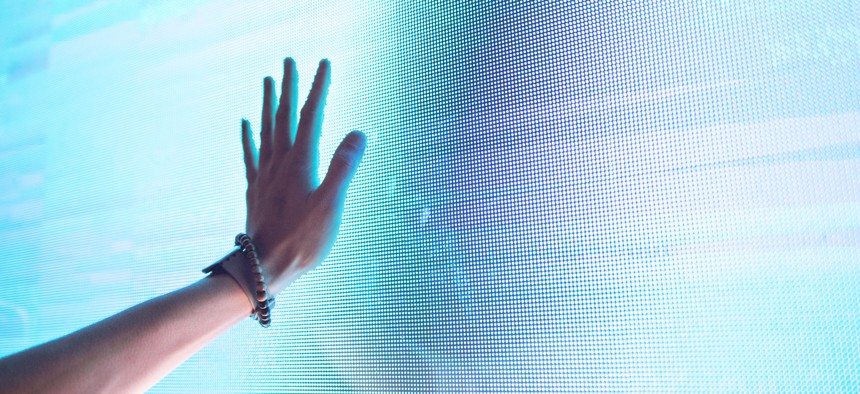 The company started its artificial intelligence practice in 2019 and has trained thousands of employees since then because AI is "everywhere," their chief technology officer says.
It is always worth starting any artificial intelligence conversation by noting that it started as an academic discipline in 1956 at Dartmouth College and has periodically gone through several waves of optimism.
Subsequent waves of disappointment and losses of development funding called the "AI winter" also follow. That cycle also begats work on new approaches, successes and renewed funding of AI development and adoption.
Which brings the conversation to ChatGPT and other generative AI technologies now entering commercial industries, which begats an inevitable march of those tools across the federal government.
"It deserves the chatter, but of course there's a little bit of hype and hysteria about some of the dangers of generative AI in my view," Leidos' chief technology officer Jim Carlini told WT and our sibling publication Nextgov/FCW. "But nevertheless, the really interesting thing about generative AI and the models and capabilities that underpin it, are the broad applicability of the technology."
By the same token, that concept of generative AI being of potential use across-the-board also presents questions on what it all means for the workforces at federal agencies and their contractors.
Carlini told us that Leidos has embarked over the past three years on a company-wide technical upskilling initiative in "critical tech areas." AI in general is one of them and generative AI is also "a particular course we're employing."
Cybersecurity and quantum computing are among the other areas falling under that upskilling push, but Carlini also pointed out that AI was the company's "biggest effort in the beginning a couple years back" before this ongoing generative AI hype cycle started.
Leidos upskilled more than 3,000 employees in 2022 and is looking to make that number north of 5,000 for this year, Carlini said. For context: Leidos reported its workforce at 45,000 people in its 2022 annual report.
"The interesting thing is, it's a technical upskilling program, but it's open to everyone, so it's not just the technologists and engineers being upskilled," Carlini said. "We're trying to bake into everyone's DNA literacy on certain topics."
AI qualifies as one of those standout topics when considering how Carlini described that tech area:
"It's in everything we do, we use it internally, we use it in our (chief information officer) shop, we use it in our platforms that we build, all of the autonomous platforms we build. It's everywhere, so it's part of how you do business, he said.
How does one sign up for the upskilling program as a Leidos employee? One pathway Carlini offered as an example sees people enroll at Georgia Tech in Atlanta for a master's degree in data analytics.
Short courses are also available for "really basic information" about a technology area like AI, Carlini added. Executives in the company will have a program geared toward them, including those who may not have a technical degree.
Then there are options that Carlini described as "in-between," which include courses for a few hours and those of a more extended nature.
"It's a full menu, it depends on where you are in your literacy," Carlini said.
Getting the workforce's skillset and knowledge bases in-line with generative AI is merely one aspect of that push. Given the ecosystem-wide conversation about trusted AI, Carlini pointed out there is a user responsibility aspect to act on as well.
Reston, Virginia-headquartered Leidos stood up an internal trusted AI practice in 2019 with a two-pronged approach of building capabilities that help users trust the tech more and roll them out with a human partner.
"This prompt engineering thing where you can ask it questions and sort of walk it into topics in a way, you can walk it into bad topics if you're not careful," Carlini said. "You have to really get to the users as well to make sure they're not abusing the technology."