Where BigBear sees itself in the broader AI landscape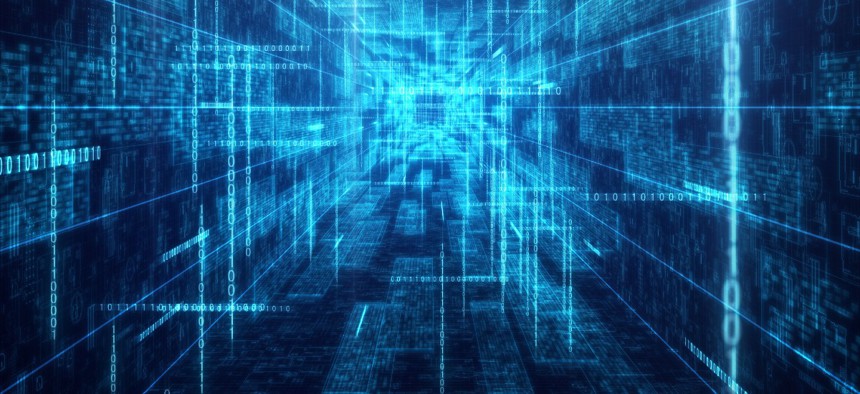 The artificial intelligence company wants to be a conductor for all the varying AI models that customers are looking to adopt.
For BigBear.ai, the onboarding of a new chief executive and larger restructuring effort meant that 2022 was both a year of transition and reset for the company one year after its public market listing.
But pursuing a mix of federal and commercial work in artificial intelligence remains the focus for BigBear as it looks to turn the page from the five-way integration that created the company as it is today.
During BigBear's fourth quarter earnings call Monday, chief executive Mandy Long outlined to investors where she sees the company positioning itself in the overall AI landscape amid many other firms doing the same.
"There will be millions of models that might play a role in the orchestra of how we'll achieve true augmented decision intelligence in high-stake environments, and there will not be a single company that provides all of these models," Long told analysts. "An organization needs to step up for production-grade AI adoption to happen at scale. In other words, this orchestra will need a conductor. That is the role that we will play."
One program where BigBear is looking to showcase that envisioned role is at the Army, for which the company is now the sole prime contractor to prototype a new system for viewing the branch's global force structure.
The Global Force Information Management system's purpose is for uniformed Army leaders to have a single view of both people and resources with intelligent automation as a core function. BigBear is working under a nine-month, $14.8 million second phase contract secured in the fall of 2022.
Long told analysts that BigBear sees that phase two contract as putting it in a "strong position" for the phase three award, of which the exact timing and specs are uncertain. But what that award could mean for BigBear and AI in general is more so.
"Ultimately, the shift to production in all example cases that we could look at means that it's larger, because you're talking about putting it into the real world, doing it at scale," Long said.
For all of 2022, BigBear recorded $155 million in revenue to represent 6% year-over-year growth and negative $17.1 million in adjusted EBITDA (earnings before interest, taxes, depreciation and amortization).
During the first quarter of this year, BigBear closed a $25 million private placement transaction to bolster its cash holdings and support strategy execution for 2023.
The company's initial outlook for 2023 has revenue in the range of $155 million-to-$170 million and a single-digit negative adjusted EBITDA in millions.
BigBear ended 2022 with a total backlog of $222 million.