How BigBear landed a former IBM exec as its new COO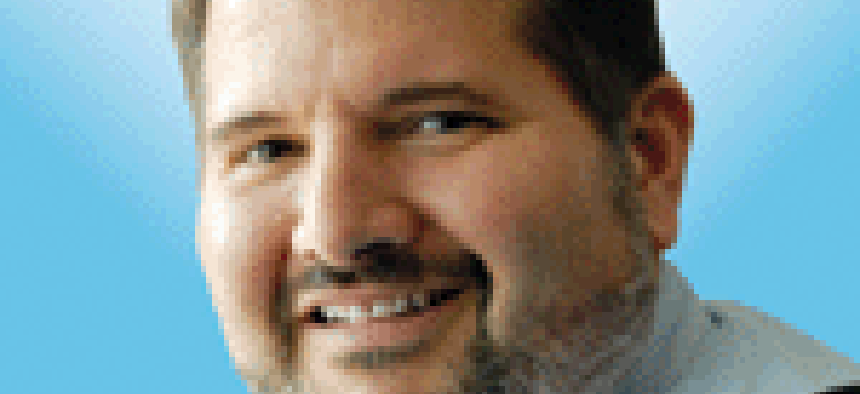 Sam Gordy, the new president of federal and chief operating officer of BigBear.ai can quickly rattle off the big numbers behind some of the lines of business he ran at Leidos ($1.5 billion) and at IBM ($2.5 billion.)
BigBear.ai is not at the same scale at $150 million in annual revenue today, but Gordy says the potential is huge and was one factor in his decision to join the company on Nov. 1.
His hiring was part of the company's preparation to go public through a merger with special purpose acquisition company GigCapital4. BigBear.ai's stock began trading on the New York Stock Exchange on Wednesday under the BBAI ticker. Shares opened at $9.12 and closed that first day at $9.15. Thursday saw the stock decline to $8.08, or by 11 percent.
Gordy likely won't track the ups and downs of the stock. His focus instead will be on integrating the four companies brought together by private equity firm AE Industrial Partners and CEO Reggie Brothers to create BigBear.ai.
For that, Gordy will rely on his experience leading the formation of Leidos when the old Science Applications International Corp. split into two companies in 2013.
"I was on the design team for Leidos so I was in the middle of it," he said, rattling off a list of functions he had a hand in creating for Leidos -- corporate structure, vision, mission, rate structure, go-to-market strategy.
"I'm doing all of that again, just at a smaller scale," Gordy added.
Gordy wears two hats at BigBear.ai: chief operating officer of the company, and president of its federal business.
The COO hat sees him leading the integration efforts. With the other hat, he'll be responsible for growing BigBear.ai's footprint in the market.
Brothers has the vision piece.
"He's a tremendous communicator and has the vision of where he wants to take the company and I'm kind of doing the nuts and bolts behind that," Gordy said.
Brothers was a big reason Gordy said yes when they came recruiting him.
"He pretty much had me at hello when we sat down to talk," he said.
Brothers is a former chief technology officer at Peraton and a principal at the Chertoff Group. During the Obama administration, he was deputy assistant defense secretary for research and then undersecretary for science and technology at the Homeland Security Department.
AE Industrial Partners and Brothers collaborated to pull together four companies -- BigBear, NuWave Solutions, ProModel Government Services and PCI.
The artificial intelligence capabilities they brought together, particularly when working with so-called dirty and sparse data, is what excited Gordy about the future of the company.
"AI is great if all your data is curated and everything's in the right place to feed your models, but on the defense and intelligence side, you just don't have that luxury because you are gathering information from adversaries who don't want to share it," Gordy said. "And that's where our real secret sauce comes to bear."
BigBear.ai's artificial intelligence model fills the gaps with what Gordy called "an extremely educated best guess."
It does that by looking for the precursors of a problem, the so-called "winds of war." Most AI today looks at two or three factors, but BigBear.ai has broadened that scope to create a much more holistic view.
The company recently won a challenge with the Navy to look at data from the Pacific Rim, with a focus on China and Taiwan.
"There was this massive surge of Chinese incursions in Taiwan's airspace in early October," Gordy said.
BigBear.ai's model predicted the incursions two weeks ahead of time.
"That's what really exciting is that we've got the ability to do these sorts of things," he said. "And we're just getting started."
Gordy said he wants to grow the company's base beyond the work it does with the Defense Intelligence Agency and National Security Agency to the other intelligence agencies. He'll also focus on taking the work it does with the Army and some the Air Force to the rest of the latter branch, plus the Navy and Marine Corps.
Now that BigBear.ai is publicly-traded, it will have the resources to incentivize employees by giving them the ability to own stock and it will give the company currency to make acquisitions.
Gordy said the acquisition piece will focus on expanding into new markets across the intelligence, defense and civilian sectors. The company also wants to expand its AI capabilities.
"AI is already fundamentally changing all aspects of our lives," Gordy said.
"It'll change all aspects of the federal government, from the national security side to the individual citizen. That's why I'm here."