At mobile phone show, Lockheed's CEO makes his pitch for partners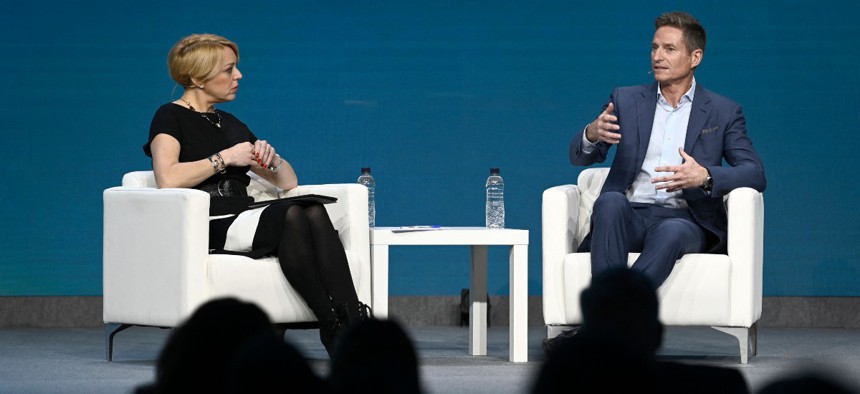 The chief executive of the world's largest defense contractor tells attendees at the world's largest telecommunications conference that their companies have a lot to offer Lockheed Martin.
Around this time every year in Barcelona, the Mobile World Congress gathers everyone of importance in the wireless communications ecosystem to see "what's next" and discuss that industry's biggest issues.
MWC is mostly known as a mobile phone show. So what was the chief executive of the world's largest defense contractor doing at the world's largest telecommunications conference?
In an on-stage interview at MWC, Jim Taiclet acknowledged this was his first time at the mobile phone show but that he is "in the right place."
Taiclet then immediately referenced his 17-year tenure as CEO of the telecommunications infrastructure operator American Tower prior to Lockheed, an experience he has previously cited as teaching him a great deal about networks.
Attendees heard all about Taiclet's vision of Lockheed Martin working in greater partnership with global technology and telecommunications companies to get more of their creations into national defense.
Taiclet wants both the longest-standing players in those sectors to be a part of it, along with emerging startups. He also believes in the idea of defense companies like Lockheed and more commercially oriented companies being able to learn from each other.
Consider the prospects of landing on Mars and the Orion space capsule that Lockheed designed for human exploration. Orion is in use for NASA's Artemis program to return to the Moon, which Taiclet told the audience will become a waystation to stage for the next leg of missions to Mars.
Taiclet said that in order for the Moon to be a useful exploration base, communications and autonomy services will have to be available there. So will GPS and other similar technologies for precision, navigation and timing.
PNT services are what "we all use in the mobile industry on Earth to time our cell phones and watches," Taiclet said.
In order to make all of that happen, Lockheed has set up a subsidiary focused on developing a communications service called Parsec to link the Earth and moon through a network.
"We're working with non-aerospace and space industry partners to figure out how do we create a services set on the Moon for mobility, autonomy, GPS and communication," Taiclet said. "Because that's the next exploration base that we're going to need to go to Mars."
Going to Mars is a big mission, but is one of several that Taiclet believes more commercially oriented tech and telecom companies can have a significant role in. Even Lockheed's status as the world's largest defense company does not mean it can be everywhere.
"We've tried to create a dream team of the leading commercial companies all the way from the largest to the smallest," Taiclet said.
Taiclet highlighted Lockheed's partnership with Intel on new computer chip designs that have applicability in defense and other government work. The importance of semiconductors has risen for all industries and policymakers as shown in the CHIPS and Science Act to bolster domestic production.
Partnership example number two Taiclet offered is Lockheed's work with artificial intelligence hardware and software maker NVIDIA on digital twins and simulation systems.
Lockheed has also casted an open net for wireless carriers and other companies to be a part of its 5G.MIL vision. The Lockheed Martin Ventures fund invests in small startups whose technologies are promising for the defense ecosystem.
"We really need the commercial technology and telecom industry to be able to take advantage of protecting our countries, our allies and ultimately our exploration capabilities," Taiclet said. "We need you to work with us, and we will drive together that innovative evolution (in) both directions frankly."
Consider his last words during the interview as a direct appeal to attendees and their companies:
"We need to turn to you all for that."
The full Mobile World Congress session featuring Taiclet is below.