NASA sticks with Jacobs for $3.2B launch infrastructure contract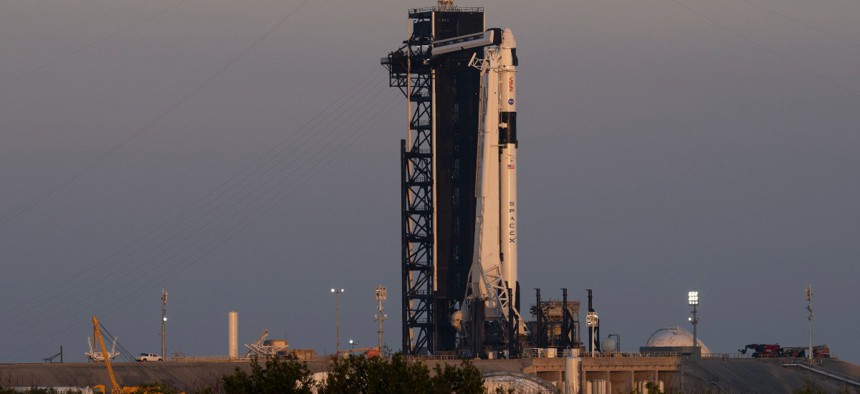 Jacobs has won a potential $3.2 billion contract that continues its work to help NASA manage launch infrastructure and ground systems used to process spacecraft at the Kennedy Space Center in Florida.
The contract covers vehicle assembly and integration, launch, and recovery operations for NASA's Artemis missions through 2033. Artemis is the space agency's program to establish a human presence on the Moon for the first time since Apollo 17 landed there in 1972.
NASA said Thursday that the Consolidated Operations, Management, Engineering and Test contract starts May 1 with a base period of three years and five months. COMET also has a pair of two-year option periods, which is followed by an option period of two years and seven months.
Jacobs first won the program in 2013 when it was called the Test and Operations Support Contract, or TOSC. GovTribe data indicates that contract expires on April 30 and has seen $2.1 billion in orders obligated to-date out of the potential $2.6 billion value.
The company describes itself as NASA's largest services contractor with a program portfolio that includes this $3.9 billion contract secured in the summer of 2022 for engineering and scientific services at the Johnson Space Center in Houston.
In this early February episode of WT 360, Jacobs executive John Karabias explains this iteration of the company's strategy he calls "wave three" that centers on helping large customers such as NASA manage data.
Work under the COMET contract includes engineering; ground system development; flight vehicle and spacecraft processing; and launch, landing, and recovery operations in support of space exploration and systems development programs.
NASA said programs such as the Space Launch System, Orion Spacecraft, International Space Station, Launch Services Program, and other agency programs and commercial ventures at Kennedy will be supported by COMET.