Booz Allen's acquisition pace is slower than it expected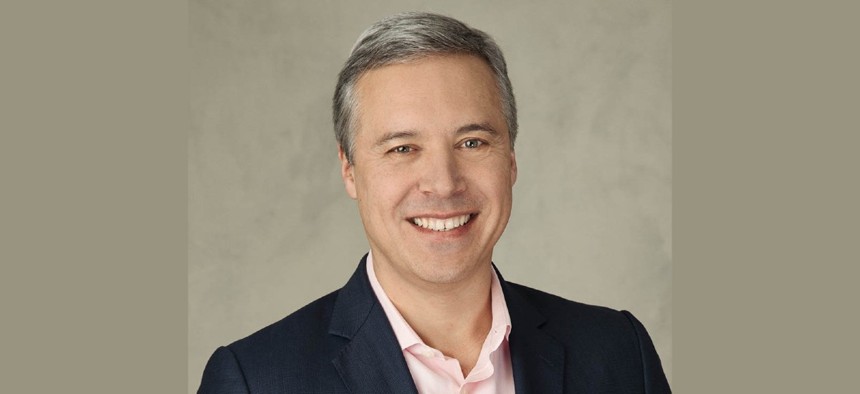 Integration is the firm's current focus now that the EverWatch purchase has closed, as is hiring.
Booz Allen Hamilton has increasingly sought to wear the hat of acquirer in the current iteration of its strategy, as shown in the buys of Liberty IT Solutions and EverWatch within the past two years.
But Booz Allen's fiscal third quarter earnings call with investors Friday, both its chief executive and financial officers acknowledged the firm's pace of purchasing activity has not gone according to plan.
"We are a little bit behind where we thought we would be at this point on the M&A side, largely environmental factors," CEO Horacio Rozanski told analysts.
"The M&A market has been relatively slow in the past couple of quarters for a handful of macroeconomic reasons," Chief Financial Officer Matt Calderone said. "But we're going to play the game that's in front of us, and the strength of our balance sheet just gives us a lot of flexibility to do that."
While Calderone said "never say never" to an analyst's question regarding the prospect of large and transformative transactions, he added Booz Allen is "more focused on small to midsized tuck-ins that are strategic accelerants."
Much of Booz Allen's history on the acquisition front has been in the form of those tuck-ins, even in light of the $725 million purchase of Liberty in 2021.
That transaction represents Booz Allen's largest-ever buy and focused on cloud-based software development work for civilian and health agencies. The long-term plan is to extend those offerings out across other parts of the federal government.
"We're looking to do more things that look like Liberty," Rozanski said before adding this caveat: "They're hard to find."
Booz Allen completed its $440 million acquisition of EverWatch in October and the work to integrate that team is ongoing.
That transaction centered on opportunities for more software development work in the national security community and was the subject of a antitrust challenge from regulators to try and halt the combination, which a federal judge ruled could proceed.
Rozanski said Booz Allen is accelerating its hiring activity for that business given that some employees left EverWatch while all involved were waiting for the closure.
Hiring for Booz Allen's intelligence community business is a more difficult exercise compared to other business units given the skills and clearance levels needed.
"We still have a lot of open recs there and now a significant volume of open recs at EverWatch, so our goal ultimately in this area is to retain and grow that workforce and deploy it against the work that is in front of us, Rozanski said. "I think we're doing well there. There's more work to do because, ultimately, we want to continue to grow that workforce as the way which we grow the intell business overall."
Regarding employee headcount, Booz Allen reported 5.7% year-over-year growth to 31,130 on that front. Client-facing staff grew 7.5% over the trailing 12 months to 28,269. Those figures include EverWatch employees joining Booz Allen and the 80 employees who left upon the firm's divestiture of a managed threat services business.
One other watch item stemming from the call: Booz Allen is weighing the possibility of settling a Justice Department investigation dating back to 2017, which is looking at elements of the firm's cost accounting and indirect charging practices.
The firm has set aside $124 million in the event of a settlement.
"We are exploring whether a negotiated resolution to the matter is possible with the DOJ," Rozanski said. "At this time, we do not know if or when a settlement might be achieved, and if achieved, what the total dollar amount might be."
Fiscal third quarter revenue of $2.3 billion was 12.1% higher than the prior year period, including an organic growth rate of 11.6%. Profit of $244 million represented a 9.8% year-over-year increase in adjusted EBITDA (earnings before interest, taxes, depreciation and amortization).
Booz Allen lifted its full fiscal-year sales growth outlook to between 9.5% and 10.5%, compared to the prior guide of 8%-to-10%. Revenue in its 2022 fiscal year totaled $8.36 billion.
The firm also lifted its adjusted EBITDA guidance to the range of $995 million-to-$1.015 billion, up from the prior range of $950 million-to-$1.015 million. Adjusted EBITDA margin remains anticipated as between high-10% and low-11%.
Total backlog as of the quarter's end was 8.2% higher year-over-year to $30 billion on a book-to-bill ratio of 1.2x for the trailing 12 months, the latter of which measures the rate of contract bookings versus drawdowns of them to realize sales.