LMI forms space business through acquisition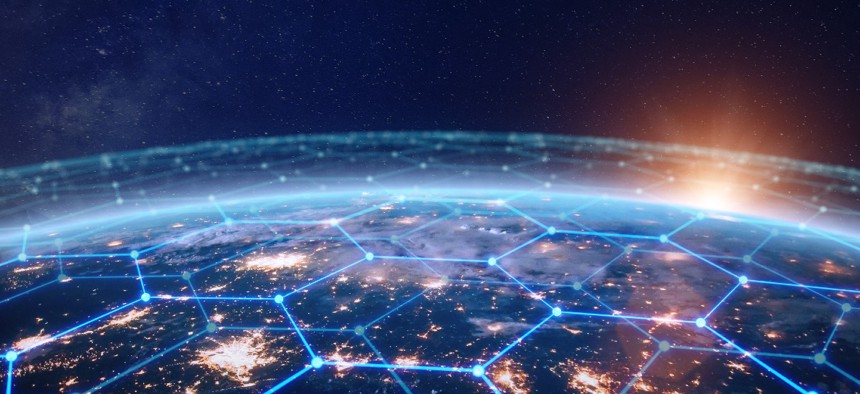 The six-decade-old consulting company is buying a developer of software to help manage and analyze space architectures.
In the midst of a transition to a new ownership structure, LMI has moved on an acquisition of its own that represents the government consulting company's entry point into the national security space domain.
LMI views its purchase of Synaptech as enhancing the portfolio of solutions in modeling and simulation, digital engineering, and software development. Terms of the transaction announced Thursday were not disclosed.
Colorado Springs-headquartered Synaptech was founded in 2015 and touts its flagship RAPTR software product as helping users analyze and visualize their space architectures, plus integrate capabilities for cross-domain warfare.
Synaptech thus becomes the initial building block for LMI's space business, which the former's co-founders Zac Gorrell and Elias Peroulas will lead. Gorrell was Synaptech's CEO, while Peroulas worked as chief technology officer.
LMI's for-profit government consulting business is being acquired by a consortium of private investment firms and is keeping that three-letter name for when after the sale closes.
When I spoke with LMI CEO Doug Wagoner after that announcement in the summer, he mentioned evaluations of potential acquisitions as a priority with that new backing. How LMI could tie space and logistics together was one idea on the minds of the leadership team, Wagoner said then.
The company was founded originally to concentrate on helping the U.S. government better run its global logistics functions. Especially over the last decade, LMI has added data analytics and management consulting as its other two major lines of business.
"Chartered by President Kennedy in 1961 at the dawn of the space race, it is fitting that LMI is now entering the space marketplace to support a renewed space race where adversaries seek to disrupt and disable our dominance in space," Wagoner said in the acquisition announcement Thursday.
"To help our customers innovate at the pace of need, one must understand all discreet and interdependent operational domains from the sea floor and sea surface, to ground, air, cyber, and space," Wagoner added.
Investment bank KippsDeSanto & Co. acted as exclusive financial adviser to Synaptech for the transaction.